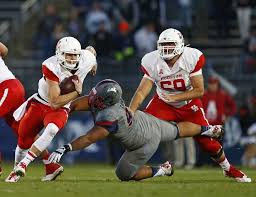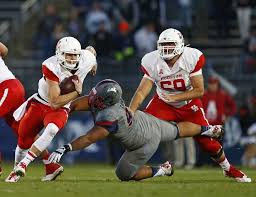 In this week's first free college football pick Connecticut plays Houston on Thursday night at 8 p.m. at TDECU Stadium. Last year, UConn (2-2) stunned the Cougars (4-0), beating them 20-17. The Huskies did a good job forcing fumbles and taking advantage of miscues.
However, an important footnote to that game, Houston starting QB Greg Ward Jr. played sparingly due to injury. It is expected that he will play in this game. Ward, who is having a great year, will want to engineer a massive win tonight. It's important to keep in mind that the Huslies are 3-24 against nationally ranked teams 0-8 against top 10 clubs. Houston is ranked sixth in the nation and are favored by 27.5 points.
Connecticut O vs. Cougar Defense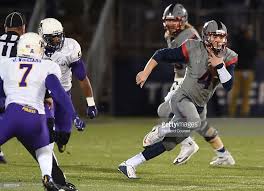 Last week, the Huskies lost to Syracuse 31-24 in a game where Connecticut enjoyed an advantage in terms of time of possession. QB Bryant Shirreffs (66.9 COMP%, 2 TDs, 2 INTs) will want to connect with his top receiver Noel Thomas (40 REC, 388 YDs, 9.7 AVG, 1 TD) and dual threat Arkeel Newsome (4 REC, 47 YDs, 11.7 AVG). Newsome has 211 yards over 52 carrier, averaging 4.1 YPC and running for two scores. Ron Johnson (40 ATT, 136 YDs, 3.4 AVG, 4 TDs) has been a force on the ground and Shirreffs has run for 187 yards and one score.
In their last three games, the Cougars have shutdown opponent offenses. In their initial games of the season, they allowed the then third ranked Oklahoma Sooners 23 points, but Houston countered with 33. Since pulling off a major upset in week one, the Cougars have beaten Lamar 42-0, Cincinnati 40-16, and Texas State 64-3. We expect Houston's defense to put some heat on Shirreffs by shutting down the passing routes and bringing heat with its linebackers.
Houston Offense vs. Huskies D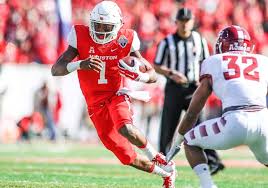 At QB, Ward (65.7 COMP%, 5 TDs, 2 INTs) has played well, balancing the pass attack with the Houston running game. Houston has a strong group of running back, which include Duke Catalone (48 ATT, 225 YDs, 4.7 AVG, 1 TD) and Kevrin Justice (34 ATT, 149 YDs, 4.4 AVG, 2 TDs). Backup QB Kyle Postma has run for four scores while accumulating 125 yards on 10 carries. There are five receivers averaging between 12 and 15 yards per catch. Six different receivers have caught TD passes.
In their last game, which they lost to the Orange of Syracuse, the Huskies could not stop the pass. They allowed Syracuse to gain over 400 yards in the air. Even in victory, they have had a tough time limiting opponent pass attacks. They will have to shut down Ward, and possibly his astute backup Postma, in order to win. We don't expect that will happen.
Free College Football Pick Connecticut Plays Houston
Even though all of Connecticut's losses this year have been by seven points or fewer, they have not played a team of this caliber. Houston can score in bunches and in many ways. They have a lot of weapons and Ward is having a great season. We like the Cougars at -27.5.
Free College Football Pick Connecticut Plays Houston: Take Houston at -27.5