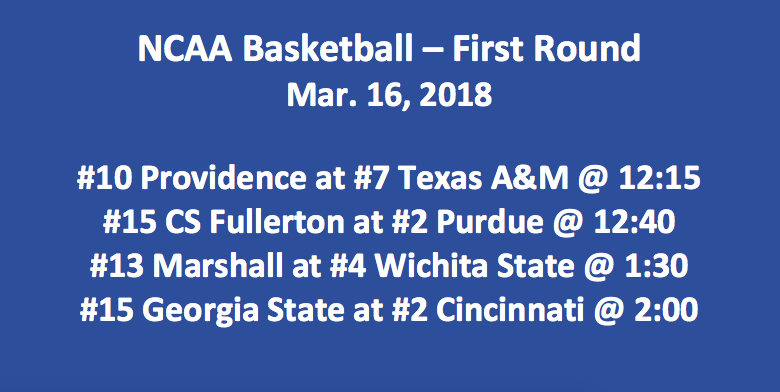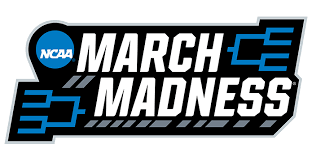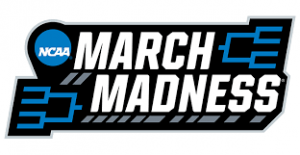 The second day of the initial round of the 2018 NCAA Tournament will be held today, Friday, March 16 with at 12:15 p.m. E.T. as Texas and Providence meet. We're picking all 16 games today, as we did yesterday, and then every one of the 16 games being played over the weekend. Here are the first four Friday Round One 2018 NCAA Tournament picks. We've included the spread and over/under.
#10 Providence at #7 Texas A&M
West Region at 12:15 p.m.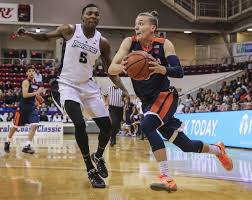 The Providence Friars (21-13) come to this game having played three straight overtime games in the Big East Conference tournament. In OT, they beat Creighton and Xavier. In their third OT game, they lost to Villanova 76-66. The Friars are led by senior forward Rodney Bullock (14.0 PPG, 5.8 RPG) and are guided by playmaker and senior guard Kyron Cartwright (11.8 PPG, 5.7 APG). They're averaging 74 PPG and connecting on 44% from the floor and 33% from beyond the arc. Their free throws hit at a 70% rate.
The Texas A&M Aggies (20-12) come to this game after being ousted quickly from the SEC Tournament by Alabama. The Aggies are a balanced and fairly deep team. They have six players who contribute regularly. Junior center Tyler Davis (14.5 PPG, 8.8 RPG) tops the team in points, while sophomore forward Robert Williams (10.3 PPG, 9.0 RPG) leads in rebbies. Shooting percentages between the two teams are fairly even. The Aggies are scoring 75 PPG.
The Friars have a small advantage at the free throw line. They've been pushing teams to their limit. We're going with Providence at +2.5. We like the over at 138.0.
Our Picks: Providence at +2.5 and over 138.0
#15 CS Fullerton at #2 Purdue
East Region at 12:40 p.m.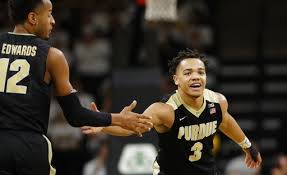 For the Cal State Fullerton Titans (20-11) it's been an exciting ride. They went into the Big West Tournament as the number four seed and left as the champs. That earned them a ticket to the 2018 Big Dance. Two junior guards, Kyle Allman (19.4 PPG, 49 FG%) and Khalil Ahmad (15.3 PPG, 42 FG%), and a sophomore forward, Jackson Rowe (12.2 PPG, 6.8 RPG) comprise most of the firepower for the Titans. They are good on 73% of their frees and are averaging 73 PPG.
The Purdue Boilermakers (28-6) are coming off their worst loss of the season, which was 75-66 to Michigan in the Big Ten championship game. This is the Boilermakers third-straight March Madness appearance and their 11th under coach Matt Painter. They are averaging 81 PPG and bring a 74% free throw mark to this game. The team is loaded with great players, including sophomore guard Carson Edwards (18.5 PPG, 3.0 APG) and senior guard Vincent Edwards (14.5 PPG, 7.3 RPG).
When compared to Purdue, CS Fullerton is undersized. They'll have a tough time defending against the Boilermakers. They are an awesome free throw team, but Purdue is also skilled in that area. We're taking Purdue at -20.0. We're also going with the under at 147.0.
Our Picks: Purdue at -20.5 and under 147.0
#13 Marshall at #4 Wichita State
East region at 1:30 p.m.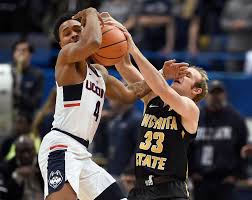 The Marshall Thundering Herd (24-10) beat the Western Kentucky Hilltoppers 67-66 to take the Conference USA crown. They have a major challenge in this game, as they take on a very tough Wichita State team. Marshall is averaging 84 PPG, and they are hitting 77% of their frees. Two players standout, junior guards Jon Elmore (22.8 PPG, 6.0 RPG, 6.9 APG) and C.J. Burks (20.5 PPG, 4.1 RPG). Forward Ajdin Penava (15.5 PPG, 8.6 RPG), another junior, is sound in the paint.
Certainly, the Wichita State Shockers (25-7) were disappointed when they lost to Houston 77-74 in the second round of the AAC Tournament. The Shockers are averaging 84 PPG and taking down 41 RPG. They are noted for dominating the boards. Four players are double-digit scorers with sophomore guard Landry Shamet (15.0 PPG, 5.5 APG) being the team's primary scorer and playmaker.
Wichita State is out-rebounding Marshall 41 to 36, while the Thundering Herd are better from the foul line, 77% to 74%. The Shockers are at -11.5 and the over/under is at 166.0. We are taking Wichita State and the under.
Our Picks: Wichita State at -11.5 and under 166.0
#15 Georgia State at #2 Cincinnati
South Region at 2:00 p.m.
The Georgia State Panthers (24-10) finished the season second in the Sun Belt Conference. They then took down the conference tournament, beating UT Arlington 74-61. This marks the Panthers fourth NCAA Tournament appearance. The Panthers are putting up 74 PPG, taking in 34 RPG, and connecting on 67% of their free throws. They have a solid core of players led by sophomore guard D'Marcus Simonds (21.1 PPG, 5.8 RPG, 4.5 APG). Simonds leads the team in points and assists and is third in rebounds.
The Cincinnati Bearcats (30-4) finished first in the AAC and then beat Houston 56-55 in the finals of the conference tournament. This is Cincinnati's 32nd NCAA appearance, and they have made six Final Fours. The Bearcats are connecting 0n 69% of their free throws, which is a tad lower than they would like. Two senior forwards, Gary Clark (13.0 PPG, 8.5 RPG) and Kyle Washington (11.3 PPG, 5.4 RPG), are tough in the paint. Clark is hitting 43% of his threes. Junior guard Jacob Evans (12.9 PPG, 3.2 APG) offers stability in the backcourt. They team is averaging 75 PPG and 39 RPG.
The over/under on this game is low at 130.0. We're taking the over. The Bearcats are favored by 13.5. We think Cincinnati will dominate and are taking them.
Our Picks: Cincinnati -13.5 and over 130.0
First Four Friday Round One 2018 NCAA Tournament Picks: Final Word
That's our first four Friday Round One 2018 NCAA Tournament picks. We like Providence, Purdue, Wichita State, and Cincinnati. We've taken the under in half of the games. We'll have the next four games and eight picks online shortly. That group includes #15 Lipscomb at #2 North Carolina at 2:45 p.m. E.T.