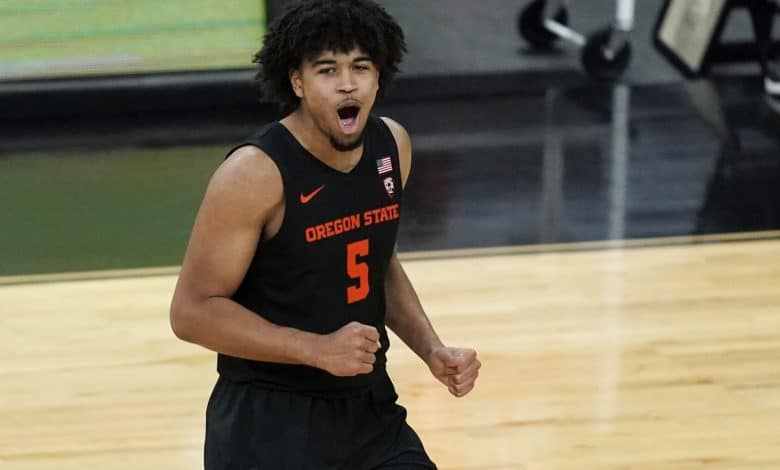 One team can be the first to punch their ticket to the Final Four heading into the NCAA tournament Oregon State vs Houston matchup. The likely winner is the #2 seed Cougars, who are 27-3 on the year and have a 10-game win streak going. UH is a -8 point favorite for Monday's matchup.
Oregon State is used to being told they're going to get beat. They've been an underdog in nine straight games, going 8-1 outright over that span. OSU has won in a high scoring game against Oklahoma State, and survived a defensive struggle vs. Loyola-Chicago. Will the clock strike Midnight for this Cinderella squad though?
Beavers Have Nothing to Lose
Every game has been a free one for Oregon State, who finished in 6th in the Pac-12 during the regular season and wasn't going to get into the Big Dance without winning the conference tournament. As it turns out, perhaps the Pac-12 was a bit underrated as UCLA and USC have also made it to the Elite 8. Perhaps Oregon States 20-12 record even while playing in that conference should be getting more credit.
There's nothing that really sticks out for the Beavers on either end of the court heading into the NCAA Tournament Oregon State vs Houston matchup. OSU ranked 35th in adjusted offense and 60th in adjusted defensive efficiency (the Cougars were 8th and 6th respectively).
Oregon State's defense has stepped up in the tournament though. They've held Tennessee to 58 points, survived 24 from potential NBA #1 pick Cade Cunningham, and limited Loyola's Cameron Krutwig to 14 after he dominated #1 Illinois in the paint the game prior. Meanwhile Ethan Thompson is averaging 24 ppg the last two for the Beavers.
Houston Ready to Stop the Madness
You have to think the Cougars are about ready to say, "enough is enough" and bring Oregon State back down to reality. Houston has a very solid team, but are they 8-point-favorites-in-the-Elite-8 good?
The good news for Kelvin Sampson is that his team was able to shake off a poor performance against Rutgers to dominate Syracuse 62-46 on Saturday. Houston's defense stepped up vs. the Orange, holding Syracuse to their lowest point total in NCAA tournament history. Numbers wise Syracuse had a more efficient offense than Oregon State, so could another defensive gem be on the way?
About that Rutgers game though. Houston needed a 14-2 rally to close out the game to get the 63-60 win as -7.5 favorites. Dejon Jarreau had a gutsy performance playing 32 minutes through a hip pointer vs. the Scarlet Knights, but the week off helped him Saturday as the Junior logged 9 points, 8 rebounds, and 8 assists.
Free NCAA Tournament Oregon State vs Houston Pick
Does Oregon State get a dose of the real world here, or does playing in the suddenly dominant Pac-12 put them in position to punch their ticket to next weekend?
What the Cougars showed on Saturday was the propensity to break the will of an opposing offense, and Oregon State doesn't have near the scoring firepower (aside from Thompson) to fight through that. A healthy (ish) Jarreau means all the difference in the world for this Houston team.
Houston 74 – Oregon State 65
Pick: Houston -8