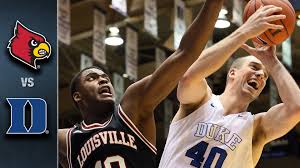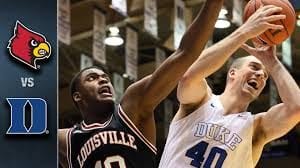 Our Duke plays Louisville college basketball free pick has the Cardinals favored by 4.0 points. The Duke Blue Devils (14-3 Overall, 2-2 ACC) are fourth in the ACC standing and Louisville Cardinals (14-3 Overall, 2-2 ACC) are fifth. This is a battle between the explosive Devils' offense and the tough Cardinals' defense. The game will be played Saturday, Jan. 14 at 12 p.m. ET.
Duke is 3-2 for its last five. They last played on Jan. 10, losing to Florida State 88-72. Prior to that loss they beat Georgia Tech 110-57 and Boston College 93-82. Their last loss prior to Jan. 10 was on Dec 31 to Virginia Tech 89-75.
The Louisville Cardinals come to this game with a two-game winning streak. On Jan. 7 they beat Georgia Tech in a low-scoring game 65-50. They last played on Jan.11, beating Pittsburgh 85-80. They also beat Indiana 77-62 on Dec. 31. On either side of that loss were two wins. One was on Dec. 28 when they beat Virginia 61-53 and the other was a victory against Notre Dame 77-70.
#7 Duke Blue Devils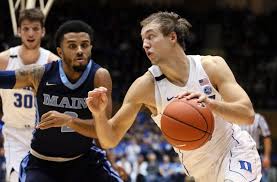 This is a fine shooting team that also puts a decent defense on the court. One question mark is senior forward Amile Jefferson (13.6 PPG, 10.1 RPG, 63 FG%). If he does not play, that could be a major issue for Duke. It's been noted that he's unlikely to play.
Sophomore guard Luke Kennard is averaging 20.4 PPG and hitting 53% of his shots from the field and 45% from the three-point arc and beyond. Guard Grayson Allen leads the team in assists with 4.3 and is averaging 15.2 PPG. Freshman forward Jayson Tatum (17.4 PPG, 6.8 RPG) will need to step up his game without Jefferson in the lineup. It's doubtful that center Antonio Vrankovic and forward Chase Jeter can compensate for Jefferson.
#14 Louisville Cardinals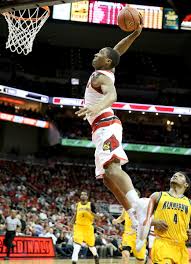 Three double-digit scorers start for the Cardinals. Two guards, Donovan Mitchell (13.5 PPG, 5.1 RPG, 47 FG) and Quentin Snider (12.0 PPG, 3.9 APG, 37 FG%), and one forward, Deng Adel (10.6 PPG, 4.5 RPG, 38 FG%), bring top scoring skills. Mitchell has 2.5 APG, Snider is hitting 37% of his threes, and Adel is an 81% free throw shooter.
Forward Jaylen Johnson is hitting 62% from the floor and averaging 8.5 PPG and 6.7 RPG. Ray Spalding is also big inside. He's good on 65% of his field goals while putting in 6.7 PPG and grabbing 5.8 RPG.
Duke Plays Louisville College Basketball Free Pick
Duke is scoring 84.5 PPG while the Cardinals have been good for 75.6 PPG. The Blue Devil Devils are holding teams to 65.9 PPG. The Louisville squad is allowing just 61.9 PPG. The Cardinals are better at stopping shots and have a slight edge in rebounding, but the Devils are almost five percentage points better when shooting.
Still, it looks as though Jefferson will not play for Duke. That's a major factor in our pick. Duke has a tough time defending without him, and their defense suffers when he's not on the court too. Our Duke plays Louisville college basketball free pick is the Cardinals at -4.0. The game will be in Louisville at noon on Saturday, Jan. 14.
Duke Plays Louisville College Basketball Free Pick: Louisville at -4.0