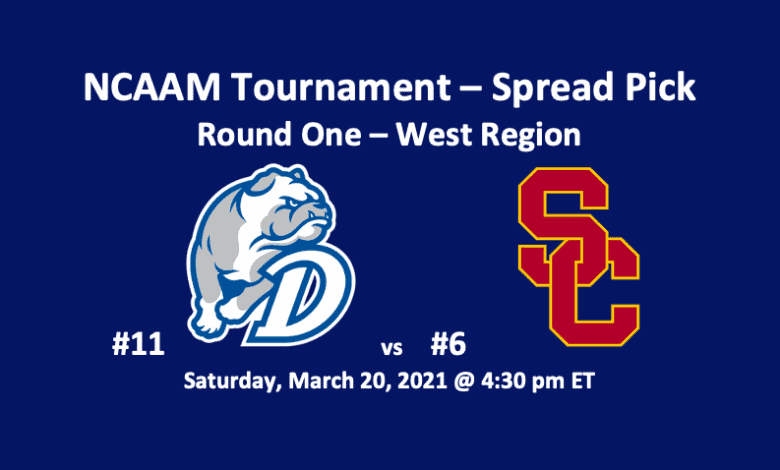 This Drake vs USC pick has the Bulldogs as the underdog. In this 2021 NCAA Tournament West Region Round One game, the best spread for Drake is +6.5 (-115). You can get the sixth-seed Trojans at -6.0 (-105). After coming in second in the Missouri Valley Conference, the Bulldogs lost to the Loyola Chicago Ramblers 65-75 in the tournament final. However, Drake managed to grab a berth in the First Four round where the shocked the Wichita State Shockers by beating them 53-52. Over their last five games, they've gone 3-2. The USC Trojans, who've also won three of their last five games, finished second in the Pac-12. In the tournament semifinals, the Trojans lost to the Colorado Buffaloes 72-70.
The Bulldogs and Trojans will meet on Saturday, March 20 at 4:30 pm ET. The game will take place at Bankers Life Fieldhouse in Indianapolis, IN. For more great picks, click on our 2021 NCAAM Tournament Pick tag at the end of this article. Here's a quick link to our UC Santa Barbara vs Creighton analysis and prediction.
Drake vs USC Pick – Stats
The Bulldogs are outscoring the Trojans 77.4 PPG to 74.8 PPG. They are shooting 49.4% from the field, 37.0% from downtown, and 71.3% from the charity stripe. In comparison, USC is shooting 46.7%/34.8%/64.7%. Both teams are making a bit over 13.5 APG, while the Trojans are better on rebounds, 39.6 to 36.0. Drake is averaging 7.1 SPG to USC's 4.8, while the Trojans are recording 5.3 BPG to their opponent's three. Drake is committing two fewer turnovers than the Trojans.
Key Players
Drakes' leading scorer, forward Shanquan Hemphill, had been out since February with a foot fracture. He underwent surgery and although he did not play in the MVC tournament, Hemphill did come in for a short amount of time against Wichita State, scoring three points and grabbing four rebounds. During the regular season, Hemphill averaged 14.1 PPG and 6.3 RPG while shooting 58.7% from the floor. Four other starters for Drake also offer double-digit scoring. In the backcourt, Joseph Yesufu is averaging 12.1 PPG and Roman Penn is hitting for 11.2. Penn tops the Bulldogs with 5.5 APG. Around the rim, Darnell Brodie is grabbing an impressive 7.2 RPG. Guard D.J. Wilkins and forward Tremell Murphy are each averaging 10.3 PPG.
The brother tandem of forwards Evan Mobley and Isaiah Mobley are exceptionally effective. Evan Mobley, a 58.4% shooter, leads USC with 16.8 PPG and 8.6 RPG, while Isaiah Mobley is averaging 9.0 PPG and 7.4 RPG. Isaiah is successful on 39.3% of his three-point attempts. In the backcourt, Tahj Eaddy, who's also a 39-percent-plus three-point shooter, is averaging 13.7 PPG. Counterpart Drew Peterson is good for 9.9 PPG and 5.0 RPG.
Drake vs USC Pick – Final Thoughts
In our Drake vs USC pick, we think that the Bulldogs' shooting prowess will pay off as will their ball handing. Conversely, the Trojans are simply not a very sound shooting team. The Bulldogs will keep it close enough to beat the spread. We like Drake at +6.5 (-115).
#11 Drake Bulldogs vs #6 USC Trojans
Drake Bulldogs at +6.5 (-115)