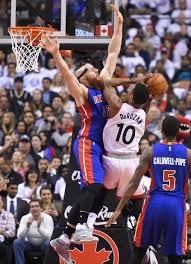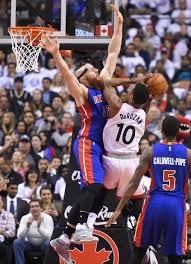 This is the second time this season that the Detroit Pistons (25-29 Overall, 9-18 Away) have played the Toronto Raptors (32-22 Overall, 18-9 Home). They first met on Oct. 26 just as the 2016-17 NBA season opened. The Raptors took that game 109-91. Detroit is eighth in the NBA Eastern Conference precariously holding onto the final playoff spot. The Raptors are fourth in the conference and 5.5 games out of first place. For this Detroit plays Toronto NBA free pick, the Raptors are -6.5 and the ober/under is 212.5.
The Pistons have played four of their past five games at home and are 3-2. They last played Feb. 10 at home losing to San Antonio 103-92. Prior to that loss, they have two home wins, beating the Lakers 121-102 and the 76ers 113-96. On Feb 4 at Indiana they lost 105-98.
The Raptors are hoping that four days of rest help them get out of their funk where they have gone 4-6 for their last 10 games and 2-3 for their last five. The three losses were all away games, as was one win. The losses were to Boston 109-104, Orlando 102-94 and Minnesota 112-109. That final loss occurred in their last game, which was played Feb. 8. Wins include and away game in Brooklyn where the beat the Nets 103-95 and a home game against the Clippers, which they won 118-109.
Detroit Pistons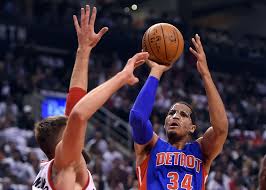 The Pistons are scoring 101.5 PPG while allowing 101.9. In the frontcourt, center Andre Drummond (14.7 PPG, 13.8 RPG, 53 FG%) leads the team in rebounds and shooting percentage. Also upfront, SF Tobias Harris (16.4 PPG, 5.1 RPG, 49 FG%) is tops in points scored, while power forward Marcus Morris (14.2 PPG, 4.5 RPG, 43 FG%) offers solid shooting inside and out.
The outside game includes SG Kentavious Caldwell-Pope (14.1 PPG, 41 FG%, 39 3PT%) is accurate from downtown and the clubs top three-point man hitting 39%. At the point, Reggie Jackson (15.5 PPG, 5.6 APG, 42 FG%) is the second best three-point shooter as he's good 36% of the time. The team is 22nd in offensive efficiency with a mark of 103.8. The clubs defensive average is 105.0.which is ninth in the NBA.
Toronto Raptors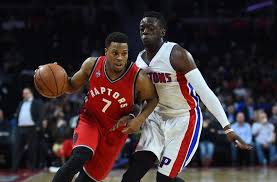 Toronto is scoring on average 109.2 PPG, and they are allowing 101.9, giving them a PF/PA of plus 7.3. The Raptors put two high-scoring guards on the court. SG DeMar DeRozen (27.9 PPG, 5.3 RPG, 3.8 APG) is good on 47% of his field goals. PG Kyle Lowry (23.0 PPG, 4.7 RPG, 7.0 APG) is connecting on 46% of his shots and 42% of his threes. Together DeRozen and Lowry are averaging close to three steals per game.
In the paint, center Jonas Valanciunas (12.3 PPG, 9.9 RPG, 54 FG%) is the team's top rebounder and two-point shooter. Valanciunas is the anchor in front. SF DeMarre Carroll (9.7 PPG, 3.9 RPG, 41 FG%) has good hands and, also, a solid three-point shot that connects 35% of the time. SF Terrence Ross (10.4 PPG, 44 FG%, 37 3PT%) is a solid shooter who's third in average points per game.
The Raptors are 18th in defensive efficiency with a grade of 106.1. But that's offset by their strong offensive efficiency, which is second in the NBA at 111.6. They definitely outperform opponents on offense while coming in about average on defense.
Detroit Plays Toronto NBA Free Pick
It's hard not to like a team that has two quality backcourt players, has one of the best offensive efficiency rankings, and is rested. In five days, the Pistons have played three games and since Feb. 3 have played five games with the average amount of rest being 1.8 days. Up until the eighth, The Raptors were in the same boat as th Pistons. But they are now coming off four days of rest! Pur Detroit plays Toronto NBA free pick is Toronto at -6.5.
Detroit Plays Toronto NBA Free Pick: Raptors -6.5