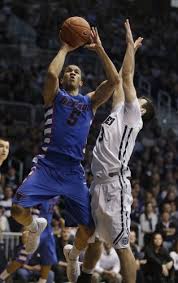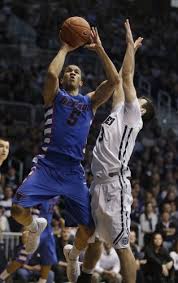 On Sunday the DePaul Blue Demons (8-18 Overall, 1-12 Big East) have their rematch with #24 Butler Bulldogs (20-6 Overall, 9-5 Big East). When these two teams first met this season on Jan. 21, the Blue Demons led the Bulldogs 25-5. Then Butler rallied to beat DePaul in OT 70-69. Our DePaul plays Butler Big East basketball free pick offers the Bulldogs at -18.0 and a total of 139.5.
The DePaul Blue Demons have just one Big East win. That was 64-63 against Providence. Since that win, they have lost nine straight. Their last three games have been against nationally ranked teams. Those games resulted in losses to #24 Xavier 72-61, #23 Creighton 93-58, and #2 Villanova 75-62.
The Butler Bulldogs have struggled as of late going 2-3 over their last five games. They're 6-4 for their last 10. Over those 10 games, the Bulldogs have lost twice to nationally ranked Creighton with the first game ending 75-64 and the second 76-67. Along with losing to Creighton on Jan. 31, Butler also recently lost to Georgetown 85-81 (Jan. 28) and to Providence 71-65 (Feb. 11). They won their last game, which was played on Feb. 15, beating St. John's 110-86.
DePaul Blue Demons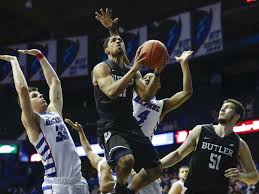 Guard Eli Cain (15.8 PPG, 4.4 RPG, 2.7 APG) leads the Blue Demons, who are averaging 69.3 PPG while allowing 74.3. Opposite Cain is guard Billy Garrett Jr. (14.8 PPG, 2.8 RPG, 3.2 APG), who's second in scoring. Both are solid shooters hitting 40% and 37% of their shots respectively and 36% and 34% of the duo's threes. Brandon Cyrus (6.0 PPG, 4.3 RPG, 37 FG%) fills out the backcourt.
In front, DePaul starts Tre'Darius McCallum (10.0 PPG, 6.7 RPG, 44 FG%). He brings some decent defensive chops to the court. Also upfront, Joe Hanel (4.7 PPG, 5.0 RPG, 65 FG%) is a sound shooter and good rebounder.
#24 Butler Bulldogs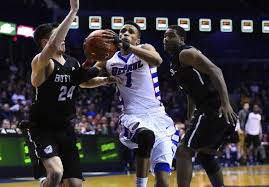 Forwards Kelan Martin (15.5 PPG, 5.6 RPG, 40 FG%) and Andrew Chrabascz (11.9 PPG, 4.7 RPG, 45 FG%) lead the Bulldogs in scoring. Both are fine three-point shooters. In the backcourt, Tyler Lewis (6.7 PPG, 4.0 APG, 54 FG%) leads the team in assists and three-point percentage (48%). Three guards, Kamar Baldwin, Avery Woodson and Kethan Savage, are averaging eight or more points per game while knocking in 43% or more of their attempts.
Butler is averaging 76.9 PPG and allowing 68.3. Along with outscoring DePaul by about seven points per game and allowing six points less, the Bulldogs are about five percentage points better on field goals and threes.
DePaul Plays Butler Big East Basketball Free Pick
This game, which tips off at 1:30 p.m. ET, is a tough one. The 18-point spread is huge. We like the totals much better. Still, we'll offer a pick for both. Our DePaul plays Butler Big East basketball free pick is over 139.5 and DePaul at +18.0
DePaul Plays Butler Big East Basketball Free Pick: Over 139.5 and DePaul at +18.0