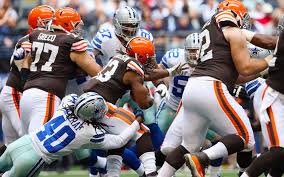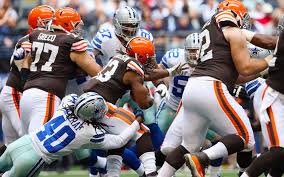 This 2016 week nine NFL free pick has the first place Dallas Cowboys (6-1, NFC East) at the last place Cleveland Browns (0-8, AFC North). Interesting to note that you can still get the Cowboys at -7.0 in this game. The biggest spread you'll find on this contest is 8.5 points. How do we see this Dallas/Cleveland NFL free pick going down? Here's what we know.
Four of the Cowboys' wins have been by seven or more points. They have won six straight, beating the Eagles, Packers, Bengals, 49ers, Bears, and Redskins. The two games where they won by less than seven points were against Washington 27-23 and Philadelphia 29-23 OT. For the Browns, four of their eight losses have been by seven or more points. Last week they lost to the Jets 31-28. Other close losses include Titans, Ravens, and Dolphins. However, top teams have blown them out of the water. These games include wins by New England 33-13, Philadelphia, 29-10, Washington 31-20 and Cincinnati 31-17. So what can we expect today?
Dallas Offense vs. Browns D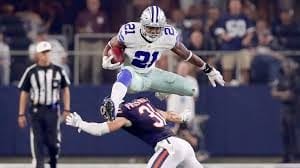 The Dallas offense is putting an average of 26.9 PPG on the scoreboard. Dallas is averaging almost 165 yards on the ground each game. Although rookie Dak Prescott (69.2 COMP%, 9 TDs, 2 INTs, 11 Sacks) has performed extraordinarily well since he's replaced the injured Tony Romo, he's been aided by a very productive ground attack. In fact, Prescott, with 27 rushes, 105 yards, and four rushing TDs, has been an important wild card in the Dallas ground game. Another rookie, Ezekiel Elliot (159 ATT, 799 YDs, 5.0 AVG 5 TDs), anchors the Cowboys rushing game. When it comes to the air attack, Prescott likes to get the ball to WR Cole Beasley (37 REC. 12.0 AVG, 3 TDs). Overall, the Cowboy line has done a good job opening up running lanes and protecting Prescott.
The Browns defense is allowing opponents an average of 29.8 PPG and 143.8 rushing yards. Overall yardage allowed per contest stands at 432.3. This team is facing a Dallas offense that offers improvisational surprises and solid talent at QB, RB, and WR. Cleveland is 30th in red zone D, allowing opponents to score 70.37% of the time. In their last three games that percentage is five points higher. The Browns have a decent secondary that includes DB Jamar Taylor (2 INT, 8 PD) and DB Joe Haden ( 2 INT, 7 PD). Both players are questionable for this game. The primary sack-maker and run stopper, Emmanuel Ogbah (3 Sacks, 3 TFL) is healthy and will play.
Cleveland Offense vs. Cowboys Defense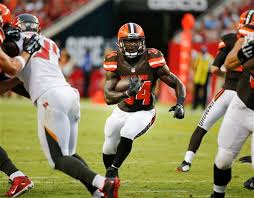 The Browns are scoring just 19.8 PPG. One problem is that the Cleveland has had six different guys at QB this season. It looks like Cody Kessler (88.9 COMP%, 4 TDs, 1 INT) may be back from his injury for this game. RB Isaiah Crowell (106 ATT, 524 YDs, 4.9 AVG, 5 TDs) has been a primary source of offense for the Browns. Leading WR Terrelle Pryor Sr. (41 REC, 532 YDs, 13.0 AVG, 3 TDs) is questionable today as he attempts to come back from an injury. The offensive line has allowed 22 sacks thus far this season. That does not bode well for this game.
The Dallas D performs decently in the red zone, placing 11th amongst all NFL teams with teams scoring 50.2%. More importantly, opponents are being limited to an average of just 18.6 PPG. Dallas is allowing teams on average 357.0 offensive yards. Overall, they have been effective at stopping the run, as opponents are getting 92.9 YPG on the ground. The Cowboys have nine forced fumbles, six of which they have recovered. They have accumulated 28 TFL and 14 Sacks. In addition, the team has four interceptions and 26 PD. DT Tyrone Crawford (3.5 Sacks, 4 TFL, 2 FBL REC) is the anchor upfront, while LB Sean Lee, who leads the team with 69 tackles and has four TFL, is of primary importance to the Dallas middle D. The Cowboys will miss safety Barry Church who is out for three weeks. Church has two picks, three PD, 1 FF, and two TFL. Still, the secondary is solid.
Dallas/Cleveland NFL Free Pick
Our Dallas/Cleveland NFL free pick sees the Cowboys beating the spread in this one. Bet Dallas at -7.0. The game is at 1 p.m.
Dallas/Cleveland NFL Free Pick: Dallas at -7.0