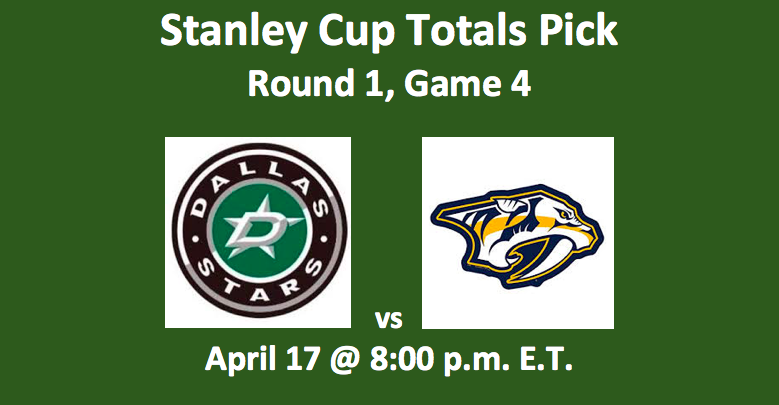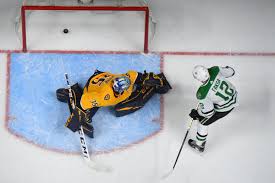 Our Dallas Stars vs Nashville Predators totals pick looks at a matchup between two hot goaltenders. Game four of the Dallas Stars vs Nashville Predators series is set for an 8 pm ET puck drop at American Airlines Center on Wednesday, April 17, 2019. The Predators currently hold a two to one series lead through the first three games. The over/under for the matchup is set at 5.5 goals. We expect goaltending and the recent offensive performances of both clubs to factor into this game.
Dallas Stars vs Nashville Predators Totals Pick: Goaltending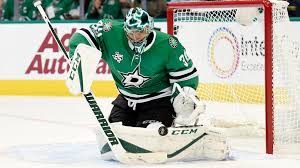 Stars netminder Ben Bishop was arguably the best goaltender during the regular season. He has looked very solid during this series as well. Bishop has let up a total of seven goals over the first three games. This includes the three goals he allowed on 28 shots in game three. While he should have stopped the first goal, he had little chance on Nashville's final two scoring bids. Bishop was also very good during the first two games of the series. He stopped 30 of 32 shots in game one and 40 of 42 in game two. He has a .931 save percentage and a 2.30 GAA during these playoffs.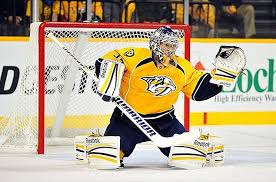 Pekka Rinne has looked stellar during the early games of this series as well. Rinne has stopped .936 percent of the Stars' shots thus far. He was lights out in game three making multiple highlight reel saves enroute to a 40 save performance. Typically, Rinne is either very on his game or very off his game during the playoffs. When the Preds have gotten quality games from him he has been able to continue this level of play for the duration of the club's playoff runs. Expect Rinne to be on his game again in game four.
Nashville's Depth on Defense Stifles the Stars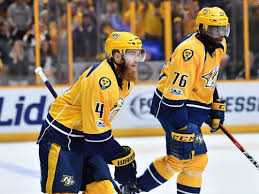 While Pekka Rinne has been playing well, the Predators' depth on the blueline will only work to decrease scoring in this game. All of Nashville's defensemen enter game four with at the very least, with an even plus-minus. While the club's top four defenseman have done most of the heavy lifting, the third pairing has contributed during their limited minutes.
Dante Fabbro and Dan Hamhuis have averaged 10:25 and 12:47 minutes in time on ice. They both have +2 ratings. Roman Josi, PK Subban, Ryan Ellis, and Mattias Ekholm have all logged over 20 minutes a night and have done a terrific job of limiting Dallas' chances. Nashville is currently averaging the sixth-least shots against this postseason. Despite Dallas putting 42 shots on net last game, the Preds have allowed an average of only 28.3 shots against.
The Stars' Lack of Offensive Depth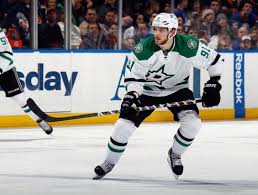 As was a major issue for Dallas during the regular season, their scoring is fairly one dimensional. Currently, only seven players on the roster have points during this series. Of those players, none are from their bottom two lines. The Stars have been able to split up their top line from last year to have two productive lines, but these are still the only forwards who have contributed offensively. Jamie Benn (1-2-3), Tyler Seguin (1-1-2), and Alexander Radulov (1-1-2) have all scored in the series. The only other forward with a point is Mats Zuccarello (2-0-2) who was acquired at the trade deadline. With the lack of secondary scoring, little suggests increased goal totals for Dallas in game four.
Dallas Stars vs Nashville Predators Totals Pick: Summary
Our Dallas Star vs Nashville Predators totals pick sees no indication that this game will play out differently than games one through three. Both goaltenders have played extremely well. Along with this, the Stars structure of scoring has mimicked that of their regular season. Only their top players continue to contribute offensively. With the depth on the blueline that Nashville possess, it should be easy to continue getting favorable defensive matchups. Our Dallas Stars vs Nashville Predators totals pick see these two teams battling through another low scoring affair.
Dallas Stars vs Nashville Predators Totals: Prediction
Total goals under 5.5 (-155)