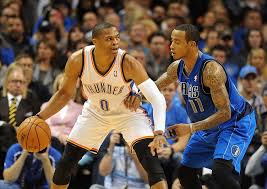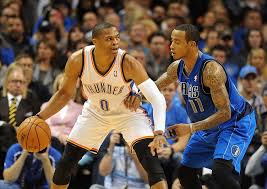 The depleted Dallas Mavericks (16-29 Overall, 6-17 Away) play the Oklahoma City Thunder (27-19 Overall, 15-6 Home) on Jan. 26 at 8 p.m. ET. The Mavs will be without PF Dirk Nowitzki and PG Deron Williams. Plus, they'll be missing a few other players. They come to this game having last played on Jan 25. The Thunder have a full roster and also last played on Jan. 25. This is the first time these teams will meet this season. Our Dallas plays Oklahoma City NBA free pick has the Thunder at -9.0 and the o/u at 197.5.
The Dallas Mavericks are 13th in the West and despite their poor record just 3.5 games out of a playoff spot. Dallas is even for it's last 10 games and 3-2 over its past five. On Jan. 17, they beat Chicago 99-98. The Mavericks then suffered two losses in a row. First, they lost to Miami 99-95 on Jan. 19, and then they lost again the next night, 112-107 to Utah in OT. Dallas won on Jan. 22, which was against Los Angeles 122-73, and beat the Knicks 103-95 on Jan. 25.
The sixth in the West Oklahoma City Thunder come to this game with a two-game winning streak. The Thunder are 6-4 for their last 10. Over their past five, they've gone 3-2. On Jan. 15, they beat Sacramento 122-118. After that, Oklahoma City lost two straight, 120-98 to LA and 121-100 to Golden State. They then beat Utah 97-95 and on Jan. 25, took down New Orleans 114-106.
Dallas Mavericks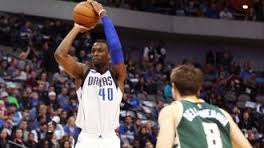 The Mavs get about 14 points per game each from Williams and Novitzki. PG J.J. Barea (12.2 PPG, 4.9 APG) might be asked to make up for Williams' points as well as his seven-plus assists per game, but Barea is also out. Dwight Powell (7.3 PPG, 4.7 RPG) will most likely start at PF instead of Nowitzki. The team is also missing SG Wesley Matthews (15.0 PPG, 39 FG%). He's second on the team in scoring. The leading shooter, PF Harrison Barnes (20.2 PPG, 5.3 RPG, 47 FG%), offers stability and a sound inside presence.
The Mavs are averaging 96.7 and allowing 99.9. Their big problem in this game is that they are missing four key players. Look for them to struggle tonight.
Oklahoma City Thunder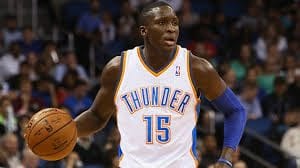 On offense, PG Russell Westbrook (30.7 PPG, 10.7 RPG, 10.4 APG) is a playmaker in every sense of the word. He's also an able defender. Shooting guard Victor Oladipo (16.2 PPG, 46 FG%, 38 3PT%) is a dead on point manufacturer, while centers Enes Kanter (14.6 PPG, 6.8 RPG, and Steven Adams (12.2 PPG, 7.5 RPG) control the paint. SF Domantas Sabonis and PF Andre Roberson offer some decent passing, rebounding, and scoring stats.
Oklahoma City is averaging 106.3 PPG and allowing 105.3 for a differential of +1.0. They're a dominating rebounding team, taking down an average of 45.5 per game. With Nowitzki and others out for Dallas, they could rip up the paint and control the boards. However, their 14.5 TPG is too much. They need to control that tonight.
Dallas Plays Oklahoma City NBA Free Pick
Our Dallas plays Oklahoma City free pick is the Thunder at -9.0. We also like the over at 197.5. We expect Oklahoma City to put about 126 points on the board and the Mavs to get around 80.
Dallas Plays Oklahoma City NBA Free Pick: Thunder at -9.0 and over 197.5