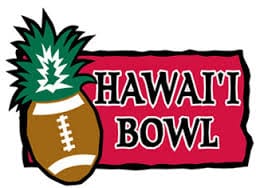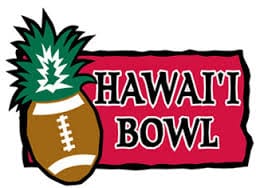 The 2016 Hawai'i Bowl, which features the Hawai'i Rainbow Warriors and Middle Tennessee Blue Raiders, is the only bowl game being played on Christmas Eve. This is our 2016 Hawai'i Bowl free pick. The Rainbow Warriors are looking to rebound from what was a rough second half of the season. The Blue Raiders bring a dynamic offense to the field.
The Hawai'i Rainbow Warriors (6-7 Overall, 4-4 Mountain West Conference) were second in the West Division of the MWC. The team never did quite get the traction it needed, although they did finish the end of the season with two straight wins, beating Fresno State 14-13 and UMass 46-40.
For the Middle Tennessee Blue Raiders (8-4 Overall, 5-3 Conference USA) it was a decent season. They finished third in the C-USA East behind Old Dominion and Western Kentucky. Like Hawai'I, their season was up and down, but they also ended the regular season with two wins. They beat Charlotte 38-31 and Florida Atlantic 77-56.
Hawai'i Rainbow Warriors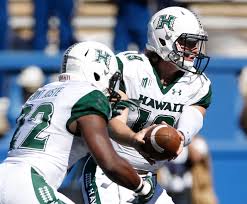 Hawai'i Rainbow Warrior QB Dru Brown (62.0 COMP%, 16 TDs, 7 INTs) has some decent passing skills and good rushing chops. His top receiver is Marcus Kemp (70 REC, 1,036 YDs, 14.8 AVG, 7 TDs) is his go-to receiver. RB Diocemy Saint Juste (140 ATT, 836 YDs, 6.0 AVG, 3 TDs) is the workhorse in the ground game, while Steven Lakalaka (100 ATT, 415 YDs, 4.2 AVG, 12 TDs) is the short yardage specials who can push through for TDs.
The Rainbow Warriors are scoring 28.5 PPG while allowing opponents 37.5. They have a turnover margin of -11 and have had other team's force 15 fumbles from their hands. They come to this game with 23 sacks, 19 QB hurries, and 87 TFL.
Middle Tennessee Blue Raiders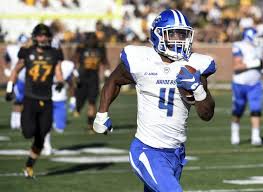 Starting Middle Tennessee QB Brent Stockwell missed the last four games of the season and will miss this one with a broken collarbone. Freshman John Urzua (59.5 COMP%, 8 TDs, 8 INTs) has done well considering the situation. He showed improvement from his first two to his last two games. Top receiver Ritchie James (97 REC, 1,463 YDs, 15.1 AVG, 11 TDs) is a dual threat who has 32 carries and four TDs on the ground. RB I'Tavius Mathers (220 ATT, 1,504 YDs, 6.8 AVG, 16 TDs), the team's primary rusher, also has fine receiving chops. He's caught 62 passes for 589 yards and three scores.
Middle Tennessee has averaged 40.1 PPG. They have allowed other teams on average 34.4 PPG. They've made 25 sacks, have 41 QB hurries, and posted 11 INTs. In addition, they have forced 11 fumbles and defended 64 passes. They have tough time stopping the run.
2016 Hawai'i Bowl Free Pick
Our 2016 Hawai'i Bowl free pick is going with Middle Tennessee at +7.0. Their defense is a tad sharper and they have a bunch of players on offense who are dual threats.
The 2016 Hawai'i Bowl will be held on Dec 24 at 8 p.m. ET at Aloha Stadium, Honolulu, HI. The game will be on ESPN.
2016 Hawai'i Bowl Free Pick: Middle Tennessee at +7.0