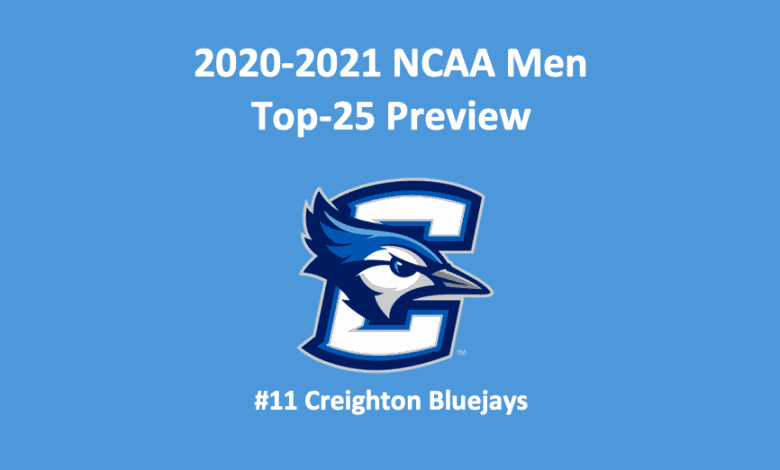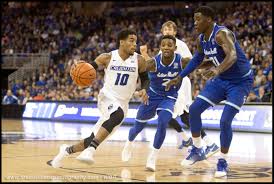 Our Creighton basketball preview 2020 – 2021 notes that this team tied with the Villanova Wildcats and Seton Hall Pirates for first in the Big East last year, finishing with a record of 13-5 in the conference and 24-7 overall. Coach Greg McDermott loses his top scorer, guard Ty-Shon Alexander (16.9 PPG), but the backcourt still has a lot of firepower. The Bluejays looked to be well on their way to a premium NCAA Tournament berth when COVID-19 struck. It was quite an accomplishment considering the level of play in the Big East and the fact that after the 2018 – 2019 season, the team had played in the NIT.
Stats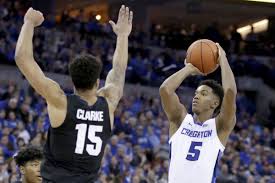 Last season, Creighton led the Big East in five major statistical categories. They topped the Big East in points per game with 78.3 (20th Nationally), field-goal percentage at 47.1 (24th Nationally), and three-point percentage at 38.6 (9th Nationally). Their 15.8 APG and 10.9 TOPG were also first in the conference and both ranked 17th in the nation. The team's free-throw percentage of 73.9 was good enough for fourth in the Big East as well as 83rd in the nation. On average, the Bluejays put in 9.7 threes per game (14 Nationally, 3rd Big East). Their defense was also solid as Creighton allowed opponents 69.7 PPG (189th Nationally, 6th Big East) and held them to a shooting percentage of 42.0 (124th Nationally, 8th Big East). The team's rebound margin was a problem, as Creighton was at -2.2 (276th Nationally, 9th Big East).
Creighton Basketball Preview 2020 – 2021 – Players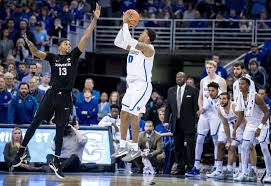 The Creighton frontcourt will include redshirt senior Damien Jefferson and junior Christian Bishop. This is a unit that has lacked depth, but that situation could change this season. Senior Jacob Epperson is a solid presence, however, he needs to stay healthy. Freshman Ryan Kalkbrenner, a 6-11, four-star recruit, needs to bulk up and mature before he'll be able to contribute in any major way.
Although Alexander is gone from the backcourt, there's still plenty of talent in the unit. Junior point man Marcus Zegarowski is one of the best players in the conference. He'll be joined, once again, by Mitch Ballock. Also, we find that Memphis transfer Antwann Jones, a redshirt sophomore, as well as Denzel Mahoney, who transferred from Southeast Missouri last season, will be important in this unit and team's success. By the way, Jones and freshman Rati Andronikashvili are both sound perimeter shooters. Coach McDermott could see this group explode the scoreboard.
Frontcourt
Jefferson and Bishop return with some fairly impressive stats. Last season, Jefferson averaged 9.5 PPG and 5.5 RPG, while Bishop put in 8.6 PPG and grabbed 5.3 RPG. On the court, Jefferson offers versatility, ably filling various roles. He's a hard worker and a hustler. Bishop is a fine rim protector and can really hold his own in the paint. He is a solid fifth-man. Freshman Kalkbrenner will want to build on and refine his shot-blocking skills. Epperson could be a boon to this team's rebounding. Kalkbrenner offers similar potential. Grabbing the ball after a shot has been a weak point for this team. This frontcourt is still a concern, as it is thin.
Backcourt
As a freshman, Zegarowski averaged 10.4 PPG and 3.4 APG. Then last season, those numbers rose dramatically as he averaged 16.1 points and 5.0 assists per game. His improved play earned him second-team All-Big East accolades. Ballock, who was good on 43.5% of his three-point attempts, is a pure shooter. Along with averaging 11.9 PPG, Ballock dished off 3.1 APG and took down 5.3 RPG. He's an important contributor on this team. Ballock is one of the best pure shooters in the country and knocked down 43.5 percent of his 214 attempts from beyond the arc last season.
Our Creighton basketball preview 2020 – 2021 notes that Mahoney, a 6-5 wing, was good for a dozen points per contest, Whether or not he starts is not important. The fact is he will be in the game. Andronikashvili and Jones will both be in the mix. We expect that the latter will start and possibly rotate with Mahoney. Jones offers refined defensive skills and athleticism. Andronikashvili, one of the top European prospects, has a wide wingspan that'll go a long way on defense. Plus, he has great scoring potential when on the transition.
Bluejays – Make or Break for 2020-2021
Our Creighton basketball preview 2020 – 2021 finds that this club needs to improve upfront. This is especially true when it comes to pounding the boards. Coach McDermott will need to find a solution to this team's poor rebounding, which is exasperated by the lack of depth at forward. Also, making up for the loss of Alexander at guard may not be impossible, but it is also not evident that Creighton has found a way to do so.
The good news is once again we expect the Bluejays to be tight defensively and play fast-paced transitional basketball. As they did last season, two very basic components of winning, ball control and taking advantage of every trip to the free-throw line, will be essential. Finally, they'll need to ensure that their three-point skills are honed, as that was a huge part of their offense in 2019 -2020 `.
Creighton Basketball Preview 2020 – 2021- Final Word
Let's face it, the Bluejays are not Villanova. But our Creighton basketball preview 2020 – 2021 does project them to be very competitive. First place in the Big East for a second-year running is a lot to ask. However, second place is a real possibility. Creighton has a stable of fundamentally sound, athletic players. But they don't really have that player or two who will push them to the highest levels. However, we do expect coach McDermott to get a high level of performance from his players. Depending on how many games and days the season runs could influence where this team finishes. With a normal number of weeks and games, we can see their frontcourt wearing down. A shortened season could help Creighton avert such a situation.
Creighton Bluejays – 2020-2021 NCAA Projection
Big East Finish – Second
NCAA Tournament Result – Round Two Elimination