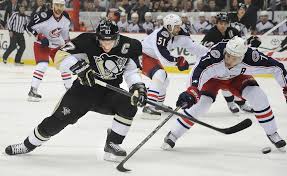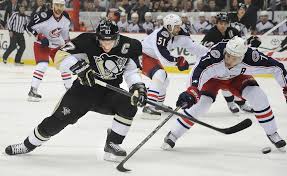 In this first round matchup, two teams from the Metropolitan Division meet. The Columbus Blue Jackets (50-24-8) finished third in their division with 108 points while the Pittsburgh Penguins (50-21-11) were second with 111. The teams met four times in the regular season with the Penguins coming out on top 2-1-1. Our Columbus plays Pittsburgh 2017 Stanley Cup free pick sees this series as going the limit. Here's why we think that will happen.
Columbus Blue Jackets Keys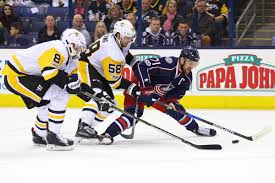 The Blue Jackets have a very tough defense, and they will use it to tame Sidney Crosby and the Pittsburgh offense. The team is sixth in goals against with a 2.4 GAA. Their PK is ninth in the league at 82.5%. The Jackets are also a decent offensive teams, scoring on average 3.0 GPG, which is sixth in the league. At 19.9%, the team's power play is a little better than average.
The Blue jackets don't have the flash of the Penguins, but they are tough and hearty. Defenseman David Savard, who has 23 points, offers a plus/minus of +33. On the right wing, Cam Atkinson leads the team in goals with 35 and points with 62. He's got a solid plus/minus of +13. Center Alexander Wennberg's 46 assists are tops on this team while left wing Brandon Saad is +23 and has a total of 53 points.
Pittsburgh Penguins Keys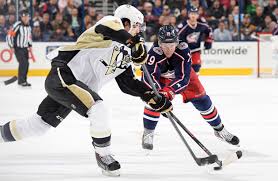 The Penguin D is not as strong as they'd like it to be. Pittsburgh is allowing 2.8 goals per games, which is 19th in the NHL. Their penalty kill comes in at 79.8%, which is 20th in the league. On the other hand, they are first in goals scored per game at 3.4 and third on the power play at 23.1%. This is a team with a dynamite offense.
With Evgeni Malkin back on the ice, the Penguins have two dynamite centers with goal, assist and point leader Sidney Crosby being the other. Crosby finished the regular season with 44 goals, 45 assists and 89 points. His plus/minus is +17. Malkin, who missed 20 games this season, notched 33 goals, 39 assists and was +18. D-man Justin Schultz is +24 while wing Conor Sheary is +22. They have 51 and 52 points respectively. Of course, you can't forget RW Phil Kessel who is third in points with 70 and tops on the team in assists with 47. Crosby, Malkin and Kessel are all dangerous on the PP.
Goaltending Edge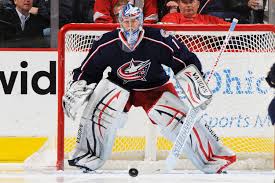 Sergei Bobrovsky (41-17-5) is the best in the league right now. His save rate is .931 and he's allowing just 2.06 goals per game. He will be very tough in this series. His play could be a major factor in keeping the Penguins off the scoreboard. Goaltender Matt Murray (32-10-4) has had a strong season stopping .923 of the shots he's seen and posting a 2.41 GAA.
Columbus Plays Pittsburgh 2017 Stanley Cup Free Pick
The Penguins are looking to repeat as Stanley Cup Champions and the first leg of that road is against a tough Columbus team. We like Columbus, as they have a lot of grit. Plus, the Blue Jackets goaltending and D are superior. If they can shutdown the Penguins' offense, they'll take the series. But we have to wonder if they really can stop them? Our Columbus plays Pittsburgh 2017 Stanley Cup free pick is the Blue Jackets in seven.
Columbus Plays Pittsburgh 2017 Stanley Cup Free Pick: Columbus in seven