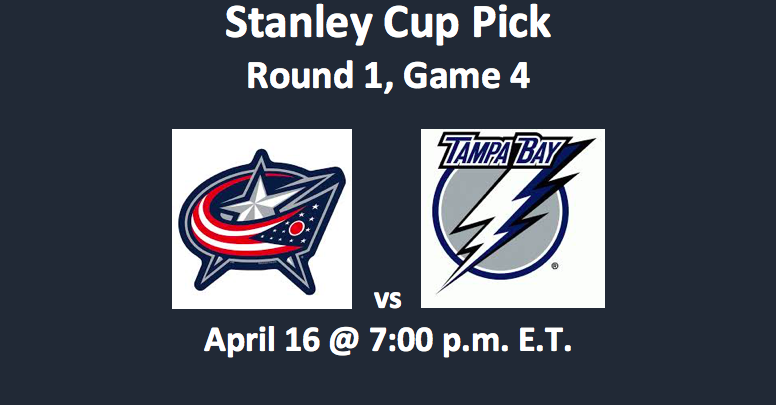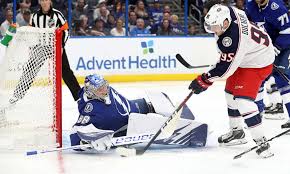 Our Columbus Blue Jackets vs Tampa Bay Lightning pick and preview looks at how game four of this series will unfold. The Blue Jackets vs Tampa Bay series has been a surprise with the NHL's top team dropping the first three games. Puck drop for game four is scheduled for Tuesday, April 16, 2019 at 7:00 pm ET in Columbus. We expect goaltending, Nikita Kucherov's return, and the Blue Jackets' offense to factor into the results of game four.
Columbus Blue Jackets vs Tampa Bay Lightning Pick: Goaltending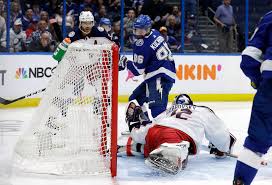 Sergei Bobrovsky looks like he has finally figured out his playoff struggles. The Blue Jacket's netminder has been stellar through the first three games. He's a big reason why they are in a position to sweep. Bobrovsky has stopped 79 of the 84 shots faced thus far. Through his last 160 minutes of hockey, he has allowed only two goals. Bobrovsky looks unbeatable right now and puts Columbus in a good position to win game four.
Andrei Vasilevskiy played well in game three but has not been impressive overall. He has allowed 11 goals on 82 shots through the first three games. In game three, he stopped 27 of 29 shots. With the lack of offense that the Bolts have generated thus far, Vasilevskiy will need a very strong showing in game four to stave off elimination.
Lightning to Get Key Players Back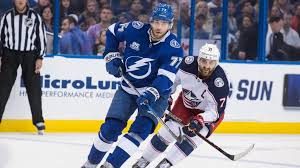 The Lightning will be glad to get Nikita Kucherov back from his one game suspension. The NHL's leading scorer was forced to miss game three after boarding Markus Nutivaara. While he was held pointless in the first two games, he will be needed if Tampa is going to jumpstart their offense. Up to this point in the series, the Bolts' stars have been nonfactors in the series. The Blue Jackets' have done a great job of stifling Kucherov, Steven Stamkos, and Brayden Point. All three are pointless.
Tampa will also hope to get Victor Hedman back in the lineup. Last year's Norris Trophy winner was absent from game three due to injury. Hedman is the centerpiece on the backend for Tampa. He played over 25 minutes in game one and over 21 minutes in game two. If he is able to return he will likely still be banged up and not as effective as he normally is.
Blue Jackets Offense Keeps Rolling


Columbus has had no trouble against Tampa. They are currently averaging four goals per game and all of their stars are producing. Matt Duchene has been great thus far in the series. He has scored in each of the last two games and has five points in the Jackets' three games. Cam Atkinson his goals in the last two games as well. He opened the scoring in game two and potted an empty netter in game three. Artemi Panarin has also been impressive putting up four points thus far. In addition, the Blue Jackets' defensemen have been factoring into the offense. Three of Columbus D-men have scored in the series thus far. Zach Werenski (1-3-4), Seth Jones (1-1-2), and David Savard (1-0-1) have all put the puck in the net.
Columbus Blue Jackets vs Tampa Bay Lightning Pick: Summary
Our Columbus Blue Jackets vs Tampa Bay Lightning pick likes the chance of a Jacket sweep. After surviving a poor first period in game one, Columbus has looked unflappable. They have shown confidence while Tampa has been frustrated. The Blue Jackets have been able to contain the main offensive threats on the Lightning's roster. This, coupled with Bobrovsky's stellar play, makes the chance of Columbus sweeping the NHL's best team look increasingly likely.
Columbus Blue Jackets vs Tampa Bay Lightning Pick
Columbus Blue Jackets over the Tampa Bay Lightning (+120)