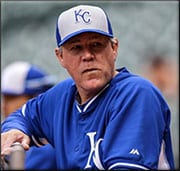 Overview
The Kansas City Royals are in New York for the third game of their four game series with the Yankees. The Royals didn't have much luck in the first couple games losing both while getting outscored 16-10. The Yankees have actually won the last 5 meetings in a row versus the Royals overall and 8 of the last 10 played in New York.
Head to Head Trends
Royals are 36-83 in the last 119 meetings.
Royals are 15-47 in the last 62 meetings in New York.
New York Yankees (-145)
The New York Yankees are last in the American League East with a 13-18 record 6 games out of 1st place. The Yankees got off to a slow start this season especially with the bats but it looks like they're starting to come around scoring 6+ runs in 4 of their last 7 games. The Yankees pitching hasn't been all that great either, well their starters haven't been but their bullpen is probably still one of the best in baseball.
On the hill for the Yankees today is Michael Pineda who is 1-3 with a 5.73 ERA on the season. Pineda hasn't been as bad as his numbers would indicate. Pineda had a couple really bad starts but his other four starts were actually pretty good. I also like his strikeout to walk ratio. 34 strikeouts versus just 9 walks is solid so you know he's at least throwing the ball well.
New York Yankees Trends
Yankees are 4-1 in their last 5 overall.
Yankees are 13-4 in their last 17 home games vs. a team with a road winning % of less than .400.
Kansas City Royals (+135)
The Kansas City Royals are 3rd in the American League Central with a 15-17 record 7 games back of the 1st place Chicago White Sox. The Royals actually got off to a super quick start winning 8 of their first 10 games but they have struggled since winning just 7 of their last 22.
Starting for the Royals in this one is Yordano Ventura who is 2-2 with a 4.65 ERA on the season. Ventura had a good first month of the season but he's been hit hard in his last couple starts giving up 10 runs while walking 11 in just 8 innings of work.
Kansas City Royals Trends
Royals are 1-5 in their last 6 overall.
Royals are 2-11 in their last 13 road games.
Conclusion
I'm going with the New York Yankees over the Royals again today. It looks like the Yankees bats are finally coming out of their season long slump and that's probably not going to bode well for Ventura especially if he continues walking guys like he has been.
Free Pick: New York Yankees -145