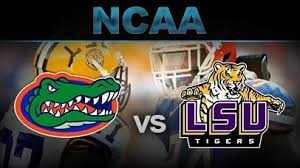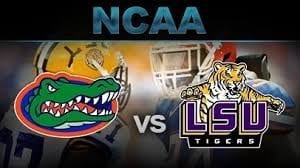 Our free Florida plays LSU college football pick offers two nationally ranked teams. These two clubs were supposed to play five weeks ago, but the game date and venue changed due to Hurricane Matthew. Game time is 1 p.m., Saturday, November 18th at LSU. Because this game was rescheduled, it certainly has more meaning that it might have had five weeks ago. There's a lot more at stake for both teams.
The # 23 Florida Gators (7-2 Overall, 5-2 SEC) will win the SEC East. That's for certain. However, the SEC crown will certainly go to Alabama in the East. Over their past five contests, the Gators are 4-1. That loss was a 31-10 loss to Arkansas, which has just two conference wins. Their four wins include 13-6 Vanderbilt, 40-14 Missouri, 24-10 Georgia and, last week, 20-7 South Carolina.
The LSU Tigers (6-3 Overall, 4-2 SEC) are also 4-1 over their past five games. That loss was 10-0 to high-scoring Alabama, the number one team in the nation. It was an impressive game by LSU. Last week, they beat #25 Arkansas 38-10. Recent victories include 42-10 Missouri, 45-10 USM and 38-21 #23 Mississippi.
#23 Florida Gators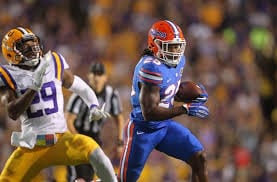 The Florida Gators, like the LSU Tigers, win many of their games with their impressive defense, which is allowing opponents only 13.3 PPG. The Gator offense has been good for 26.2 PPG. The Florida offense effectively uses both the pass and run to generate points. Although the emphasis on offense is on the pass.
If QB Austin Appleby (65.5 COMP%, 5 TD, 2 INT) is ready to go, he will get the start. His two top receivers are Antonio Callaway (35 REC, 533 15.2 AVG, 2 TDs) and Brandon Powell (30 REC, 291 YDs, 9.7 AVG, 2 TDs). The team's top running back is Jordan Scarlett (118 ATT, 617 YDs, 5.2 AVG, 6 TDs). Look for Florida to utilize these three players to generate points.
The Gator pass defense, which is best in the SEC, is allowing just 155.1 YPG, and their total defense, which is second in the league, is giving up 266.8 YPG. The Gators offer a pass rush that is fast and daunting. They have racked up 27 sacks thus far.
#16 LSU Tigers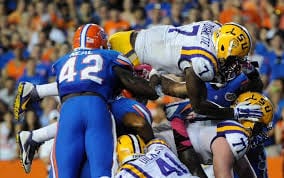 The Tigers also have a daunting defense capable of putting away powerful teams like Alabama. Their offense is averaging 27.4 PPG, and their defense is allowing 13.9 PPG. Those stats are almost identical to Florida's. The Tigers have a tough run defense that is tough to stop, but, then again, the Gators have solid guys upfront to do it.
QB Danny Etling (58.8 COMP%, 7 TDs, 4 INTs, 15 Sacks) will run the offense, which includes RBs Derrius Guice (101 ATT, 881 YDs, 8.7 AVG, 9 TDs) and Leonard Fournette (117 ATT, 803 YDs, 6.9 AVG, 8 TDs). It is the LSU running game that will keep them in this one.
LSU's defense is excellent. They bring a lot of sack power to the field. Plus, they're solid against the run. So, we don't see Florida putting a lot of points on the board.
<h2Free Florida Plays LSU College Football Pick
Our free Florida plays LSU college football pick has to take into consideration that the Gators are banged up big time on defense and offense. The LSU running game is a bit hampered by Fournette's injuries. Most people expect LSU to win. The spread stands at 14 points. We think Florida will stay in this game and keep it closer than 14 points. Take the Gators at +14.0
Free Florida Plays LSU College Football Pick: Florida at +14