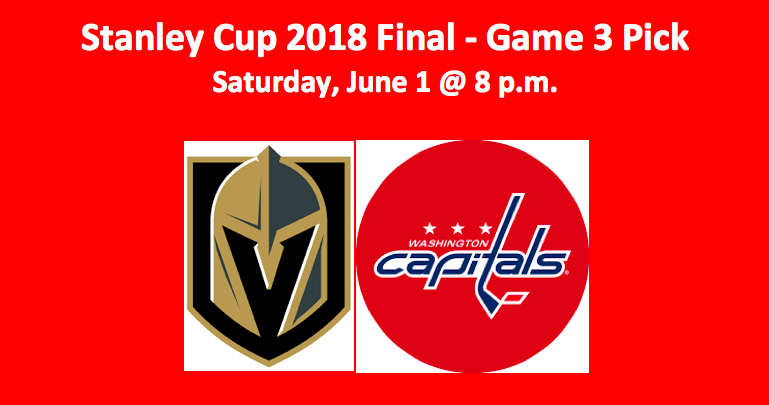 The Golden Knights come to Washington with the purpose of winning at least one of their away games. They lost their home ice advantage when the Caps took game two in Vegas by a score of 3-2. That relatively low-scoring game came after a game-one where a total of 10 goals were scored and the Knights vanquished Washington 6-4. Our Vegas plays Washington Game 3 Stanley Cup Final pick has the Capitals at -129 and the Golden Knights at +119. The over/under is 5.5. The puckline offers the visitors at +1.5 (-260) and the home team at -1.5 (+210).
Goaltending and Luck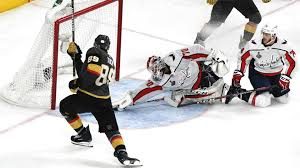 It was goalie Mike Richter who said, "Most fans go wild when they see a goalie make what looks like a great save, but the chances are what they are seeing is a save that was made from being out of position." That may or may not sum up the save by Cap's goalie Braden Holtby late in the third period of game two that kept the score 3-2, advantage Washington. It was a big, sick play.
There's no doubt about it that Holtby had a fine game, as he faced 39 shots, saved 37, and posted a save percentage of .949. That was much better than his first game in this series, where he let in five of 33 shots and had a save percentage of just .848. Now he's back home. In his last game at home, he saved 24 of 24 shots against Tampa Bay. After a solid performance versus Vegas in game two, we expect him to be sound in goal tonight.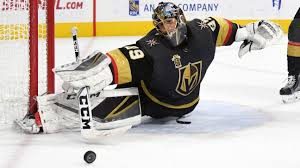 Vegas goalie Marc-Andre Fleury has had a stellar playoff run until recently. In his first two games against the Caps in the Stanley Cup Final series, he's been a disappointment. Fleury's overall 2018 postseason save percentage stands at .939, but in the last two games he's put up a .870 SV%. Thus far against Washington, he's faced on average 26.5 SOG and has allowed 3.5 GAA. In the playoff series against Winnipeg, he earned a 2.0 GAA. He must cut down on goals for the Golden Knights to have a shot at winning the Cup.
Offensive Power and Defensive Toughness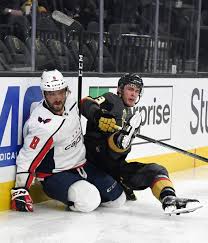 The Knights need their plus guys on the defensive side of the puck, such as Nate Schmidt, Shea Theodore, Colin Miller, and others, to shut down Alex Ovechkin and company. At the same time on offense, wingers Reilly Smith, Alen Tuch, and James Neal and centers Jonathan Marchessault and William Karlsson must be productive. These guys are the primary point-makers. Together in this postseason, they have 29 goals and 72 points.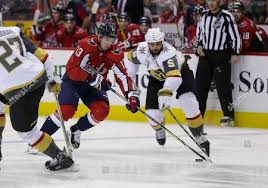 The Caps have one major worry, and that's the fitness of point-leader Evgeny Kuznetsov. Kuznetsov sustained an upper body injury on the ice and is a game-time decision tonight. He has 11 goals and 14 assists. Of course, Washington does have winger Ovechkin. In the playoffs, he's notched 13 goals and 11 assists thus far. Defenseman John Carlson, who is +9, has scored four goals while making 13 assists.
Our Vegas Plays Washington Game 3 Stanley Cup Final Pick
The Golden Knights are a resilient team. They are also a decent road team. A lot is riding on Fleury's netminding. He's needs a very sound, 60-minute performance where he's saving 94% or better. Vegas put good pressure on Holtby in the last game. More of the same will help. Ovechkin will be pumped for tonight, but if Kuznetsov can't play, that could throw off the Caps. Our Vegas plays Washington Game 3 Stanley Cup Final pick is over 5.5 goals (-110) and the Golden Knights at +1.5 (-260).
Summary Golden Knights at Capitals Picks: Vegas puckline at +1.5 (-260) and over 5.5 (-110)