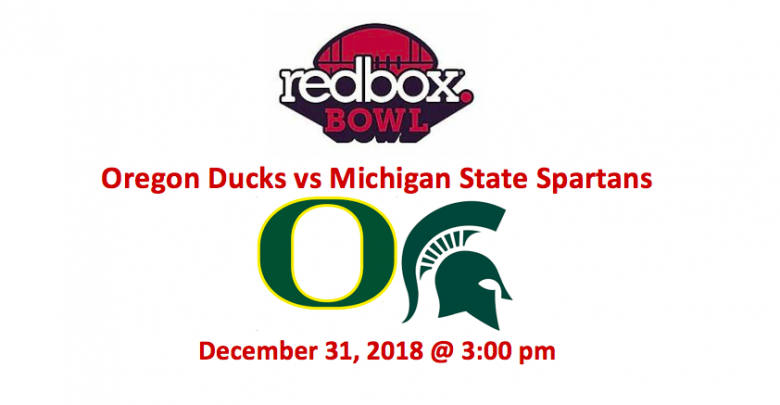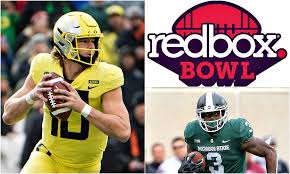 The Redbox Bowl is set to kick off at 3:00 pm ET on Dec 31. This is the third bowl game of six being played today. Over the next two days, there will be 11 bowl games played. This contest features the Oregon Ducks vs the Michigan State Spartans. Although both are unranked now, as some point in time, both were in the top 25. Our Redbox Bowl free pick, which will be played at Levi's Stadium in Santa Clara, CA, has the Ducks at -1.0. The over/under is at 47.5.
The Spartans had what can be best described as an uneven season. They started the season at 3-1, but then went 4-4 over their final eight games. Although they beat #8 Penn State 21-17, they lost to #6 Michigan state 21-7 and #10 Ohio State 26-6. The Ducks started the season promising, taking down their first three games. And despite later beating #24 California 42-24 and #7 Washington 30-27 OT, they recorded five wins to four losses to finish the season. Included in those final nine games, was a 38-31 OT loss to #7 Stanford and a 34-20 loss to #25 Washington State.
Michigan State – Analysis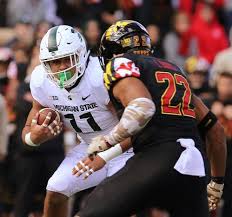 Our Redbox Bowl free pick observes that for Michigan State to have a shot, they will most likely have to score more than the 19.8 PPG that they averaged this season. The defense is sound, certainly, as this team held opponents to 18.0 PPG. Against the Spartans, teams are averaging a mere 81.0 YPG on the ground. Passing yards come out to 230.6 per game. That makes this team vulnerable to the pass. As far as the Michigan State offense is concerned, they're averaging 122 in rushing and 221 in passing.
Freshman Rocky Lombardi (54.2 COMP%, 8 TDs, 10 INTs) has been playing in lieu of junior Brian Lewerke (44.2 COMP%, 3 TDs, 3 INTs). Neither has been very effective. When passing, the Michigan State QB will be looking for WRs Cody White (36 REC, 491 YDs, 13.6 YPC, 2 TDs) and Felton Davis III (361 REC, 474 YDs, 15.3 YPC, 4 TDs). They are two of the busiest pass catchers on the team. Sophomore RB Connor Heyward (114 ATT, 520 YDs, 4.6 YPA, 5 TDs) leads the team in rushing.
Oregon – Analysis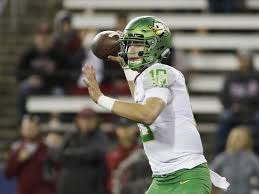 The Ducks have a dynamic rush attack and a sound passing game. Oregon is averaging 37.2 PPG, as they are passing for 254.7 YPG and running for 191.3 YPG. Our Redbox Bowl free pick notes that this Oregon defense is problematic. Although, the 27.0 PPG they are giving up still gives them a PF/PA differential of just over plus-10. Opponents are averaging 247.4 YPG when passing and 143.1 YPG when running. Both numbers are significant.
Junior QB Justin Herbert (59.6 COMP%, 28 TDs, 8 INTs), who has thrown for over 2,600 yards this season, has a good group of receivers to throw to. Junior WR Dillon Mithcell (69 REC, 16.9 YPC, 9 TDs) has over 1,100 yards in receptions. Freshman RB CJ Verdell (188 ATT, 5.2 YPA, 10 TDs) has rushed for close to 1,000 yards in his rookie season.
Five Keys to the Game
Big question- Can Michigan State exploit Ducks' weak D?
Oregon pass attack has room against Spartan secondary
Spartan defense needs to control pace of game and slow it down
Ducks have plenty of big play potential
Spartans have to curtail Duck scoring to have a chance
Our Redbox Bowl Free Pick
Although the Ducks are a mere one-point favorite, we like their chances in this game. They offer a balanced attack and a defense that should be good enough to win. Michigan State will probably keep point totals low. But we doubt they'll generate enough offense to win. Our Redbox Bowl free pick is Oregon at -1.0 and under 47.5. Link to every bowl and every pick by navigating here.
Summary Oregon Ducks vs Michigan State Spartans Picks: Ducks at -1.0 and over 47.5