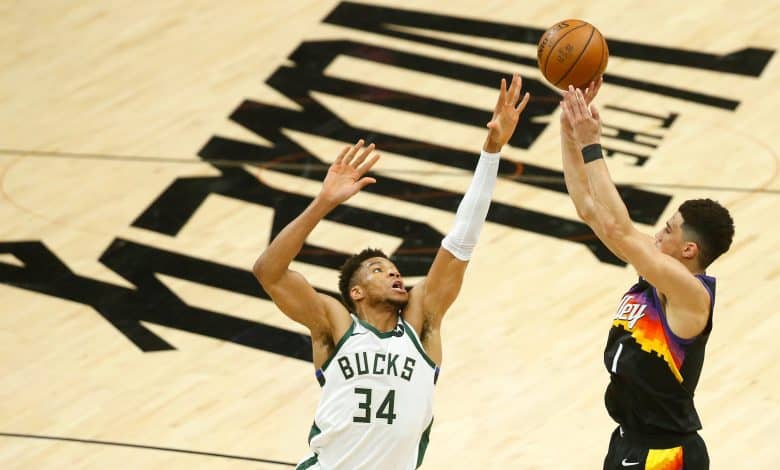 The Suns at Bucks Game 6 betting matchup could be the last one of the season for NBA fans. Milwaukee was able to take control of the series with a 123-119 win in Phoenix on Saturday night to take a 3-2 series lead. The Bucks can win their first championship since 1971 with a win on their own court on Tuesday as 5-point favorites.
The big question heading into Game 6 is what happened to the Suns? Phoenix took a 2-0 series lead while also covering the number at home in games 1 and 2 but have since dropped three straight. Saturday night was a valiant effort in a 119-123 loss, but that was as -3.5 home favorites. Game 6 is going to have the electricity of a Packers playoff game in Wisconsin, do the Suns have a chance?
Phoenix Needs More of a Team Effort
You can't blame him for trying to shoulder the load, but it's obvious that Phoenix is way too dependent on Devin Booker right now. He's been amazing with consecutive 40+ point games, but the Suns have also lost those contests 109-103 and 123-119 to fall into a 3-2 hole.
Does Phoenix need less from Booker to pull out a win in the Suns at Bucks game 6 betting contest? Chris Paul was much better on Saturday with 21 points and 11 assists, but he's been stifled in the two games in Milwaukee averaging just 14.5 ppg. Expect a solid effort from Paul who is on the verge of his first championship after 16 years in the league, but the Suns may just be up against an immovable object here.
The Suns were 24-12 on the road during the regular season, but are going to be playing in an absolutely insane atmosphere on Tuesday night. The two games in Milwaukee so far this series have also been decidedly more defensive oriented, as all three games in Phoenix have gone 'over' but the under and a push have happened at Fiserv Forum (O/U 222 for Game 6). The Bucks had the 6th best defensive efficiency this season, but Phoenix 7th.
Close Out Time for Bucks
It's been 50 years since Milwaukee has sat on the throne as NBA champions, and they know it would be even sweeter to hoist the Larry O'Brien Trophy in front of their own fans. The Bucks have used their decisive home court advantage to battle back from an 0-2 series deficit, and seem to be in the driver's seat for Game 6.
There seems to be two possible scenarios for Tuesday night's game – either Phoenix wins outright to force a Game 7 (ratings gold) or they know they let one slip away and give up late in a 10+ point loss. This is a legacy game for Giannis Antetokounmpo, who is almost assuredly going to be named Finals MVP with a Milwaukee win. Antetokounmpo went for 41/13/6 and 26/14/8 in the two wins at Fiserv so far.
While Antetokounmpo gets a majority of the hubbub, it's quietly been Khris Middleton and to a certain extend Jrue Holiday that have been the driving forces for the Bucks. Middleton bounced back from a rough game 2 and 3 to score 40 in game 4 and add 29 on Saturday. Holiday has done a number defensively on Paul, and also added 27 points and 13 assists in game 5. The Bucks can feel it.
Free Suns at Bucks Game 6 Betting
The NBA loves a Game 7 as well as a redemption story for one of the all-time greats such as Chris Paul whose career is defined by playoff shortcomings. That being said, the Bucks (and their fans) can taste it and this looks like a whole different team from games 1 and 2. Phoenix sulks late giving Milwaukee the cover.
Bucks 121 – Suns 112
Free Pick: Bucks -5