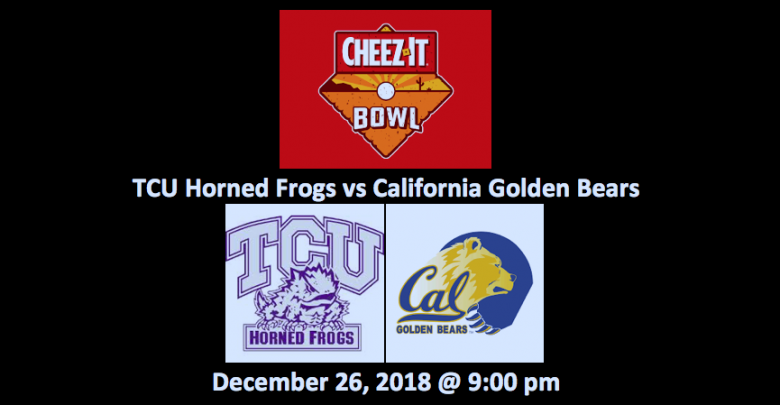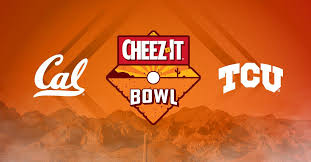 Our Cheez-It Bowl preview and pick features the TCU Horned Frogs (6-6, 5th Big 12) vs the California Golden Bears (7-5, 5th Pac 12 – North). The game will be played Wednesday, Dec. 26 at Chase Field in Phoenix, AZ. Kickoff is at 9:00 pm ET. This is the third of three bowl games played on Boxing Day. The other two are the ServPro First Responder Bowl and the Quick Lane Bowl. Our 2018 Cheez-It Bowl preview and pick has the Golden Bears at -1.0 and the over/under at a very low 38.0 or 38.5.
The Golden Bears started their season with three-straight nonconference wins. Then, as they started Pac-12 play, they notched three losses in a row, including a 42-24 loss to #19 Oregon. Over their final six games, they were 4-2. That record includes a 12-10 win over #15 Washington and a 19-13 loss to #8 Washington State.
TCU started the season with two wins and ended the season with two wins. In between, they were 2-6. They played three top 10 teams and lost to each one. Just after their first two wins, #4 Ohio State beat the Horned Frogs 40-28. Four games later, #9 Oklahoma hammered them 52-27. Then, just prior to their final two wins, #9 West Virginia took them down 47-10. Their final game of the season was a 31-24 win over Oklahoma State.
California – Analysis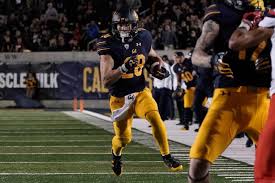 Our 2018 Cheez-It Bowl pick notes that the Bears averaged just 22.8 PPG. Their strength was their ground attack that averaged 162.1 YPG. The California passing game averaged merely 188.1 YPG. Of the two Bear QBs, freshman Chase Garbers (61.0 COMP%, 14 TDs, 7 INTs) has seen more action than sophomore Brandon Mcllwain. Mcllwain completed 62.0% of his throws, but tossed two TDs and eight picks. Top go-to pass catchers include WR Vic Wharton III (50 REC, 10.0 YPC, 1 TD) and RB Patrick Laird (50 REC, 5.8 YPC, 4 TDs). Laird is also the team's top rusher, accumulating 932 yards, averaging 4.3 YPA, and scoring 5 TDs. Mcllwain has run for four scores.
Defense
The Golden Bears defense allowed opponents 21.3 PPG, giving them a PF/PA differential of +1.8. Overall, this was a solid defense. Opponents averaged 187.1 YPG in passing and 132.3 YPG in rushing. California has accumulated 29 sacks, 71 TFL, and 17 INTs. They've also defended 45 passes, forced 13 fumbles, and recovered six. The secondary features some fine talent, including corner Antione Davis. Davis has grabbed four picks, defended five passes, scoring one TD. LB Jordan Kunaszyk is a major talent. He's made 129 tackles, forced five fumbles, accumulated 10.4 TFL, and made four sacks.
TCU – Analysis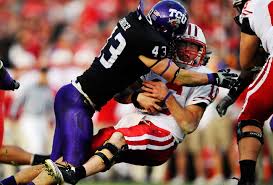 The Horned Frogs were good for 24.7 PPG. Of their 374.6 YPG in offense, 226.8 YPG were through the air and 147.8 were on the ground. Due to injuries, TCU has had three starting quarterbacks this season. We expect senior Grayson Muehlstein (65.1 COMP%, 3 TDs, 0 INTs), who's played the first two and last two games of the season, all of which were wins, to be the man in the pocket.
The Horned Frogs' primary receiver is sophomore wideout Jalen Reagor. Reagor has 72 catches for 1,061 yards and nine scores. He's averaging 14.7 YPC. TCU features two RBs Sewo Olonilua (103 ATT, 4.3 YPA, 1 TD) and Darius Anderson (124 ATT, 3.8 YPA, 3 TDs) have been to primary running backs. But Anderson suffered a season-ending injury late in the year. We expect sophomore Emari Demercado (44 ATT, 3.0 YPA, 0 TDs) to get extra work in this game.
Defense
TCU gave up 24.4 PPG, which resulted in a miniscule PF/PA of +0.3. Opponents averaged in 141.8 YPG rushing and 202.6 YPG in passing. The Horned Frogs have notched 29 sacks, 90 TFL, and seven picks. They also have defended 45 passes and forced four fumbles. Our 2018 Cheez-It Bowl preview notes that corner Jeff Gladney is key in pass defense. He's defended a dozen passes and picked one. One the line, Ben Banogu leads the team with 7.5 sacks and 17.0 TFL.
Five Keys to the Game
Bears D has scored 5 TDs, TCU's 3
QB Muehlstein could be key for TCU
Horned Frogs RB situation worrisome
Golden Bears rushing game offers edge with versatile Laird
Defense wins this game
Our 2018 Cheez-It Bowl Preview – Pick
Our 2018 Cheez-It Bowl preview and pick sees this game as being exceptionally tight. Although California has an edge in the ground game, TCU has a very tough rush defense. But California running back Laird can catch and rush. He'll be tough to contain. We are taking California at -1.0. The over/under of 38.0 is very low. A score of 24-15 gets us the over. We're taking it. See all of our bowl picks by connecting with our schedule page.
Summary TCU Horned Frogs vs the California Golden Bears Picks – California at -1.0 and over 38.0