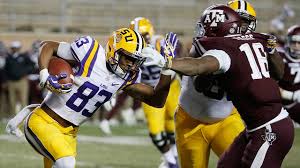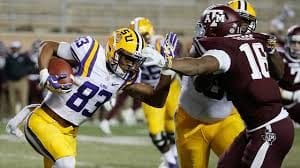 Thanksgiving week is rich with football games. In our next college football free pick LSU plays Texas A&M in what is the only NCAA football game to be played on Thursday, November 24. The #16 LSU Tigers (6-4 Overall, 4-3 SEC) are about to play their fifth straight game against a nationally ranked team. Six of their games this season have been against top 25 clubs. They're in fourth place in the SEC South. The #25 Texas A&M Aggies (8-3 Overall, 4-3 SEC), who are third in the SEC South, will play their fifth game of the season against a ranked team. The Tigers have had a much tougher calendar than the Aggies.
The LSU Tigers are 3-2 over the last five games. Included are two losses to top teams. Last week, LSU lost to the #23 Florida Gators 16-10. The other loss, which occurred two weeks prior, was 10-0 to #1 ranked Alabama. They also beat #25 Arkansas 38-10 and #23 Mississippi 38-21. Their other win was 45-10 against Southern Mississippi.
Over their past five games, the Aggies are 2-3. They won their last game, which was against non-conference opponent Texas San Antonio, 23-10. Their other win was against another non-conference opponent, the New Mexico State Aggies 52-10. The team's three losses were to SEC teams. On October 22 they lost to #1 Alabama 33-14. The two other losses were to Mississippi State 35-28 and Ole Miss 29-28.
LSU Tigers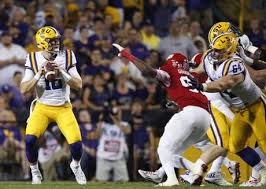 The Tigers offer an excellent defense, which is allowing opponents just 14.1 PPG. At the same time, LSU is scoring on average 25.7 PPG. On offense, they're averaging 406.1 yards per game. Of those yards, 232.1 are on the ground and just 174.0 are through the air.
QB Danny Etling (58.5 COMP%, 7 TDs, 4 INTs, 16 Sacks) is in charge of the offense, which features RBs Derrius Guice (120 ATT, 964 YDs, 8.0 AVG, 10 TDs) and Leonard Fournette (129 ATT, 843 YDs, 6.5 AVG, 8 TDs). Etling will be looking to connect with his receivers, especially Malachi Dupre (30 REC, 404 YDs, 13.5 AVG, 2 TDs) and D.J. Chark (21 REC, 360 YDs, 17.5 AVG, 3 TDs).
LSU's defense is top-notch and much better than Texas A&M's. They're holding teams to below 200 yards in passing and 115.2 in running. This is where the Tigers excel. They should be able to put pressure on the Aggie quarterback and contain their rush offense.
Texas A&M Aggies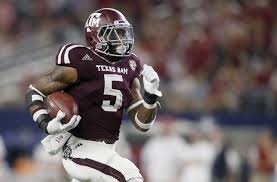 Texas A&M QB Trevor Knight is out for the season with a shoulder injury. That means that junior Jake Hubenak (59.8 COMP%, 6 TDs, 2 INTs, 2 Sacks) will get his fourth start this season. Hubenak has played well as a sub. His key receivers are Josh Reynolds (46 REC, 834 YDs, 18.1 AVG, 9 TDs) and Christian Kirk (69 REC, 735 YDs, 10.7 AVG, 7 TDs). Knight will be missed for his running ability. He had 10 rushing touchdowns in 88 carries, gaining 583 yards, and averaging 6.6 yards per carry. RB Trayveon Williams (137 ATT, 956 YDs, 7.0 AVG, 7 TDs) is a powerful force but will be challenged by LSU's defense.
The Aggies offense is scoring 35.1 PPG. Of their 467.7 offensive yards, they've accumulated an average of 220.2 per game on the ground. The other 247.5 were via the air. Those stats should be muted without Knight at the helm.
A big problem for this team is their defense. They are giving up 428.0 YPG. That includes 179.7 in ground yardage, which is great for LSU. They are allowing 21.1 PPG. But against the last three SEC opponents, they gave up 32.2 PPG.
College Football Free Pick LSU Plays Texas A&M
In our college football free pick LSU plays Texas A&M the spread has the Tigers favored by 5.5. The Aggies have really struggled against SEC opponents as of late. LSU has done well against tougher teams than Texas A&M. We are taking LSU at -5.5. Game time is 7:30 p.m. ET on Thanksgiving Day.
College Football Free Pick LSU Plays Texas A&M: LSU Tigers at -5.5