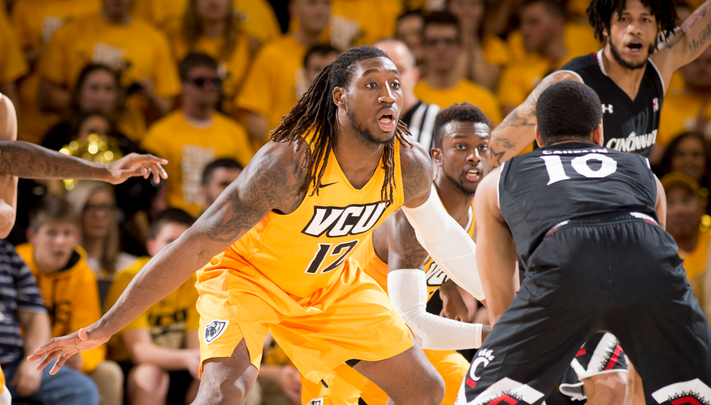 The 8-9 matchup in the East region should be one of the best first-round games of the entire NCAA Tournament. VCU was given the 8-seed by the tournament committee, and their opponent is the 9-seed Knights from UCF. VCU will try to speed this game up with their pressure defense, while UCF will protect the paint with the tallest player in the country.
VCU was stunned in the quarterfinals of the A-10 Tournament, but the Rams played their way into the field. VCU went 25-7 during the regular season and won 12 of their final 13 games. UCF finished the regular season with a 23-8 record and finished 3rd in the tough American Athletic Conference. The Knights have lost their previous two games coming into this one. UCF is a -1.0 point favorite over VCU in this game.
VCU Must Make Shots
The VCU Rams make their living off of points off turnovers, but they can't rely on that in this game. VCU is not a great shooting team, but they are going to have to make shots if they are going to win this game. The Rams will run into 7'6" Tacko Fall when they drive to the hoop, and he will likely turn a ton of shots away. VCU makes just 31 percent of their shots from deep this season but will need to shoot better to keep this game close.
The Rams allow just 61.6 points per game this season, which is the 10th best mark in the country. Defense can win games in the NCAA Tournament, but at some point, the Rams are going to have to score. Look for guard Marcus Evans and forward De'Riante Jenkins to carry the Rams on offense. The duo is averaging more than 25 points per game this season.
UCF Needs To Handle Pressure
The number one concern for UCF in this game is handling the extreme pressure that VCU will put on them all game long. The Knights have a pair of veteran guards in B.J. Taylor and Aubrey Dawkins who usually take care of the ball. UCF is averaging more than 72 points per game this season, and they are shooting better than 37 percent from deep. If the Knights can handle the pressure, they should have plenty of offense.
The Knights are also a terrific defensive team, but they get it done in a different way. UCF allows just 64.3 points per game, and Tacko Fall's 2.5 blocks per game is a big reason why. Fall also chips in with 10.9 points per game, but Taylor and Dawkins are their two main scoring threats. The guards combined for more than 31 points per game this season, and they can both shoot.
VCU Pulls Off First Round Win
Tacko Fall is a huge advantage for UCF in most games, but he won't be able to keep up in this one. VCU just plays too fast, and they will negate his size with quickness and pace. UCF will use their shooting to keep them in this game, but they will eventually fall to the Rams. Bet the VCU Rams +1.0 over the UCF Knights in this game.