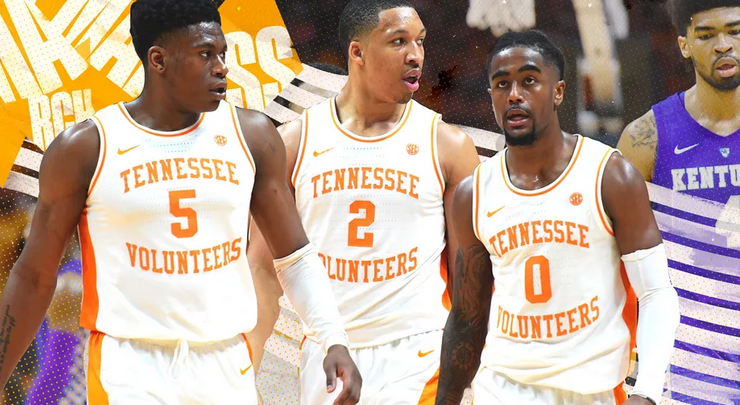 The South Region saw a ton of upsets in the first round, and odds are that there will be a few more in the second round. The 10th seeded Iowa Hawkeyes hope to pull off their second straight upset with a victory over the second-seeded Tennessee Volunteers. Both teams feature terrific offensive players, and this should be a high-scoring affair.
Iowa used their three-point shooting to upset the Cincinnati Bearcats with a 79-72 win the first round. The Hawkeyes finished with a 10-10 record in the Big Ten Conference this season. Tennessee was able to put together a great second half and finished with a 77-70 win over Colgate in the first round. The Volunteers finished with a 15-3 record in the very tough SEC this season. Tennessee is an -8.0 favorite over Iowa in this game.
Iowa Has Plenty of Shooters
The Iowa Hawkeyes are loaded with terrific three-point shooters, and they are hard to stop if they get hot. Iowa is shooting better than 36 percent as a team from the three-point line, and they will launch a ton of them in this game. Guards Jordan Bohannon and Joe Wieskamp are the best sharpshooters for the Hawkeyes and have combined to score more than 22 points per game this season. Tennessee will have to find a way to guard these two scorers.
Iowa has really struggled on defense this season, allowing close to 74 points per game this season. The Hawkeyes will likely use a mixture of pressure and a zone to slow down the Volunteers, but their lack of depth can hurt them. Forwards Tyler Cook and Luka Garza have combined for more than 27 points per game this season and will have to find a way to score some points on the inside against Tennessee.
Tennessee Has Experience and Depth
The Tennessee Volunteers are one of the oldest teams in the country, and they used their experience to close out their victory in the first round. The Volunteers have the potential to put up a ton of points on offense and are averaging 82.2 points per game. Guard Admiral Schofield and forward Grant Williams are the two best scoring threats for Tennessee, but this team is loaded with talent. The Volunteers also shoot better than 36 percent from deep, and they can win a shootout against the Hawkeyes.
Grant Williams leads the team with 18.7 points per game this season but scored just nine points in the Volunteers first-round win. Schofield has poured in 16.1 points per game this season and was clutch down the stretch in the win over Colgate. Point guard Jordan Bone sets the tone for Tennessee on offense and will try to solve the pressure from Iowa. Tennessee has been battled tested this season and will be a tough team to knock off.
Volunteers Advance in a Thriller
Iowa will keep this game close throughout with their three-point shooting, but the Hawkeyes won't be able to get enough stops to seal the deal. The Hawkeyes don't mind scoring points on offense, but they can't score enough to outscore the Volunteers. Tennessee is going to advance to the second round, but this is going to be a very close game. Take the -8.0 points and bet the Iowa Hawkeyes in this second round matchup.