College Basketball Picks
NCAA Tournament #9 Marquette vs # 8 North Carolina Betting Preview
Team NCAA Debuts for Both Coaches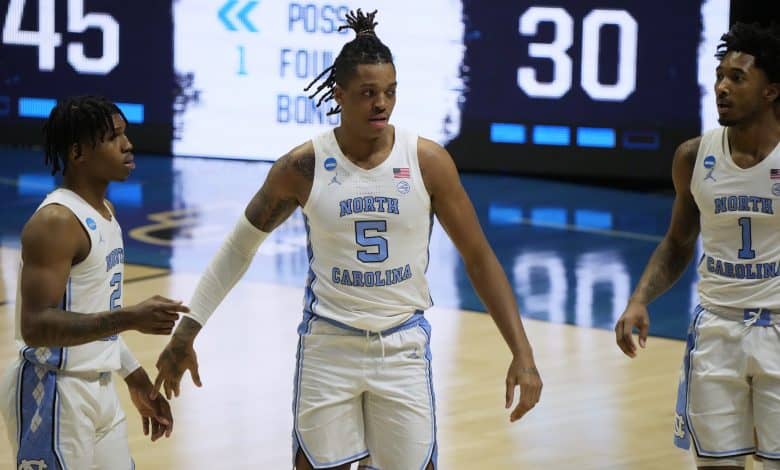 The #9 Marquette vs #8 North Carolina matchup features two coaches who are very familiar with the NCAA Tournament, but also making their debuts with their respective teams. Shaka Smart will try to get the Golden Eagles out of the 1st round for the first time since 2013, while Hubert Davis hopes to replicate the success he had as a Tar Heels player in his 1st year at the helm of UNC.
These two teams come into the Big Dance with some different forms of momentum. The Tar Heels raised eyebrows in their 94-81 win over Duke in Mike Krzyzewski's last home game during the regular season finale, and have won 8 of their last 10 overall. Marquette on the other hand lost by 11 to Creighton in the 1st round of the Big East Conference Tourney and has dropped 6 of their last 10 games. North Carolina is a -3.5 favorite in this matchup in Ft. Worth.
Marquette Will Try to Push the Pace
The Golden Eagles are 48th in KenPom rankings, a number that seems on the high side considering they have played tournament teams Illinois, Wisconsin, and UCLA in their non-conference schedule and also have quality wins over West Virginia and Kansas State. Then again Marquette did get an at-large berth even as a 19-12 team so it's obvious the selection committee took the Golden Eagles' #26 ranked strength of schedule into consideration.
Marquette runs the #26 adjusted tempo in the country, which sometimes gets them in trouble in allowing at least 73 points in 7 of their last 9 games. Giving North Carolina extra possessions isn't ideal considering the Tar Heels are 26th in adjusted offensive efficiency and score 78.6 ppg which is in the top 30 in the nation.
The Golden Eagles do have Shaka Smart on the bench though, and he led VCU to the Final Four 10 years ago. Smart also lost in the round of 64 in all three NCAA Tournament appearances he took Texas to in his last stop, also winning the NIT in 2019.
Too Much Bacot?
North Carolina features one of the more impressive players in this tournament, with 6'10", 240 pound Armando Bacot posting 24 double doubles this season, the most in UNC history. Bacot averages 16.6 ppg and 12.5 rpg so he is formidable to say the least.
One thing that remains to be seen is if we see the North Carolina offense from the last three games of the regular season (when they averaged 88.7 ppg) or the one from the ACC Tournament where they beat Virginia 63-43 but also lost 72-59 to Virginia Tech.
While Marquette will be focusing on how to contain Bacot, it may be Caleb Love (15.7 ppg) or Brady Manek (14.4 ppg) that lead North Carolina to cover the number on Thursday. Manek could especially play a huge role as an experienced 5th year senior who has plenty of familiarity with Smart's defenses after playing his last four years in the Big 12 with Oklahoma.
Free #9 Marquette vs #8 North Carolina Betting Pick
How do you not go with the most dominant force in this game behind UNC"s Bacot? He's a sure fire double double in a game with a lot of question marks. Smart's days with VCU were impressive, but he also folded in the 1st round repeatedly while with Texas.
North Carolina 78 – Marquette 70
Free Pick: North Carolina -3.5