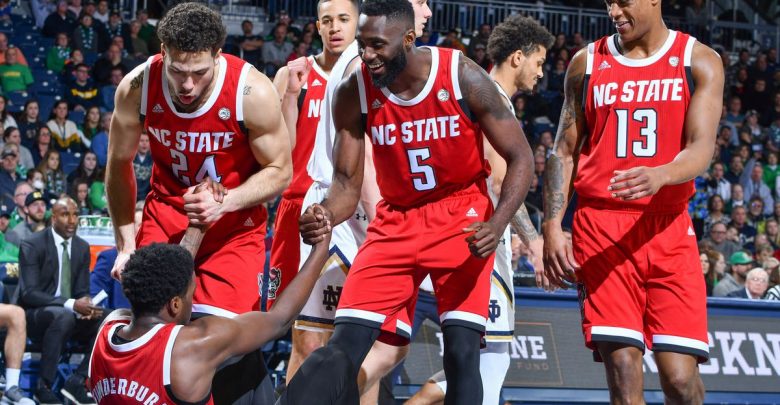 On Thursday night, the NC State Wolfpack will go on the road to face the Louisville Cardinals in a game between two top-25 teams. NC State comes in at 15-3, and they are ranked number 21. Louisville comes in at 13-5 and is ranked for the first time this season, coming in at number 23.
Both Teams Gaining Momentum
NC State is coming off a 77-73 road win over Notre Dame on Saturday. C.J. Bryce led the Wolfpack in scoring with 23 points on 9 of 14 shooting. Bryce also chipped in 5 rebounds and 3 assists. He was followed by Devon Daniels, who scored 15 points on just 5 of 14 shooting. Two other Wolfpack players scored in double figures. Torin Dorn tallied 13 points and was one rebound shy of a double-double with 9 boards, which led the team. DJ Funderburk added 11 points and 6 rebounds. Braxton Beverly led the team in assists with 4.
Louisville is coming off a 79-51 demolition of Georgia Tech on Saturday, and they have won 3 straight games following a loss to Pittsburgh. The Cardinals jumped out to a 43-16 lead at the half, and it was already over. Jordan Nwora was the leading scorer with 25 points on 10 of 16 shooting. Nwora also led the team in rebounds with 8 and added 2 assists. Steven Enoch was the next highest scorer with 15 points and grabbed 6 rebounds. Malik Williams was the only other Cardinal in double figures with 13. Christen Cunningham led the team in assists with 11 and scored 9 points.
NC State Benefits from Balanced Scoring
NC State is a very balanced scoring team and has 4 players averaging double figures. Torin Dorn leads the team with 14.3 points a game. He is followed by C.J. Bryce, who scores 12.2, Markell Johnson with 11.6, and Devon Daniels, who adds 10.5 a game. Dorn is also the leading rebounder on this Wolfpack team, pulling down 7.1 boards each game. Markell Johnson leads the team in assists per game with 4.1. The Wolfpack are putting up 86.7 points a game on 49.4% shooting from the field, and they are allowing their opponents to put up 68.8 points a game.
Louisville is led by Jordan Nwora, who leads the team in both scoring and rebounding. He scores 18.5 points per game and grabs 8.1 rebounds a game. Christen Cunningham is the only other Cardinal averaging double figures with 10.4 points a game. Cunningham is the floor general and leads the team with 4.2 assists a game. Dwayne Sutton chips in 9.9 points and 6.8 rebounds per game, and Steven Enoch adds 9.6 points a game in just 19.7 minutes per contest. Louisville is averaging 79.9 points per game on 45.7% shooting and is allowing opponents to score 68.8 points a game, which is the same amount that NC State is giving up per contest.
NC vs. Louisville Prediction
Louisville comes in at -5.5. NC St is the more experienced team and has had some good road wins at Miami and Notre Dame. Louisville is a very tough team to beat at home and only have one loss at home all year, with that loss coming to the top-10 Kentucky Wildcats. I think NC State has too much offensive firepower for the Louisville Cardinals and I don't think Louisville has enough scorers to keep up with the Wolfpack. I expect this one to be close throughout with the Wolfpack coming away with the win late. Take NC State +5.5.