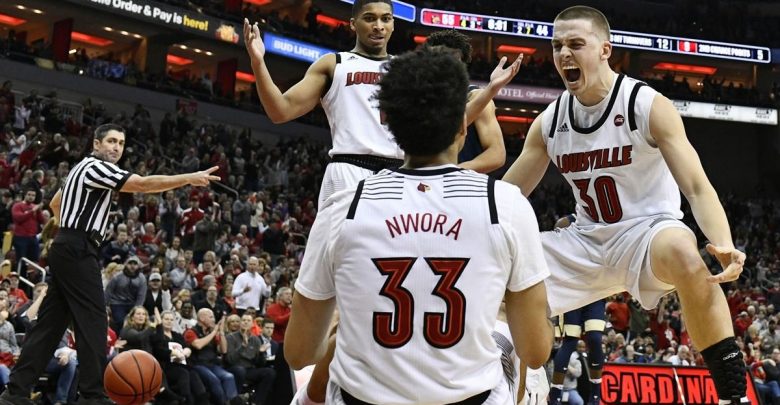 On Wednesday night, the Louisville Cardinals will go on the road to take on the Wake Forest Demon Deacons. Louisville is the 15th ranked team in the nation and comes in with a 15-5 record. Wake Forest has struggled this season and sport an 8-11 record.
One Team on a Hot Streak, the Other Losing Consistently
Louisville has won 5 straight games and is coming off a 66-51 win over Pittsburgh on Saturday. Jordan Nwora was the leading scorer in this one, tallying 17 points on just 6 of 17 shooting and contributed 4 rebounds and 2 assists. Steven Enoch was the only other Cardinal in double figures, scoring 12 points off the bench and grabbed 11 rebounds to lead the team. Dwayne Sutton had a solid game, scoring 9 points and taking down 10 rebounds. Christen Cunningham was the leading assister for Louisville, dishing out 7 dimes to go along with 5 points.
Wake Forest has lost 3 straight games and is coming off a 65-61 loss at home to Boston College on Saturday. Jaylen Hoard led the Demon Deacons in scoring in this one, pouring in 22 points on 9 of 13 shooting and was the lone Demon Deacon to score double figures. Brandon Childress was the next highest scorer with 8 and led the team in assists with 7. Olivier Sarr led the team on the glass with 11 boards to go along with 4 points. Chaundee Brown, Sharone Wright Jr., and Isaiah Mucius each chipped in 7 points for Wake.
Nwora Leading Louisville
Louisville is led by Jordan Nwora on offense this season. Nwora averages 18.2 points per game and is also grabbing 7.9 rebounds each game, which are both team highs. He is followed by Christen Cunningham, who is the only other Cardinal to average double figures. Cunningham scores 10.5 a game and leads the team in assists with 4.4 a game. Dwayne Sutton is a big contributor to the team and is averaging 9.9 points and 6.7 rebounds a game. Steven Enoch is also a big piece of the team and adds 9.8 and 5.4 a game. Louisville averages 79.4 points a game on 45.5% shooting and allows opponents to score 68.3 points per contest.
Wake Forest boasts 3 players that average double figures, led by Brandon Childress, who averages 16.1 a game. Jaylen Hoard and Chaundee Brown are the other 2 in double digits, with 14.3 and 10.5 points per game, respectively. Hoard also leads the Demon Deacons in rebounding with 8.1 a game and Childress is the leading assister with 4.3 a game. Wake Forest has 1 player shooting better than 30% from beyond the arc, with Childress shooting the 3-ball at 38.8%. Wake Forest only scores 71.1 points and shoots 41.6% from the field. They also allow opponents to put up 74.1 a game.
Louisville vs. Wake Forest Prediction
Louisville comes in at -9.5. These 2 teams are on opposite ends of the spectrum. Louisville is red hot and they are playing good ball while Wake Forest is quite honestly a dumpster fire at the moment. Louisville's offense will erupt in this one against a weak Wake defense, just like it did against Georgia Tech. Also, Wake Forest's offense has not been pretty and will struggle to score against this Cardinal defense. Louisville wins big. Take Louisville -9.5.