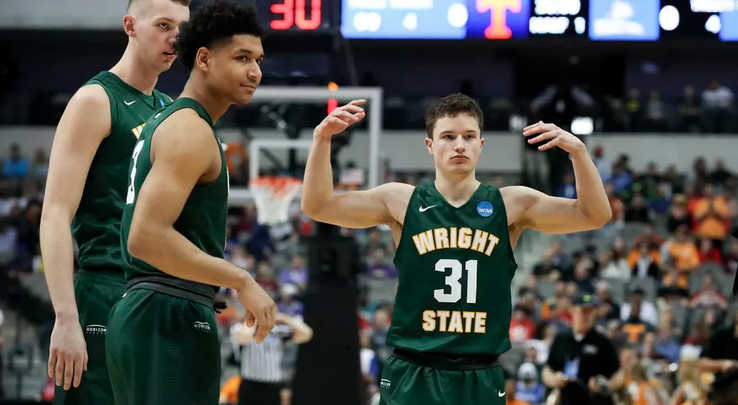 Wright State and Northern Kentucky tied for the regular season Horizon League title, and the two teams will square off in the conference tournament finale. Northern Kentucky is a team that likes to score a ton of points, while Wright State is one of the top defensive teams in the league. The two teams split their two meetings during the regular season.
Wright State comes into this game with an overall record of 21-2, and they have had little trouble in the conference tournament. The Raiders have a ton of momentum, winning nine of their previous ten games. Northern Kentucky was able to hold off Oakland for a one-point victory in their semifinal games. The Norse are 25-8 overall this season and have won four straight games. Wright State is -1.0 over Northern Kentucky in this game.
Raiders Have Plenty of Size
Most of the top college basketball teams are led by solid guard play, but that isn't the case for Wright State. The Raiders are led by a pair of talented big men, and that could be the difference in this game. Center Loudon Love leads the team with 15.5 points and 8.1 rebounds per game and will see a ton of paint touches in this game. Forward Will Lampler is a difference maker off the bench for the Raiders and is averaging 14.8 points per night.
Wright State isn't one of the most explosive offensive teams in the Horizon League, but they can play some defense. The Raiders have kept five of their last six opponents to less than 62 points and held Green Bay to just 54 points in their semifinal victory. Guard Cole Gentry is averaging 1.3 of the Raiders 6.2 steals per game this season. If Wright State is going to win this game, it will likely be due to their defense.
Northern Kentucky Need to Score
If Northern Kentucky is going to win this game, they are going to have to do it on the offensive end of the floor. The Norse come into this game averaging close to 80 points per game, but their offense has sort of disappeared of late. Northern Kentucky is shooting better than 36 percent from deep on the season, and they have four capable scorers in their starting lineup. Wright State has the size advantage, but Northern Kentucky can win with their guards.
Forward Drew McDonald leads the Norse with 19.3 points and 9.5 rebounds per game this season, but he will have a tough matchup against the bigs of Wright State. Look for guards Tyler Sharpe and Jalen Tate to be the key in this game. Sharpe and Tate have combined for more than 28 points per game this season, and are both shooting close to 40 percent from the three-point line.
Wright State Punches Their Ticket
Northern Kentucky has looked vulnerable of late, and they are lucky to even be in this game. The Norse looked like the team to beat for much of the season, but Wright State finished the season with a ton of momentum. Expect this game to be close, but the size of Wright State is just too much to overlook. Bet the Wright State Raiders -1.0 over the Northern Kentucky Norse.