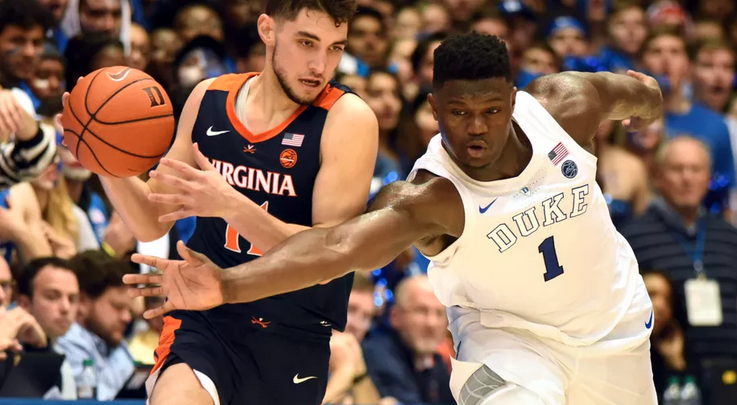 The best rivalry in all of college basketball is set for part two on Saturday night. The North Carolina Tar Heels and Duke Blue Devils are set to square off again as both teams are ranked in the top-five in the country. North Carolina blew out Duke just a few weeks ago, and revenge will be on the minds of the Blue Devils.
North Carolina still has a chance to win the ACC regular season title, but they must beat their rival for a second straight time. The Tar Heels have gone 15-2 this season in conference games, and have won six straight. Duke has struggled of late, and have slipped into third place in the ACC with a 14-3 conference record. North Carolina is a three-point favorite over Duke in this game.
No Zion Again For Duke
Freshman superstar Zion Williamson played just over 30 seconds in the first matchup against North Carolina, and it appears that he will sit this game out as well. This is a huge blow for Duke, who hasn't looked like the same team without him on the floor. The Blue Devils have gone 3-1 without Williamson, but they haven't looked as sharp. The forward was leading the Blue Devils with 8.8 rebounds per game and was also pouring in more than 21 points per night. Duke is also missing his shot blocking ability at the rim.
Three-point shooting has been a huge question mark for the Blue Devils all season long, and they are shooting just 31 percent from deep as a team. Duke is still averaging 84.6 points per night but will need to make shots without Williamson on the floor. RJ Barrett has done all he can to keep the team afloat, pouring in 23.3 points per game.
Carolina Offense Won't Slow Down
The North Carolina Tar Heels have been impressive on offense all season long, but they have turned it up a notch of late. North Carolina is averaging 86.8 points per game this season, and have scored at least 88 points in five of their last eight games. The Tar Heels have a huge advantage on the perimeter as they are shooting 38 percent as a team from the three-point line. North Carolina will be playing at warp speed against their rival.
Guards Cameron Johnson and Coby White have been carrying the Tar Heels offense all season long, and they are responsible for pushing the pace. Johnson and White have combined to score 33 points per game this season, and are both shooting better than 38 percent from the three-point line. North Carolina has a ton of other players who can score, but these two guards will get them going.
North Carolina Sweeps Duke
Even though Duke has gotten most of the attention this season, North Carolina is actually going to finish ahead of them in the standings. The Tar Heels embarrassed Duke on their home floor earlier this season, and this game shouldn't be close either. Duke desperately needs Zion Williamson back on the floor, or their season will end soon. Bet the North Carolina Tar Heels -3.0 over the Duke Blue Devils.