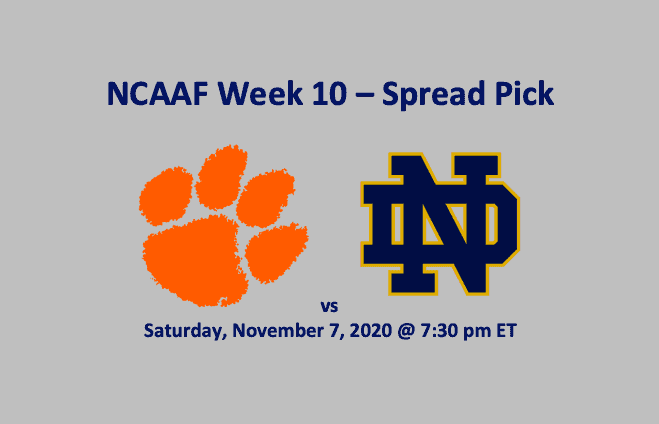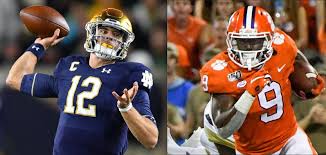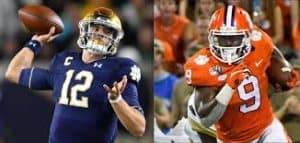 Our Clemson vs Notre Dame pick has the Tigers at -5.5 (-105), while the best spread for underdog Notre Dame is +6.0 (-115). The #1 Clemson Tigers are 7-0 overall and 2-5 ATS. The #4 Notre Dame Fighting Irish, who are also undefeated, come to this game with a 6-0 record. They are 2-4 ATS. Of note, Clemson comes to this game after defeating the Boston College Eagles last week 28-24. In that same week, Notre Dame took down Georgia Tech 31-13.
This game will be played at Notre Dame Stadium in Notre Dame, IN. The November 7, 2020 matchup will kick off at 7:30 pm ET. The weather is expected to be clear with the temperature at game time around 64 degrees. Consequently, the weather should not be a factor. Also, please see our totals pick for this Tigers and Fighting Irish matchup.
Clemson vs Notre Dame Pick – Stats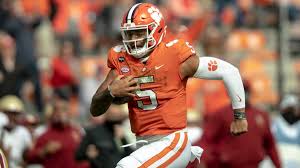 The Tigers are generating 508.0 YPG in offense. That includes 341.4 YPG in the air and an additional 166.6 YPG on the ground. As a result, Clemson is scoring on average 46.1 PPG. They are going up against a defense that is holding opponents to 267.2 total yards per game and 10.3 PPG. However, the slate of teams the Irish have met thus far in the season are in no way comparable to Clemson. This, it's questionable if the Notre Dame defense can step up and control the Tiger offense.
On the other hand, the Fighting Irish are scoring 34.8 PPG. Of their 437.2 offensive yards per game, 231.0 are attributed to the ground attack. They are facing a team that is holding opponents to 99.9 YPG rushing and 174.9 YPG passing. The Tigers are giving up 15.6 PPG. Also, we have
Tigers vs Fighting Irish Spread Pick – Key Players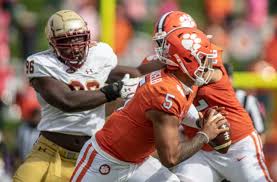 Our Clemson vs Notre Dame pick observes that the Tigers bring a well-balanced offense to this game. Junior QB Trevor Lawrence is completing 70.7% of his passes. He's thrown 17 TD passes and just two picks. Lawrence has also rushed for four scores. He's been sacked only eight times. His top-target is WR Amari Rodgers. Rodgers has 40 receptions for 586 yards and six scores. Dual-threat RB Travis Etienne has nine rushing TDs and two receiving scores. The Clemson D has amassed 28 sacks, nine INTs, 26 PD, and six FF with four recovered. LB Baylon Spector and DE Myles Murphy lead this defense. They have 39 and 25 tackles and 2.5 and 3.5 sacks respectively.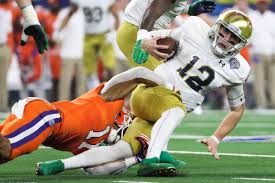 Senior QB Ian Book comes to this game with a 61.3% completion rate. He's thrown seven TD passes while rushing for five more scores. Book has thrown one pick and been sacked 11 times. TE Michael Mayor comes to this game with 15 catches and two receiving TDs. WR Javon McKinley, who has 14 receptions for 264 yards, is Notre Dame's top pass-catcher. The Irish rush attack is solid. Kyren Williams leads the way with 105 carries, 600 yards, and seven TDs. Williams also has 12 receptions for 180 yards. The Irish defense has accumulated 17 sacks, four picks, and 24 PD. DLs Isaiah Foskey and Adetokunbo Ogundeji bring 3.5 and 3.0 sacks respectively to this game.
Clemson vs Notre Dame Pick – Final Word
Our Clemson vs Notre Dame pick sees this game as being a standoff between two tough defenses and two high-powered offenses. That being the case, Clemson has the edge. Also, of note are these two team's 2020 schedules. Thus far, Clemson's biggest test came on October 10 when they played #7 Miami. The Tigers beat the Hurricanes 42-17.
On the other hand, tonight's game marks the first time that the Irish have faced a nationally-ranked team this season. This game will be a true test of their mettle. Of note is the fact that Notre Dame beat Georgia Tech by 18 points, while Clemson hammered the Yellow Jackets 73-7. Also, see our spread pick for today's 12 noon SMU at Temple matchup.
Clemson Tigers vs Notre Dame Fighting Irish Summary
Clemson Tigers at -5.5 (-105)