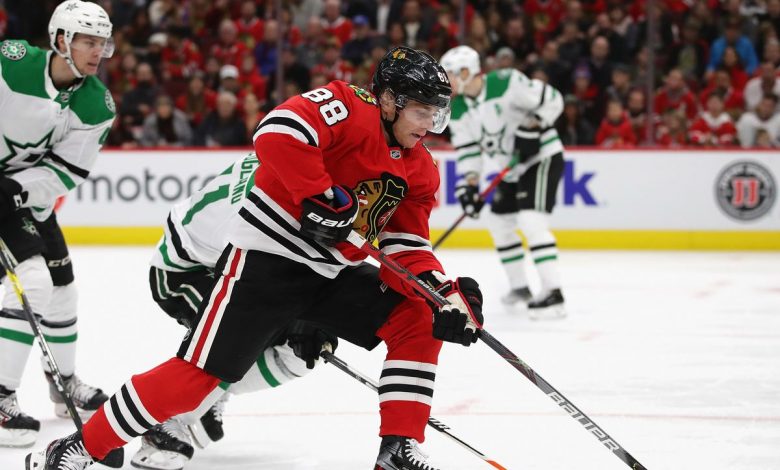 Two division rivals are set to battle Thursday night in Winnipeg, as the Chicago Blackhawks (13-16-6) head up to Canada to take on the Winnipeg Jets (20-12-3). The Blackhawks are slumping, losing five of their last six games, including a 4-1 loss to the Avalanche Wednesday night. Meanwhile, the Jets are coming off of a 6-3 loss on Tuesday to the Hurricanes but have won six out of their last 10 contests.
Here is a preview for Thursday night's matchup between the Blackhawks and the Jets, along with odds and a free pick.
By The Numbers
Chicago has taken a step down from last year offensively and now ranks in the bottom third in the league in nearly every offensive category. The Blackhawks are 21st in both goals and shots per game, scoring an average of 2.69 goals on 30.7 shots.
The Blackhawks are scoring on 8.7 percent of their shots, which ranks 22nd, while also coming in with the 24th-ranked power play at 16.2 percent.
On defense, no team is allowing more shots than the Blackhawks, who allow an average of 36 shots on goal per game. However, solid goaltending keeps them at only 3.14 goals allowed, which ranks 19th. Chicago also has the 17th-best penalty kill, which has been successful 80 percent of the time.
The Jets don't have a dynamic offense either but sit firmly in the middle of the pack. Winnipeg is 16th in goals per game with 3.00 and 15th in shots with 31.4. The Jets' shooting percentage is just under 10 percent, coming in at a 17th-ranked 9.6 percent, while their 18.3 percent success rate on the power play is good for 17th in the NHL.
Winnipeg is also a team that has had trouble with shots against, ranking 26th at 32.6. But like the Blackhawks, the Jets have had good goaltending to keep pucks out of the net, as they rank 11th in hockey with 2.82 goals allowed per game.
But they've been much better at even strength than on the penalty kill, where their 73.5 percent kill rate is the second-worst in the league.
Who To Watch
The Blackhawks are once again a one-man show, led by the All-Star, Patrick Kane. After a career year last season, Kane is up to 18 goals and 22 assists in 35 games. The veteran is also coming off of a hat trick on Sunday against the Wild. Look for Kane to be the focal point for the Blackhawks in this one.
All that being said, Kane isn't the only player who has been hot of late. The team's captain, Jonathan Toews, has five assists in his last three games and is up to 17 on the season. Additionally, winger Brandon Saad is up to 11 goals this season after scoring three goals over the last three games.
The Jets have had several players give them solid production this year, but none more than Mark Scheifele. The young center is riding a seven-game point streak in which he has seven goals and five assists during that span. Overall, Scheifele has 16 goals and 20 assists, leading the team in goals and points.
Additionally, look for Blake Wheeler and Kyle Connor on the ice in this one as well. Wheeler has eight points in his last five games and is now up to 28 points in 34 games. Meanwhile, Connor has 10 points in December and now has a very respectable season with 14 goals and 17 assists.
Goalies
With Corey Crawford starting Wednesday night, expect the Blackhawks to go with Robin Lehner for Thursday night's contest. The veteran netminder is 7-6-4 with a 2.87 GAA and a .924 save percentage.
As for the Jets, it will once again be Connor Hellebuyck who draws the start at home. Hellebuyck is having his best year to date, going 16-9-2 with a 2.48 GAA and a .926 save percentage.
Odds And Pick
The Jets are big favorites in this one against the West's lowest-seeded team, listed at -175. However, Winnipeg is a little banged up, missing two-thirds of its third line, while Chicago is 6-1-0 in the second half of a back-to-back this season.
Still, I like the Jets. Winnipeg has too many scoring options, while the Blackhawks are not getting a lot of production from their young players who were expected to break out. Overall, the Jets will have fresher legs and be at home, in addition to simply being a better team. Give me the Jets -175 to take care of business against the Blackhawks.