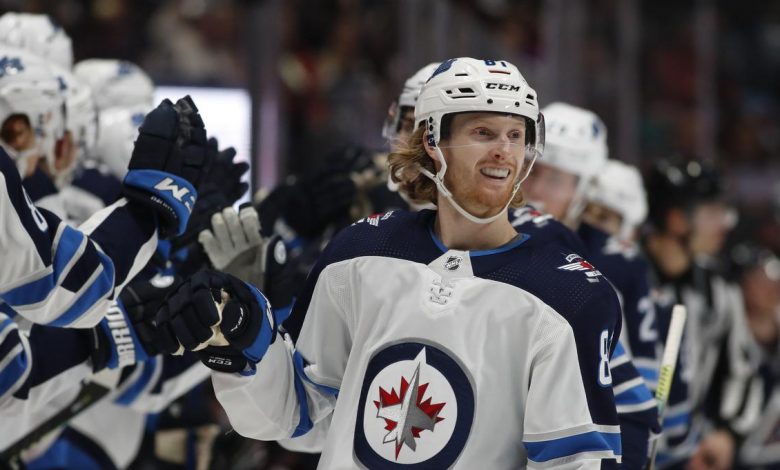 The playoff race in the National Hockey League continues to heat up, and every game will play a huge role. The Chicago Blackhawks will be in Winnipeg for a matchup with the Jets on Sunday night in a battle of Western Conference playoff hopefuls.
Winnipeg earned a 5-2 victory over the Chicago Blackhawks just a week ago and will be looking to take another two points from their new rivals.
The Chicago Blackhawks were able to snap a rough losing skid on Saturday night with an 8-4 win over the Calgary Flames. Chicago comes into this game with 60 points, but are still in last place in the Central Division.
Winnipeg enters the game with 63 points and needs a win to stay in the playoff field. The Jets come into this game as -139 favorites over the Chicago Blackhawks on Sunday night.
Blackhawks Need Defense to Improve
The Chicago Blackhawks have been giving up goals at an alarming rate despite getting great work from their goaltenders. Chicago is allowing 3.12 goals per game and has given up a total of 17 goals through their first four games in Canada.
The Blackhawks will likely have Corey Crawford in goal for this game, and he has been terrific to give his team a chance.
Patrick Kane has been the leader of the Blackhawks on the offensive end of the ice, but he has gotten plenty of help. Kane leads the team with 26 goals, 46 assists, and 72 points this season, and is always dangerous with the puck in his hands.
Chicago scored eight goals in the win on Saturday night, and they can light the lamp in a hurry if they are playing well.
Jets Continue to Search For Offense
The Winnipeg Jets have done a lot of things well this season, but score goals on a consistent basis has not been one of them. The Jets have scored just three total goals in their last two games, and they are averaging just 2.93 goals per game.
Winnipeg has been able to stay in games by allowing just 3.02 goals per game, but scoring goals must be a point of emphasis going forward.
Left winger Kyle Connor leads the team with 29 goals and 60 points this season, and he has been dominant in his career against the Chicago Blackhawks. Mark Schiefele leads the team with 36 assists this season, but the Jets need him to score goals as well.
Winnipeg is converting on just 19 percent of their power-play chances, and they are going to need to improve on special teams moving forward.
Winnipeg Defeats Fatigued Blackhawks
The Jets and Blackhawks have built up a nice rivalry over the last few seasons, and that has been the case again in 2019-20. These two teams met just a week ago, and the Blackhawks have been on a tour through Canada.
The Blackhawks have the offense to win any game, but they just continue to give up goals. Winnipeg is going to take advantage of this and come away with a win in this game. Bet the Winnipeg Jets -139 over the Chicago Blackhawks on Sunday night.