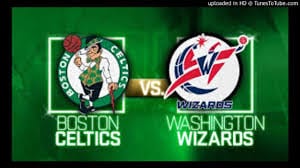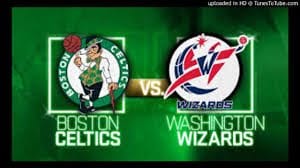 The Boston Celtics (53-29 Overall, 30-11 Home) open their NBA Eastern Semifinals series against the Washington Wizards (49-33 Overall, 19- 22 Away) at home. The Celtics got to this round by beating the Chicago Bulls four games to two in the opening round of the playoffs. In that series, Boston spotted the Bulls two games and then came out and won the next four to take the series. The Wizards took on the Atlanta Hawks in round one, winning that series four games to two. Washington won the first two games of the series and then lost two in Atlanta before they finished off the Hawks by beating them in games five and six. Here's our Celtics play Wizards NBA East series free pick.
Players to Watch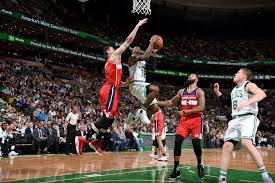 For the Celtics, a lot hinges on grieving point guard Isaiah Thomas and center Al Horford. In the playoffs, Thomas lead the Celtics in points per game with 23.0 and he's second to Horford in assists with 5.7. Horford 15.3 PPG, 8.7 RPG, and 6.5 APG. There are four guys on Boston who are averaging one steal or better per game as Thomas has 1.00 SPG, Horford 1.17, SG Avery Bradley 1.33, and SF Jae Crowder 1.00 SPG. Bradley is second in points, averaging 16.0 per game. Crowder has been good for 12.0 per game and he's bringing down 5.3 RPG. This is the nucleus of this team. The Celtics are good on 34% of the team's threes.
The perimeter game for the Wizards, which is the purview of PG John Wall, who's averaging 29.5 PPG, and SG Bradley Beal, who been good for 25.8 PPG, is their bread and butter. Wall is also a good setup guy, averaging 10.3 APG. Beal is averaging 2.33 SPG. At the same time, the Wizards do a good job of controlling the boards. Center Marcin Gortat is taking in 10.7 RPG. Against the Hawks, the Wizards averaged 41.3 RPG. PF Markieff Morris and SF Otto Porter Jr are each scoring around 10 points per game while they are each averaging 5.5 RPG.
Keys to the Series
Isaiah Thomas' performance without a doubt for Boston
Horford's ability to win the fight under the boards
Wall's success at scoring from the outside and passing
Bradley's offense and defense
Discipline, whichever team plays a more disciplined series wins
Series schedule
Game 1 Sun., 4/30 WAS @ BOS (1 p.m., ABC)
Game 2 Tue., 5/2 WAS @ BOS (8 p.m., TNT)
Game 3 Thu., 5/4 BOS @ WAS (8 p.m., ESPN)
Game 4 Sun., 5/7 BOS @ WAS (6:30 p.m., TNT)
Game 5 Wed., 5/10 WAS @ BOS (TBD, TNT)*
Game 6 Fri., 5/12 BOS @ WAS (TBD, ESPN)*
Game 7 Mon., 5/15 WAS @ BOS (8 p.m., TNT)*
*If necessary
Celtics Play Wizards NBA East Series Free Pick
This will be a very close series and should go seven games. During the regular season, they split the series at two games apiece with the home team winning each time. Boston has the home court advantage and for that reason our Celtics play Wizards NBA East series free pick is Boston in seven.
Celtics Play Wizards NBA East Series Free Pick: Celtics in 7