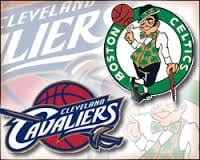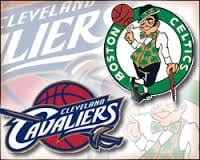 The Boston Celtics have made it to the NBA Eastern Conference Finals by beating the Washington Wizards four game to three. The night after securing a trip to the Eastern Conference Finals, they also got the number one pick in this year's basketball draft! Everything seems to be going just fine and dandy for Boston. That is except for the fact that the number one seed Celtics must now face the heavily favored, number two seed Cleveland Cavaliers tonight. For tonight's game, the over/under is at -107 with the total being 119.5. The spread has Boston at +5.0 for -108 and the Cavaliers at -4.0 for -102. Here is our Cavaliers play Boston NBA East Finals game one pick.
Important Players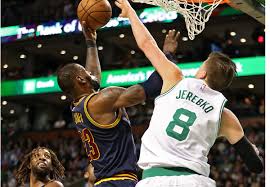 We can agree that LeBron James and his ability to do everything will be a major factor in game one, as will Isaiah Thomas as his keen shot and adamant defense. The rebounding and scoring of Kevin Love and play in the paint of Tristan Thompson will prove to be exceptionally important for the Cavaliers. These two guys can wear other teams down. Channing Frye's ability to toss in threes could offer Cleveland the edge that they need.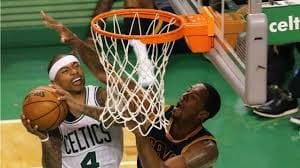 Boston's Al Horford can hit from virtually anywhere. Plus, he's tough under the boards. He'll look to pop out and hit a three and then work the ball inside and dish it off for a score. Jae Crowder adds another dimension under the basket and Kelly Olynyk, who exploded for 23 points in game seven versus the Wizards, has the capability to be a game changer. There are eight guys on this team who are .300-plus three-point shooters. SG Avery Bradley brings an ability to score and defend.
Keys to the Game
For the Celtics Kelly Olynyk and Al Horford
For the Cavs Lebron James and Tristan Thompson
Physicality will be huge
Cavs are rested
Boston has home court
Cavaliers Play Boston NBA East Finals Game One Pick
If the Cavaliers, who have not played in a long time, come out rusty and lean too much on James, that will help Boston. At the same time, the Celtics may be worn down from the very physical seven-game series they just won. Cleveland holds a major edge in shooting and a decent one in rebounding, while Boston has better ball movement and defensive chops. This game is a tossup. Our Cavaliers play Boston NBA East Finals game one pick is Boston at +5.0. We're taking over 119.5.
Cavaliers Play Boston NBA East Finals Game One Pick: Boston at +5.0 and over 119.5