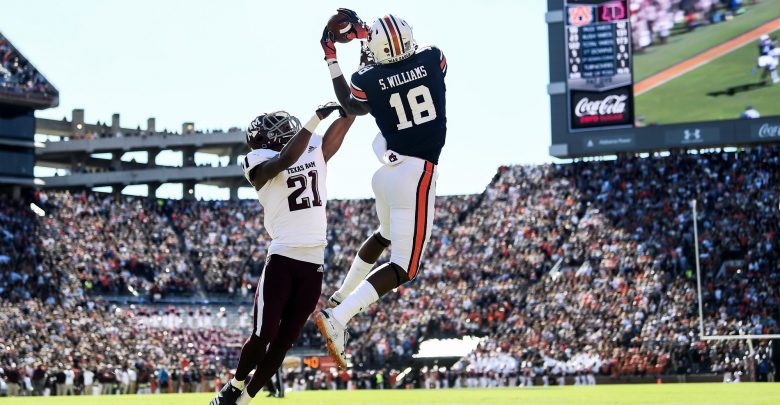 The NCAAF week 4 Auburn at Texas A&M free pick is a tempting play on the Tigers right off the bat considering the #9 team in the nation is getting +4.5 points. Auburn (3-0) is on the road for the first time this season though and with a true freshman playing his first away game at the college level.#15  A&M already has a battle at Clemson under their belt, is that experience the key to Saturday afternoon's contest?
Auburn's Running Game Gives Them an Edge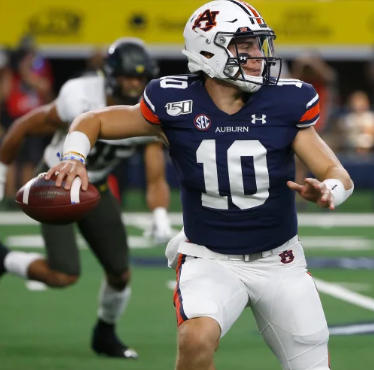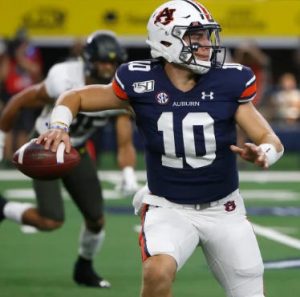 Yes, the Tigers will start true freshman Bo Nix in this game and he's largely been a game manager three games into his college career. Being QB at Auburn this season is made a lot simpler though by the nation's #11 rushing attack thus far. led by JaTarvious Whitlow who has run for 110, 96, and 135 yards in three games this season.
As for Nix, he had his best game of the season so far last week against Kent State going 12/16 for 161 and a TD but Auburn was a -36 point favorite. Auburn had a 27-21 win over a quality opponent in Oregon in the opener, but Nix was just 13/31 and threw 2 INT. Texas A&M had the #3 rush defense in college football last season. This means Nix has a lot more pressure in the NCAAF week 4 Auburn at Texas A&M free pick. Nix will get a boost if ALL-SEC freshman WR  from 2018 Seth Williams can return from the shoulder injury that caused him to miss last game.
One reason it's important to get Williams back for this game is because he caught the game winning pass with 1:41 to go in the 4th last season to lift Auburn over Texas A&M 28-24. In that game however the Auburn defense allowed 423 yards to the Aggies including 203 on the ground. Auburn is in the top 30 this season in yards allowed though and is giving up just 14.3 ppg.
Reason For A&M To Have Hope In this One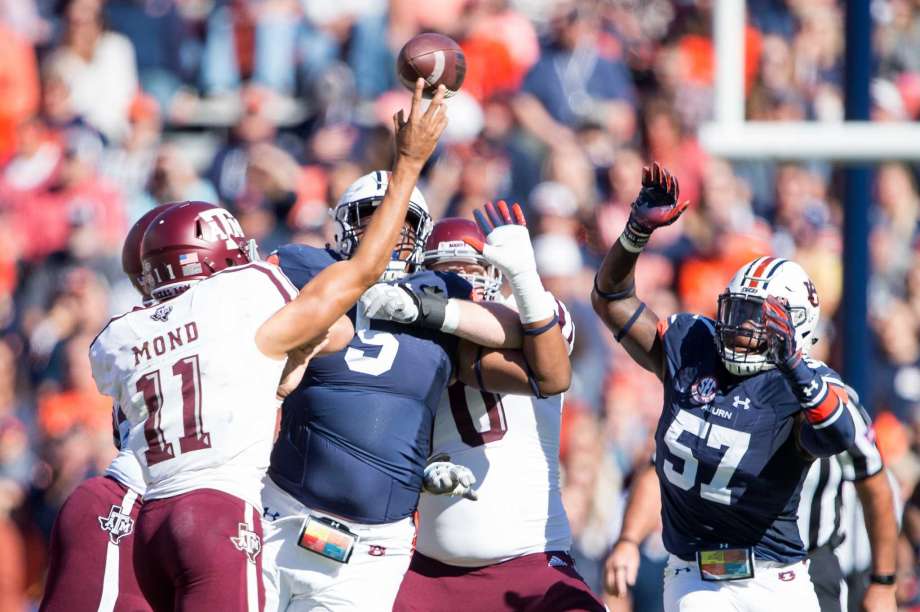 First off, despite losing last year the Aggies expect to win the NCAAF week 4 Auburn at Texas A&M free pick considering the home team is -4.5 favorites. There are also some positives to take out of last year's loss as well. The first is that the Texas A&M defense was their usual stout self vs. the Auburn rushing attack, holding the Tigers to just 19 net yards on 21 carries. A&M took a 24-14 lead into the 4th quarter but couldn't hold it as veteran Auburn QB Jarrett Stidham led the comeback. If Texas A&M gets a lead Saturday – at home – can the freshman Nix lead a similar come-from-behind win on the road?
A&M definitely has the experience factor at signal caller working to their advantage on Saturday. Kellen Mond was 16/32 for 220 yards last year vs. Auburn but has taken big strides this year. The competition wasn't the best but Mond was 20/28 for 317 last week vs. Lamar. The week before that, he had 236 in a 10-24 loss to a great Clemson defense. Mond also has help as Isaiah Spiller has 246 yards rushing this season on just 28 carries.
NCAAF Week 4 Auburn at Texas A&M Free Pick
It would be easy to take the points in this one or even lay some scratch on Auburn to win outright at +164. The A&M defense is the key in this one as they absolutely dominated the Tigers run game last season. Texas A&M also has one of the best punters, possibly in college football history, in Braden Mann. Can you trust the true freshman Nix to put together drives from deep in his own territory in the first road game of his career?
Pick: Texas A&M -4.5