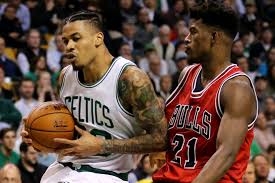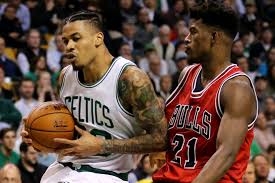 The Boston Celtics (26-17 Overall, 13-9 Road), who are third in the East, visit the fifth place Washington Wizards (24-20 Overall, 18-6 Home) tonight, Tuesday, Jan 24. Boston is 7-3 for their last 10 games while Washington has gone 8-2. Our Boston plays Washington NBA free pick has the Celtics at -1.0.
The Celtics have lost two straight, as the Knicks beat them 117-106 and the Trailblazers took them down 127-123. The losses finished off a home stand that saw Boston win its first three, beating the Hornets 108-98, Hawks 103-101, and Wizards 117-108.
After a three-game road trip where they went 2-1, the Wizards return home to face Boston. Washington won its first game, beating the Knicks 113-110. They then lost to the Pistons 113-112 and finished their road trek with a 109-99 win over the Hornets. In their home stand prior to leaving for three games, they went 3-0, beating the 76ers, Trail Blazers, and Grizzlies.
Boston Celtics
Boston comes to this game with five players out due to injury. The Celtics have struggled since SG Avery Bradley (17.7 PPG, 6.9 RPG, 5.0 APG) went down with an Achilles strain a few games ago. PG Isaiah Thomas (29.0 PPG, 6.0 APG, 46 FG%) has become Boston's go-to guy. He's hitting 38% of his threes. Center Al Horford (15.1 PPG, 6.9 RPG, 45 FG%), who is averaging five assists a game, is an essential force in the paint. SF Jae Crowder (13.3 PPG, 5.0 RPG, 48 FG%) is a solid force upfront.
The Boston bench offers 30.7 PPG, which is 25th in the league. The Celtics are bringing down 41.2 RPG and making 25.0 APG. They've been good for 7.47 SPG and 4.56 blocks. The team is committing 11.9 TPG and 20.3 FPG. They're shooting 45% from the floor with a three-point mark of 37% and a free throw grade of 81%.
Washington Wizards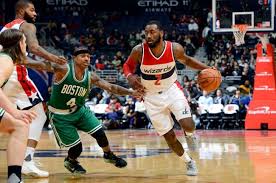 Point guard John Wall (23.0 PPG, 10.2 APG, 46 FG%) is both an offensive and defensive force. Wall is averaging 2.21 SPG. At shooting guard Bradley Beal is a major point producer averaging 21.6 PPG while completing 45% of his FG and 39% of his threes. In the frontcourt, Otto Porter Jr. (14.1 PPG, 6.6 RPG) is knocking in 53% of his FG and 45% of his shots beyond the arc. Also in the frontcourt, center Marcus Thornton is scoring 11.2 PPG and grabbing 11.4 RPG while PF Markieff Morris is knocking down 13.8 PPG and taking in 6.5 RPG.
The Washington bench has been good for just 23.9 PPG (29th NBA). Team rebounding is at 42.6 PG and assists are at 23.2 PG. The Wizards have been making 8.57 SPG and 3.91 BPG. Fouls stand 21.3 PG at and turnover are 13.7 TPG. Shooting from the field is at 47% and the team's three-point success rate is 37%. They're hitting 79% of their foul shots.
Boston Plays Washington NBA Free Pick
The prior two games between these two teams included a lot of contentious and created quite a few harsh feelings. The Wizards are wearing all black for tonight's 7 p.m. ET tipoff. Boston won the last time these two teams met and Washington won the November meeting 118-93. Not having Avery is problematic for the Celtics. Our Boston plays Washington NBA free pick is the Wizards at +1.0 and the over at 217.
Boston Plays Washington NBA Free Pick: Washington +1,0 and over 217 points