The Boston Celtics (28-18 Overall, 13-10 Away) visit the Milwaukee Bucks (21 -25 Overall, 13-11 Home) for an 8 p.m. tipoff on Saturday, Jan. 28. The Celtics, led by PG Isaiah Thomas, are third in the Eastern Conference, while the Bucks, who rely on the talents of SF Giannis Antetokounmpo, are one game away from a playoff spot. Our Boston plays Milwaukee NBA free pick has the Bucks at -1.5 and the over/under at 217.0.
Boston, which has won two straight and is 6-4 for its past ten, beat the Magic last night 128-98. Prior to that win, on Jan 25, the Celtics took down Houston 120-109 at home. Prior to that Boston lost three straight with two home losses to the Knicks 117-106 and the Trail Blazers 127-123 OT and one loss at Washington 123-108.
Since Jan. 18, the Bucks are 1-5. The team lost three straight on the road with the first one being at Houston 111-92. Then on Jan. 20 they lost to Orlando 112-96 and on Jan. 21 to Miami 109-97. Finally, on Jan. 23 at home, Milwaukee beat Houston 127-114. Returning home on Jan. 25, the Bucks lost to Philadelphia 114-109 and lost last night to the Raptors 102-86.
Boston Celtics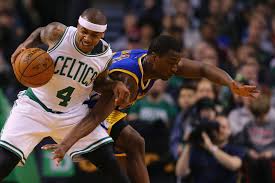 Center Al Horford (15.5 PPG, 6.6 RPG 5.1 APG) did not play on Friday due to a groin pull. It's thought that he will be ready to go tonight. He comes to the game with a 46% field goal mark and 35% from the three-point mark. In the frontcourt, SF Jae Crowder (13.8 PPG, 5.2 RPG, 49 FG%) and PF Amir Johnson (6.2 PPG, 4.5 RPG, 55 FG%) offer solid play. Crowder is hitting 43% of his threes.
Boston is challenged at shooting guard as Avery Bradley (17.7 PPG, 6.9 RPG, 48 FG%) is out with an Achilles. Look for Marcus Smart (9.9 PPG, 3.6 APG, 36 FG%), normally a point guard, will most likely start in the shooting position. PG Isaiah Thomas (28.9 PPG, 6.3 APG, 47 FG%) is a dominant force on the court and a money player.
The Celtic starters offer 77.7 PPG, which is fifth in the NBA, while their bench is good for just 30.8 PPG, which is 24th in the league. Look for the starters to offer more than they guys replacing them.
Milwaukee Bucks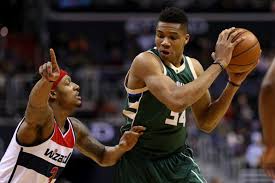 For the Bucks, SF Giannis Antetokounmpo (23.4 PPG, 8.8 RPG, 5.5 APG) is both a huge offensive and defensive force. Antetokounmpo is good on 52% of his field goals. On defense, he's averaging 2.02 BPG and 1.82 SPG. Also in the frontcourt, PF Jabari Parker (20.5 PPG, 6.0 RPG, 49 FG%) is a potent force while off the bench, center Greg Monroe offers an average of 11.0 PPG and 6.8 RPG, and a 52% field goal mark.
SG Tony Snell (8.1 PPG, 45 FG%, 37 3PT%) offers decent production, while at the point, Matthew Dellavedova (7.7 PPG, 5.2 APG, 39 FG%) provides sound playmaking skills.
The Bucks depend much more on their bench than Boston does theirs. The Milwaukee starters are good for an average of 67.7 PPG, which is 20th in the NBA. The Milwaukee bench is adding in 37.0 PPG, putting them 12th in the league.
Boston Plays Milwaukee NBA Free Pick
The Celtics and Bucks each commit about 20 fouls per game, but from the foul line, Boston is shooting 5.5 percentage points better than Milwaukee. The Celtics are also about +5 better than their opponent when it comes to PF/PA differential. In our Boston plays Milwaukee NBA free pick, we take the Celtics at +1.5 and under 217.
Boston Plays Milwaukee NBA Free Pick: Celtics +1.5 and under 217