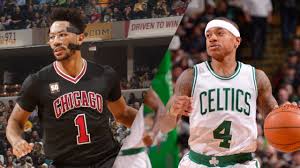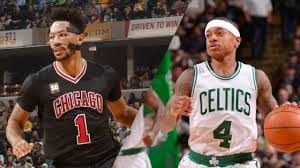 The final game before the NBA All-Star break, which lasts for six days, offers the Boston Celtics (37-19 Overall, 17-11 Away) at the Chicago Bulls (27-29 Overall, 16-11 Home). Tipoff is 8:00 p.m. ET. This is one of two NBA games being played tonight. The other starts at 7:05 p.m. ET, and it features the Washington Wizards at the Indiana Pacers. We're focusing on the final game. Our Boston plays Chicago NBA free pick has the Bulls at -1.0 and the over/under at 214.
The Celtics have gone 9-1 for their last 10 games and are on a four-game winning streak. This is the sixth and final game of their road trip that first took them out west. Boston is 2.5 games behind the top team in the East, the Cleveland Cavaliers. Boston's one loss on this trip was 108-92 on Feb. 8 to Sacramento. Prior to that on Feb. 5 Boston beat the Clippers 107-102. After their one loss, the Celtics took down Portland, Utah, and Dallas.
The Bulls are seventh in the NBA East. They are 4-6 for their last 10. Chicago last played on Feb. 14, beating Toronto 105-94. Prior to that win, they lost five of six with their one win being 112-107 against Sacramento on Feb. 6. The team's losses were to Houston, Golden State, Phoenix, and Minnesota.
Boston Celtics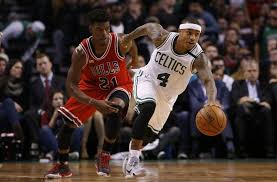 The Celtics are scoring on average 108.5 PPG, while allowing 105.7. Boston is sixth in offensive efficiency (109.5), but they come in 17th on the defensive end (106.1). Boston will be without SF Jaylen Brown and SG Avery Bradley, but they expect that SF Gerald Green will return tonight..
PG Isaiah Thomas (29.9 PPG, 6.3 APG, 47 FG%) is noted for his fourth quarter scoring chops. Thomas is a 38% three-point shooter and a top playmaker. Center Al Horford (14.8 PPG, 6.7 RPG, 5.0 APG) is a 46% shooter and top inside force. At PG, Markus Smart (10.5 PPG, 3.9 RPG, 4.6 APG) offers needed baskets and assists, while SF Jae Crowder (14.0 PPG, 5.3 RPG, 47 FG%) provides solid defensive chops and a fine three-point shot with a 41% success rate.
Chicago Bulls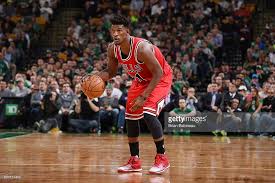 The Bulls are averaging 102.1 PPG and giving up 102.8. Chicago is 18th in offensive efficiency (104.2), and they are 13th in defensive efficiency at 105.4. The Bulls will be without SG Dwyane Wade, PF Nikola Mirotic, and SF Paul Zipser.
Chicago is strong in the frontcourt. SF Jimmy Butler (24.4 PPG, 6.3 RPG, 4.3 APG) has solid offensive and defensive tools. He's averaging 1.86 SPG while connecting on 45% of his shots. PF Taj Gibson (11.6 PPG, 6.9 RPG, 52 FG%) has a fine shot and is tough in the paint. Center Robin Lopez (9.7 PPG, 6.9 RPG, 1.55 BPG), who's got refined rebounding skills, is a 50% inside shooter. PG Rojon Rondo (6.6 PPG, 5.2 RPG, 6.5 APG) has been unhappy as of late but still offers some good setup skills. He's a 38% shooter. One important note, without Dwayne Wade the Bulls' backcourt is compromised and weakened. They'll need to control the paint to win this game.
Boston Plays Chicago NBA Free Pick
These two teams have played each other twice this season with each winning once. Each team won on its home court. However, the visiting Celtics are running on all cylinders and would love to go into the break with another win. Despite not having Bradley on this road trip, they've done well.
Chicago has had to deal with a discontent Rondo, and without Wade they are weakened considerably. Our Boston plays Chicago NBA free pick is the Celtics at +1.0. As far as the totals go, both times these two teams met this season the total points scored were well under 214. We're going with under 214.
Boston Plays Chicago NBA Free Pick: Boston +1.0 and under 214