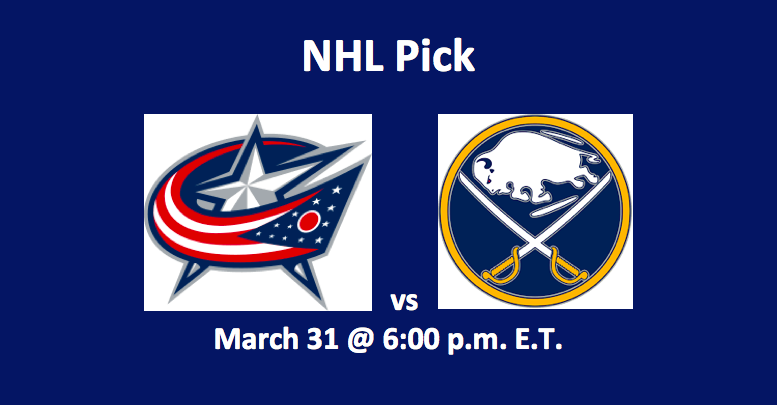 Our Blue Jackets vs Sabres preview and pick has Columbus at -1.5. This Blue Jackets vs Sabres preview looks at whether Columbus can keep their pace in the Eastern wild card race. The Blue Jackets come into the matchup 6-3-1 in their last ten games. Buffalo has struggled going 1-8-1 in the same span.
Both clubs come into this contest playing their second game on back to back days. The Jackets will look to win their fifth straight while Buffalo tries to halt their losing skid at six.
Goaltending Matchup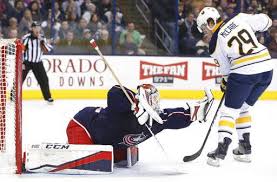 Bobrovsky will get the start for Columbus, which will be his fifth straight. Bobrovsky has been stellar lately. Over his last four starts, he owns a .960 save percentage and has allowed just four goals. He has two shutouts over this span, blanking both the Canucks and Islanders.
The Sabres are projected to start Linus Ullmark after Carter Hutton played against the Islanders yesterday. Ullmark currently has a 3.15 GAA and a .904 save percentage on the season. He has started seven contests during the month of March and has won just a single one. Our Blue Jackets' vs Sabres preview and pick gives the goaltending edge decisively to Columbus.
Jacket's Gelling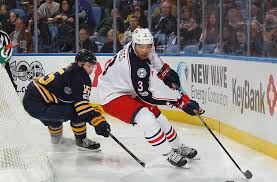 The Blue Jackets' offense has finally started to gel after slumping through most of March. Before last Sunday, Columbus had scored three or more goals in a game just three times during the month. Over the past week, they have outscored opponents 20-4. This includes finding the back of the net four times against the Islanders who have allowed the least goals in the NHL. Trade deadline acquisitions Matt Duchene and Ryan Dzingel look to have found their footing in Columbus. Dzingel has three points in his last five games while Duchene has five in his last three. The only player who the Jacket's would like to see more from is Pierre Luc-Dubois who has just three points in his last 16 games. If he can get going against Buffalo, the Jackets could put up large numbers against the Sabres.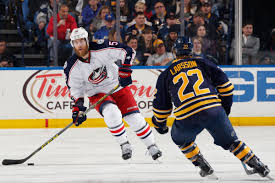 Buffalo's defense has been porous lately. Dating back to their last win they have allowed 28 goals in six games. The Sabres have allowed three or more goals in each of these games. They have also struggled to score consistently. They have two or fewer goals in four games during the losing streak. None of their top scorers have been amazing recently either. Jack Eichel has been the only reliable offensive threat with four points on the losing streak. Buffalo is also playing a leg down due to the illness of defenseman Rasmus Ristolainen. Ristolainen has led the team in time on ice this season and provides scoring from the backend when healthy.
Blue Jackets vs Sabres Preview and Pick
Our Blue Jackets and Sabres preview and pick sees Columbus playing for a lot right now. After moving most of their future assets to acquire Duchene and Dzingel, they are still tied for the last wild card spot. Lately, they have been playing very well, beating playoff teams, such as the Islanders and Predators, handily. Buffalo, on the other hand, has struggled mightily. During their six-game losing skid only one team did not cover the puckline against them. We like Columbus' chance to cover the puckline tonight as they head into the last week of the season.
Blue Jackets vs Sabres Preview and Pick
Columbus Blue Jackets puckline -1.5 goals (+150)