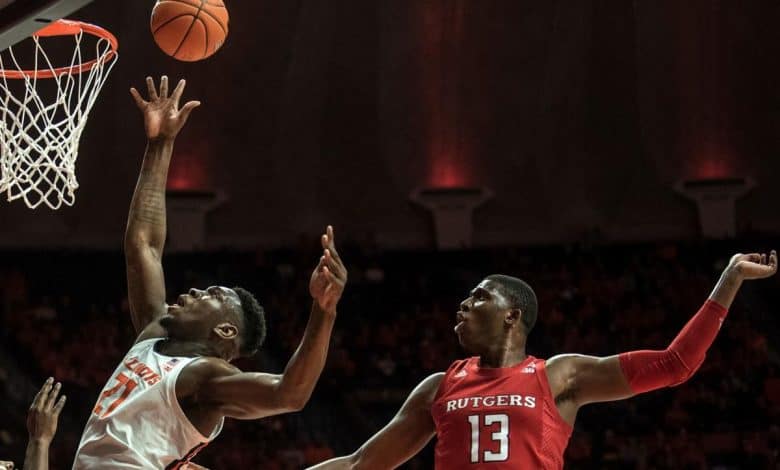 The Scarlet Knights are playing for their tournament lives coming into the March 12th Rutgers vs Illinois matchup. Steve Pikiell's team can definitely boost their resume if not clinch a trip to the Big Dance if they can upset the #3 Fighting Illini. Easier said than done.
Brad Underwood's team is going to the NCAA tournament, in Indianapolis just as the Big Ten postseason is. They're fighting for a #1 seed, and come into the postseason hot after wins over Wisconsin, #4 Michigan, and #9 Ohio State all on the road. Illinois is an 8-point favorite in this one.
Rutgers Already Has a Win
The Scarlet Knights not only have a game under their belt in this tournament, beating Indiana on Thursday, they also toppled Illinois 91-88 back on December 20th. Both teams have changed a lot since that earlier meeting however.
Rutgers has only broken 80 points once in the 18 games since posting 91 on the Illini, so that's something to think about. Do the Scarlet Knights just really match up well with Illinois, as Ron Harper, Jr. led the way with 28, Jacob Young added 24, and Rutgers somehow also rebounded Illinois, the #3 team in the country in that category.
The Scarlet Knights do have some confidence coming into the March 13th Rutgers vs Illinois meeting.  Rutgers was able to pick up a tournament win last night even though Harper was their leading scorer with 13 points. Harper, Jr. isn't the same player as he was earlier in the year, scoring 20+ just once in the last 17 games. Rutgers will rely on their top 5 defense in the Big Ten, which held Indiana to 2-16 from three on Thursday.
Ayo Back for the Postseason
Illinois got their player of the year candidate Ayo Dosunmu back on Saturday against Ohio State after he missed games against Nebraska, Wisconsin, and Michigan following a facial laceration against Michigan State. Dosunmu averages 20/6/5, and the Fighting Illini were still able to go 3-0 without him, even winning in Ann Arbor vs. #4 Michigan.
Dosunmu hit 7-10 shots and scored 19 points vs. the Buckeyes. Illinois' success in his absence proves the team is incredibly deep. Andre Curbelo had 19 vs. Ohio State and was named the Big Ten's 6th man of the year. Curbelo has 17+ the last three games and Trent Frazier had 22 vs. Michigan.
That's not even mentioning Illinois' dominant big man Kofi Cockburn, who averages 17 and 9 on the season. Cockburn had 17 points and 12 rebounds in the first meeting with Rutgers, whose own center Myles Johnson banged with 13 boards.
Free March 12th Rutgers vs Illinois Pick
Illinois could easily suffer a letdown game here, perhaps looking past Rutgers towards the weekend. The Fighting Illini might be good enough to win this one even while being complacent though. Rutgers just has no scoring, and hasn't been tested. Aside from games against Iowa and Michigan, 7 of the Scarlet Knights last 8 games have come against the 5 worst teams in the Big Ten. Illinois does not fit in that category.
Illinois 84 – Rutgers 71
Free Pick: Illinois -8