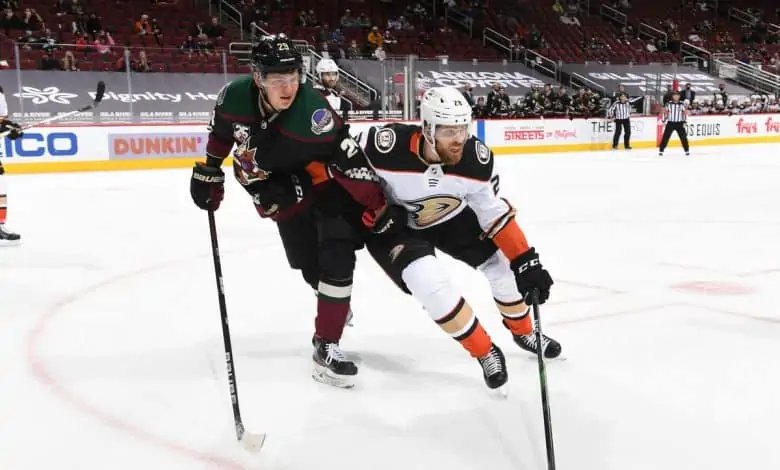 A West Division battle drops the puck Sunday night as the Arizona Coyotes, and Anaheim Ducks face off in the Honda Center. The Coyotes (17-15-5) won the first matchup between these teams on Friday 4-2, their fourth win in five games, while the Ducks (11-21-6) dropped a second straight effort.
Here is a closer look at each team, ranging from key stats to players to watch. There will also be a free pick, where right now, the Coyotes are -146 favorites on the road while the Ducks are +124 underdogs.
By the Numbers
Although there have been five or more goals total for most of these matchups between teams, the season-long numbers suggest these are two of the worst offenses in hockey. Starting with Arizona, the Coyotes average 2.59 goals per game, 24th in the NHL, while averaging a league-worst 26.2 shots.
The Ducks, meanwhile, are ranked 29th with 2.21 goals per game and next-to-last with 27.2 shots. Arizona does hold a solid advantage on the power play, though, succeeding 18 percent to Anaheim's league-worst 10.6 percent.
Defensively, there's not much improvement either. Arizona is allowing 3.03 goals per game to rank 21st in the league, while Anaheim is 28th with 3.29 allowed. And although the Ducks are allowing a little over one less shot per game, their 76.6 percent penalty kill rate is a decent way behind the Coyotes' seventh-ranked penalty kill of 82.6 percent.
Players to Watch
Starting with the Coyotes, a pair of players sit atop their points list. Veteran right wing Phil Kessel has been on a tear, scoring six goals over his last five games, which includes a hat trick last weekend against the Sharks.
The sniper is now up to a team-high 15 goals along with 13 assists. Kessel is tied with right win Clayton Keller, who is also at 28 points. Arizona's 2016 first-round pick has had a goal and four assists over his last five, giving him 11 scores and a team-high 17 helpers total.
Others to watch include center Nick Schmaltz, who is entering Sunday riding a four-game point streak to push his season total to 23. Right-wing Conor Garland and defenseman Oliver Ekman-Larsson are two others worth following. Garland is tied with Keller for the team lead in assists while having just one fewer goal, while the longtime Coyote Ekman-Larsson had a three-game point streak before it was snapped on Friday.
As for the Ducks, they too have two players tied for the team-lead in points. The first is left-wing Rickard Rakell, who has seven goals and a team-high 15 assists.
However, Rakell suffered an injury last weekend and won't return until Tuesday at the earliest. That means more pressure will fall on young left winger Max Comtois.
Comtois has a team-leading 10 goals and 12 assists, with two of those helpers coming in back-to-back games heading into Sunday. Comtois also has the highest plus-minus on the team among full-time skaters on the team.
Despite being placed on waivers earlier this season, center Adam Henrique has provided much-needed offense for Anaheim. The veteran is tied with Comtois with 10 goals to go with six assists.
Tying Henrique for second on the team point list is defenseman Cam Fowler, who has points in three of his last four games to give him three goals and 13 assists total. Veteran sniper Jakob Silfverberg is also building off of his disappointing start to the year, putting down his seventh goal of the season on Friday while adding his sixth and seventh assists last week.
Goalies
With both Darcy Kuemper and Antti Raanta nursing injuries, Arizona has turned to youngster Adin Hill for their last five starts. The 24-year old helped earn wins in four of those starts, which included a 34-save shutout last weekend against San Jose. Hill is now 5-4-1 with a 2.83 GAA and .909 save percentage on the season.
Meanwhile, Anaheim has largely been without starter John Gibson for the last three weeks or so, as they have relied mostly on 40-year old Ryan Miller along with Anthony Stolarz, who started Friday. However, Gibson managed to practice with the team on Saturday and may be able to suit up on Sunday. The 27-year old and former All-Star has struggled this year as a whole, going 7-12-5 with a 3.02 GAA and .897 save percentage.
Betting Pick
A lot will depend on the status of Gibson going into the game, but the Coyotes should win this one regardless of who the Ducks have in net. Arizona's best players are really stepping up at the right time, and Hill is starting to gain some confidence between the pipes. Take Arizona as road favorites to cap off a quick sweep of the Ducks in Orange County.
Pick: Coyotes -146