The Michigan Wolverines have proven that if you get hot at the right time of the year it doesn't matter how many games you play as they've gone four-games-in-four-days to win consecutive Big Ten championships. That's the motivation Boston College will be taking in the 3/8 ACC tournament free pick when they take on Clemson. After a double bye, the Tigers will be making their ACC debut while this will already be the third game for the Golden Eagles. NC State showed some rust yesterday in the loss to BC – is Clemson going to fall prey the same way?
No doubt, when Donte' Grantham went out with the torn ACL in late January it greatly affected Clemson, who let's not forget, was picked to finish 14th in the #ACC.
This is a very winnable game for Boston College, who's led by sensation Jerome Robinson and Ky Bowman.

— Bratwurst (@3104Rents) March 8, 2018
When Will the Lack of Depth Catch Up to Boston College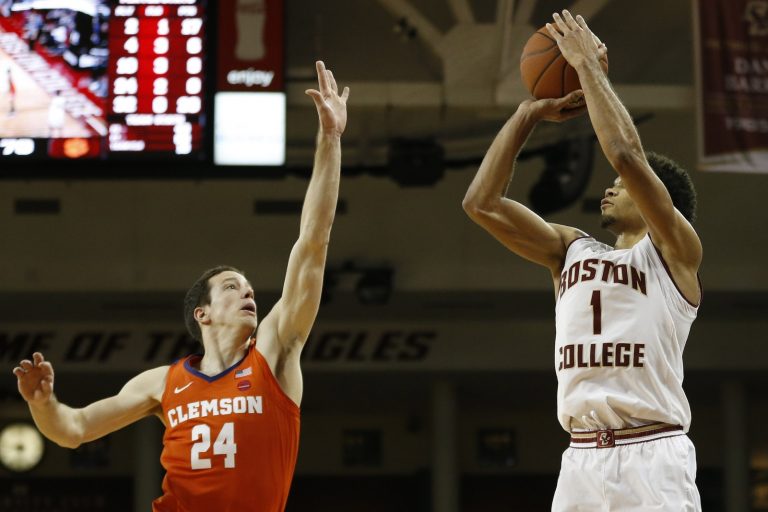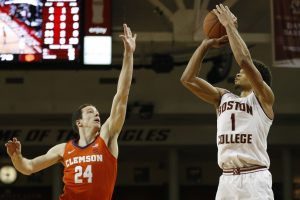 Boston College ran out to a 14 point lead over NC State yesterday but a second half barrage by the Wolfpack had the Golden Eagles clawing for dear life to get the win. Coach Jim Christian would have loved a blowout so that he can go a bit deeper in his rotation. Through two games in the ACC tournament, here are the average minutes for the Boston College starters:
G Jerome Robinson (36 mpg)
G Jordan Chatman (38 mpg)
G Ky Bowman (39 mpg)
F Steffon Mitchell (38 mpg)
F Nik Popovic (29 mpg)
That's a lot of basketball for just a few players and shows that BC doesn't trust their bench depth much. Of course it's hard to get Bowman and Robinson off the court as they've combined for 47.5 ppg in the Golden Eagles two wins. Although they have two wins in as many games, potential fatigue isn't the only worry for BC fans in the 3/8 ACC tournament free pick. The Golden Eagles defense allowed NC State to shoot 53.1% from the field 52.4% from three point range yesterday. If that trend continues today it's a lot of pressure on the tired legs of the offense.
Clemson Looks to Regain Early Season Magic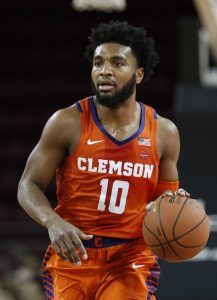 When Clemson was fully healthy this year they looked like a dark horse contender that could eventually win this ACC tournament. The Tigers started the season 14-1 When the team lost Sr. Donte Grantham on January 20th it dropped their expectations a bit however. Clemson is still 6-5 without their senior leader, but they've dropped four out of six heading into the 3/8 ACC tournament free pick.
The 22-8 Tigers are still headed for postseason play and they want to get a few games under their belt in the conference tournament to shake some of those late season follies. The Tigers do have a win over Boston College under their belts this season, a 74-70 win in Chestnut Hill but as -5.5 favorites. Clemson didn't shoot the best that day (42.9% from field, 34.8% from three) but they were efficient in other areas, specifically going 18-20 from FT while limiting BC to six trips. Of course Clemson had 23 points from Grantham in that game so Gabe DeVoe, Marcquise Reed, and others need to step up today in his absence.
3/8 ACC Tournament Free Pick
For Boston College today the game comes down to which factor wins out – momentum or fatigue? The line has quickly climbed from CLEM -4 to CLEM -5.5. but 43% of the public still likes the Golden Eagles. On the other end of the court, Clemson is rested and features one of the most intense defenses in the country 25th in the nation in opponent's points scored. The Tigers duo of Reed and DeVoe match up well with BC's leaders Simpson and Bowman. Clemson also has an inside presence in Elijah Thomas who made the All-ACC defensive team and is a good counter to Popovic for the Golden Eagles. There's just too much going in Clemson's favor today.
Free Pick: Clemson Tigers -5.5