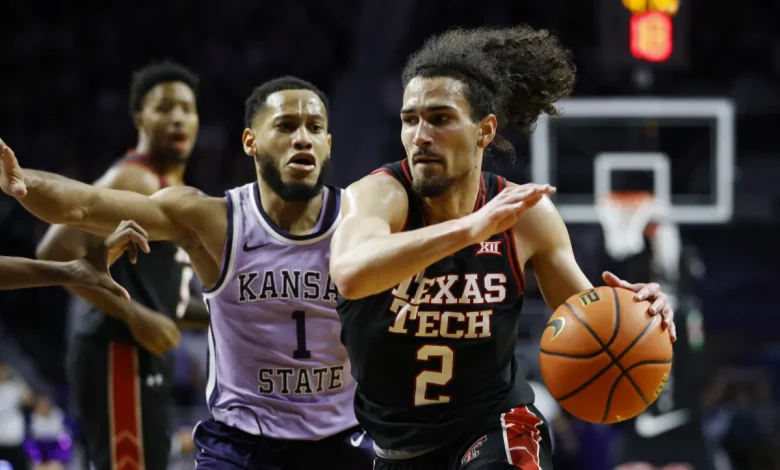 The #12 Iowa State Cyclones (14-4, 5-2 Big 12) welcome the #5 Kansas State Wildcats (17-2, 6-1 Big 12) to Ames for a top 25 battle of Big 12 Conference opponents. This will be the 236th meeting between the two programs, with Kansas State holding the all-time edge, 144-91.
Tuesday's Big 12 tilt tips off at 9 p.m. EST inside James H. Hilton Coliseum in the heart of Iowa. Iowa State is a 4.5-point favorite, and the over/under total is 134 points.
What to Know – #5 Kansas State Wildcats
The Wildcats are piecing together a terrific season and head to ISU off back-to-back victories over Texas Tech and Kansas. Kansas State currently sits atop the conference standings, one game ahead of Kansas, Texas, and Iowa State.
Kansas State is third in the conference scoring 77.9 points per game. The Wildcats are seventh in field goal percentage (46.4%) and sixth in 3-point field goal shooting (35.2%). Defensively, the Wildcats are eighth in points allowed at 67.1 ppg, fifth in field goal defense (41.6%), and the conference leader in 3-point field goal defense (28.9%).
Keyontae Johnson is the KSU leader in scoring (18.5 ppg) and rebounding (7.4 rpg). The Florida transfer is hitting 54.8% of his shots from the field. Markquis Nowell is second on the team, adding 16.7 ppg, and Nae'Qwan Tomlin chips in 10.7 ppg rounding out the Wildcats three primary scorers.
Kansas State is 14-5 against the spread this year and 3-2 ATs in true road matchups. The Wildcats are 4-1 ATS in their previous five contests on the road against the Cyclones.
What to Know – #12 Iowa State Cyclones
Iowa State returns home after losing two of their last three conference games. The losses came on the road to Kansas and Oklahoma State, both narrow defeats by two points apiece.
ISU sits eighth in the conference averaging 70.6 ppg, eighth in field goal percentage (45.8%) and fourth in 3-point field goal shooting (35.5%). The Cyclones defense leads the Big 12 holding opponents to 58.6 ppg and rank second in defensive field goal percentage (40.4%) and fifth in 3-point field goal percentage (30.4%).
Iowa State is led offensively by a trio of senior scorers. Jaren Holmes headlines the group scoring 12.9 ppg, but Gabe Kalcheur is right behind, averaging 12.8 ppg. Caleb Grille closes out the group as the team's leading 3-point shooter scoring 10.3 ppg.
The Cyclones own an 11-6 record ATS with a 7-3 mark ATS in Ames. Iowa State is 4-1 ATS in its last five games against conference opponents.
The Pick is In
Kansas State will have its hands full with the Cyclones on their home floor, but the Wildcats have been one of the biggest surprises this season and appear to be one of the top teams in college basketball.
Iowa State scares the Wildcats early, but once the game settles in, KSU continues its excellent play and stays atop the Big 12 standings with a victory.
The Pick: #2 Kansas State Wildcats +4.5