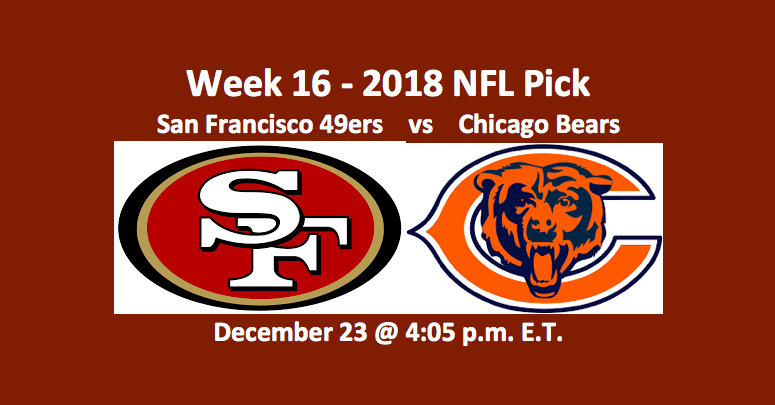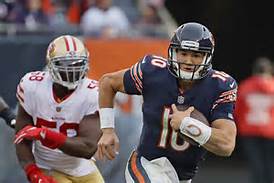 Our 49ers vs Bears pick features two very different teams. The Chicago Bears (10-3 Overall, 3-3 Away), who are the top team in the NFC North, travel to play the NFC West third-place San Francisco 49ers (4-10 Overall, 4-3 Home) today, Sunday, Dec. 23 at 4:05 pm ET. The Bears have won four of their last five games, including a huge 24-17 home win against Green Bay last week. Chicago has clinched its division.
On the other hand, the 49ers are in a battle for third-place in the NFC West. Although they are 2-3 over their last five games, San Fran has won two straight. Two weeks ago, they beat Denver 20-14, and last week the Niners were victorious over Seattle 26-23 in OT. Our Week 16 free 49ers vs Bears pick has Chicago at anywhere from -3.5 to -4.5 The over/under comes in at either 44.0 or 44.5.
Quarterback Matchup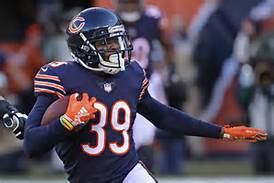 In his second season, QB Mitchell Trubisky (64.9 COMP%, 23 TDs, 12 INTs) has made a lot of progress. But Trubisky still has issues with tossing picks. In his last three games, he thrown five interceptions. Still, Trubisky has done a good job running the offense, and he's cut down on poor decisions. As a rusher, he's averaging 6.7 YPA, making him dangerous on broken plays. He's aided by versatile running back Tarik Cohen who leads the team in receptions and is second in rushing.
When QB Jimmy Garoppolo went down with a season-ending injury early this year, everyone knew the Niners were in trouble. First-year quarterback Nick Mullins (64.4 COMP%, 10 TDs, 6 INTs) has played in the last six games. He has a record of 3-3. You won't see Mullins improvising much. He'll be trying to make smart decisions against a very tough defense. He'll be looking to connect with tight end George Kittle, who has over 1,000 receiving yards and four TD catches. Other sure-handed receivers include Dante Pettis and Marquise Goodwin. Both wideouts are averaging more than 18 YPC. Together they have nine TDs. S.F. has a decent rush attack, but the Bears have a ferocious running defense.
Although both QBs are young, Trubisky and the Bears have a lot more options when it comes to quarterbacking.
Edge: Trubisky/Chicago
Chicago D and SF Defense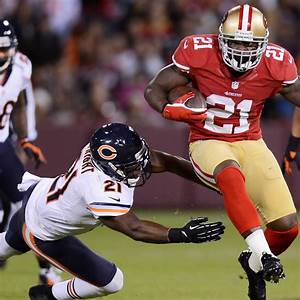 Both defenses are allowing about 249 passing yards per game. Against the rush, Chicago is holding teams to 83.6 YPG. Niners are allowing 112.1 YPG on the ground.
The Bears' defense, led by Khalil Mack, have 45 sacks and 86.5 TFL. They also have 26 picks, 82 PD, 18 FF and 9 FFR. San Fran features solid play in front. They've notched 34 sacks and 81 TFL. But their secondary, with two picks and 34 PD, is weak and can be exploited. The Niners have forced a dozen fumbles but recovered just three.
Our 49ers vs Bears pick gives Chicago a huge edge on defense.
Edge: Chicago
Home vs Away
Chicago is tough to beat at home, but they are vulnerable away. At the same time, the 49ers have four wins total and all of them are at home. The last two have been with Mullins at QB. Mullins could keep the streak going, but San Francisco has very little to play for today. On the other hand, the Bears still have a chance to secure a bye and even hone field for the playoffs. If anyone has an edge today, it's Chicago, albeit a slight one. We're not giving it to them. We're calling it even.
Edge: Even
Our Week 16 Free 49ers vs Bears Pick
Considering everything, we like the Bears in this one. Take Chicago at -3.5. They have too much on the line in this one, and the Niners, although playing well as of late, have a lot of holes. That's our 49ers vs Bears pick for the Week 16 of the NFL in 2018. For more late-action picks, see our Sunday Night Football pick as the Kansas City Chiefs play the Seattle Seahawks.
Summary Chicago Bears at San Francisco 49ers Pick: Bears at -3.5