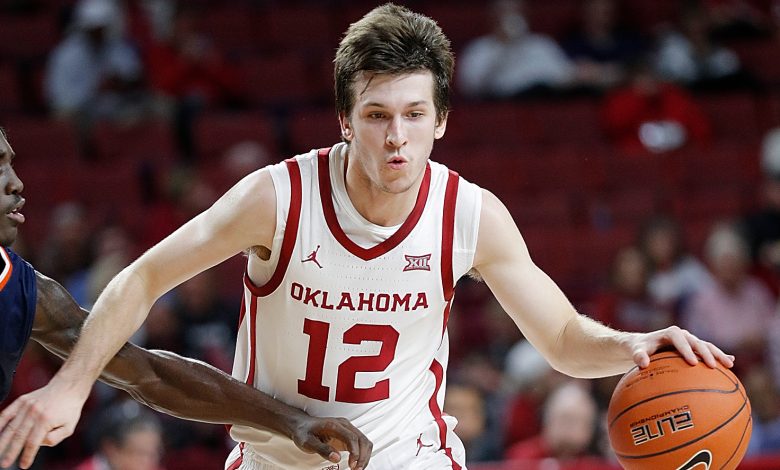 The Oklahoma Sooners head to Omaha, Neb., to face the Creighton Bluejays in a matchup of two teams that do not currently look like NCAA Tournament teams.
Oklahoma (7-2) is coming off a loss to Wichita State, a defeat which makes the Sooners 0-2 against the Kenpom top 50 so far this season. Oklahoma is led by an upperclassman group that is solid all over the court.
Austin Reaves, a Wichita State transfer, currently paces the offense, averaging north of 17 points per game, while Oklahoma natives Kristian Doolittle (16.8 points, 8.3 rebounds) and Brady Manek (14.8 points, 5.0 rebounds) round out the star trio for Lon Kruger's group.
Freshman De'Vion Harmon is still trying to find his way but has the pedigree of a player that can take over a game at any given time.
Creighton is 8-2 and on a four-game winning streak, including a victory over Texas Tech on a neutral floor. The Bluejays are led by an impressive trio of guards, most notably Marcus Zegarowski. The 6-2 point guard is averaging 19.4 points and 4.1 assists for Greg McDermott's perimeter-centric group.
Ty-Shon Alexander (17.2 points, 45.2 percent on threes) and Mitchell Ballock (12.5 points, 44.6 percent on threes) make up the other two heads of the monster. Following the early departure of Martin Krumpelj last season, there were concerns regarding the Creighton frontcourt, but Christian Bishop and Kelvin Jones have performed admirably thus far in 2019-20.
Creighton is a three-point favorite for this game, with the over/under set at 153.
Time To Circle The Wagons
Oklahoma may very well be the best team in the nation that no one ever seems to talk about. The Sooners can go nine players deep, and most of them are solid.
Kruger's group is currently averaging 0.95 points per possession, which puts them in the 84th percentile in the country. The Sooners currently rank 32nd in the country in Kenpom's adjusted offensive efficiency. The Sooners are 4-4-1 ATS this season and have gone over in five of their nine games, including three in a row.
A Bird Of Prey?
Creighton comes into this game looking to avenge last season's 83-70 loss in Norman. In that game, Ballock shot 0-for-11, including 0-of-9 from three-point range, and the Bluejays committed 18 turnovers.
This season, Creighton is significantly improved in the turnover ranking (52nd in Kenpom) and is one of the most efficient offensive teams in the nation. McDermott's team is currently averaging 0.99 points per possession (94th percentile) and ranks 16th in Kenpom's adjusted offensive efficiency.
Pick and Prediction
Under Kruger, Oklahoma is 32-56 straight up in true road games since 2011-12 but is 6-8 in its last 14. The matchup itself is interesting, as the Bluejays are strong in the backcourt and relatively weak in the frontcourt, while the Sooners are strong in the frontcourt with a star in the backcourt.
Kruger is a well-respected coach, but McDermott doesn't seem to get the respect he deserves. While Oklahoma has struggled on the road, Creighton has been very good at home under McDermott. Since 2010-11, the Bluejays are 136-32 (81 percent) at home.
These coaches have played three times since they have been at their respective schools, and the home team has won each of the previous three meetings.
The frontcourt matchup easily favors the Sooners, but the Bluejays have a tremendous amount of firepower in the backcourt along with a great home-court advantage. The safest bet is the over, as both teams are good on offense while neither is elite on defense. You can't discount history, so take Creighton at home.