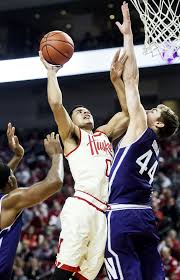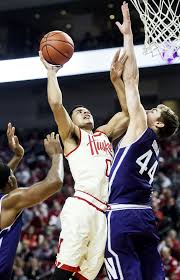 Of the 14 teams in the Big 10, there are two that are nationally ranked and first place Purdue (24-6 Overall, 13-4 Big 12) is one of them at 16th and third place Wisconsin is the other at 22nd. The Northwestern Wildcats (22-8 Overall, 11-6 Big 12) are fifth in the conference. Of the three nationally ranked teams they have played this season, the Wildcats have beat one, #7 Wisconsin 66-59. The Cats lost to #23 Maryland 74-46, and in their first meeting with # #23 Purdue, they were beaten 80-59. Our Purdue plays Northwestern college basketball free pick has the Boilermakers at -3.5 and the over/under at 139.0.
The Boilermakers have nothing to lose in this game, except maybe their #16 ranking. Purdue has already won the regular season conference title. Purdue was on a six-game winning streak when they lost to Michigan 82-70 on Feb. 25. Prior to that they had beaten then #25 Northwestern and the ten #17th ranked Maryland Terrapins 73-72. The Boilermakers won their last game, beating Indiana 86-75 on Feb. 28.
Northwestern comes to this game having gone 3-4 since losing to Purdue on Feb. 1. They last played on Mar. 1 beating Michigan 67-65. Prior to that win, the Wildcats lost two straight, as Illinois beat them 66-50 and Indiana took them down 63-62.
Purdue Boilermakers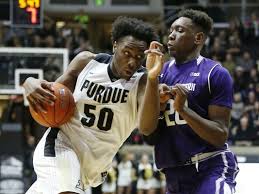 The Boilermakers are averaging 80.4 PPG while holding teams to 71.6. The Purdue offense is dynamic, while the D is average. They do a good job of moving the ball around and when they have a shot they hit 48.1% of the time.
For the Boilermakers forward Caleb Swanigan (18.6 PPG, 12.5 RPG, 54 FG%) is a top shot, hitting inside at a high rate, and, also from downtown at 46%. Two other players in the frontcourt, center Isaac Haas (13.0 PPG, 5.2 RPG, 57 FG%) and forward Vince Edwards (11.9 PPG, 4.8 RPG, 47 FG%), offer solid point production and fine rebounding. Edwards is a 44% three-point shooter.
Three guards round out the group that tends to accumulate minutes each game. Dakota Mathias (10.0 PPG, 3.8 RPG, 3.7 APG) is a solid outside and inside player. He's sinking 49% of his field goals and 48% of his threes. Carsen Edwards (10.5 PPG, 38 FG%, 35 3PF%) is an avid point producer, while P.J. Thompson (7.4 PPG, 3.0 APG, 45 FG%) fills out the backcourt.
Northwestern Wildcats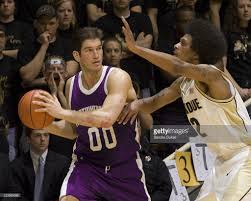 Northwestern, which is averaging 5.1 BPG, is allowing 64.7 PPG, while scoring 67.0. If the Wildcats can keep the score close, they'll have a chance of winning. But that's a tough challenge. Their field goal success rate is a good five-percent lower than Purdue's.
Wildcat center Derek Pardon (8.5 PPG, 8.2 RPG, 60 FG%) is a defensive master, blocking 2.1 SPG. In order for Northwestern to win, Pardon will need to intimidate players like Swanigan. That won't be easy to do. Also in the frontcourt, Vic Law (12.7 PPG, 5.9 RPG, 41 FG%) offers solid rebounding as well as a fine 40% successful three-point shot from downtown.
In the backcourt, guards Bryant MacIntosh (14.2 PPG, 5.4 APG, 38 FG%) and Scottie Lindsey (14.2 PPG, 4.0 RPG, 42 FG%) are sound shooters. However, neither is very good from the three=points arc. Guard Isiah Brown (7.0 PPG, 33 FG%) provides additional points.
Purdue Plays Northwestern College Basketball Free Pick
Along with being five percentage points better from the field, Purdue is seven percentage points better than Northwestern from downtown. We expect Purdue to control the ball and the game. Our Purdue plays Northwestern college basketball free pick takes the Boilermakers at -3.5 and under 139.0
Purdue Plays Northwestern College Basketball Free Pick: Purdue at -3.5 and under 139.0