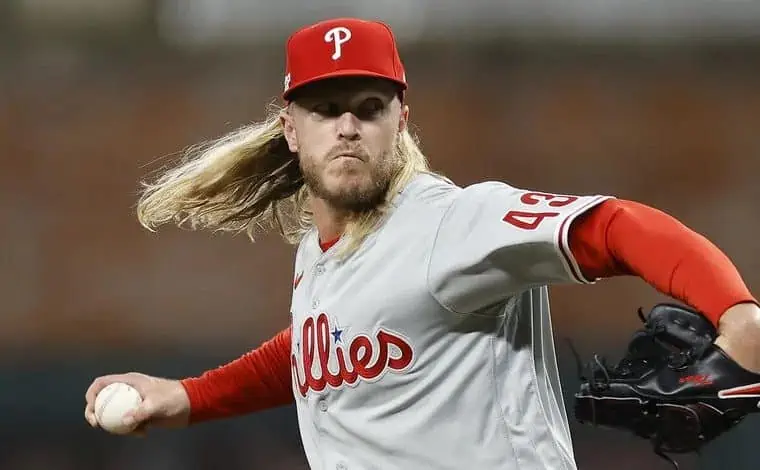 We're back to a tie heading into the World Series Game 5 matchup as Houston has evened things up 2-2 after throwing just the second no-hitter in Fall Classic history. The Astros took back the home field advantage they had lost in the 6-5 loss in Game 1, and now return to Minute Maid Park regardless of what happens on Thursday night.
Philadelphia is left looking for answers after not managing a hit against Cristian Javier and three relievers in Game 4. The Phillies have been on different ends of record WS outings on consecutive nights, tying a record with 5 HRs on Tuesday and then becoming the second team to be no-hit on Wednesday. Oddsmakers like Houston at -152 for Game 5.
Can Verlander Exorcise WS Demons?
It would be assumed that Houston is such a huge -150+ favorite in Game 5 because the odds-on favorite to claim the A.L. Cy Young Award Justin Verlander is on the mound. Verlander is a future Hall-of-Famer, but he's statistically the worst (qualified by 30+ IP) World Series pitcher of all time with a 6.07 ERA and an 0-6 record.
So the big question ahead of World Series Game 5 betting is if you go off of 18-4, 1.75 ERA Verlander from the regular season or the one with a 6+ ERA in the World Series. This is Verlander's second start in the Fall Classic, but his first one wasn't great allowing 5ER over 5.0 IP in the Game 1 loss. Verlander also gave up 10 hits and 6ER over 4.0 IP in the ALDS against Seattle.
While Verlander definitely has his share of questions in Thursday's start, Houston can still take some solace in knowing that #'s 1-5 in their batting order all had a hit after going a combined 1-18 in Tuesday's 7-0 loss.
Who Are the Phillies?
As Philadelphia comes into World Series Game 5 betting they have to ask themselves if they are the team that had 5 of 7 hits leave Citizens Bank Park on Tuesday or the ones that were 0-27 in Game 4? After Bryce Harper, Alec Bohm, Brandon Marsh, Kyle Schwarber, and Rhys Hoskins all went yard in Game 3 not a one of them could manage a hit on Wednesday.
Even though Philadelphia has let home field advantage get away from them, if they can get up 3-2 with a win on Thursday in front of their fans hope is still alive. The Phillies have ace Zack Wheeler available for Game 6, but that makes Game 5 a must-win.
While saving Wheeler for a trip back to Minute Maid Park, the Phillies will go with Noah Syndergaard in a delayed start in Game 5. He was supposed to go in the rain delayed Game 3 on Monday but will now make his fourth appearance of the postseason. He's allowed just 3 hits these playoffs, but also in limited showings of 5.1 IP.
Free World Series Game 5 Betting Pick
The circumstances of the first four games of this series make Thursday night's tilt tough to handicap. The Phillies have the power surge going on Tuesday but can't get a hit on Wednesday. Verlander dominated during the regular season but has been getting lit up this postseason.
Ultimately this is a pendulum series that has shifted back-and-forth each and every game. These two teams have flip-flopped wins and losses through this series and the prediction is that the Phillies get Game 5, Houston takes Game 6, and then it's all hands on deck for a Game 7. The value is definitely on a Philadelphia win in this spot.
Free Pick: Phillies +128