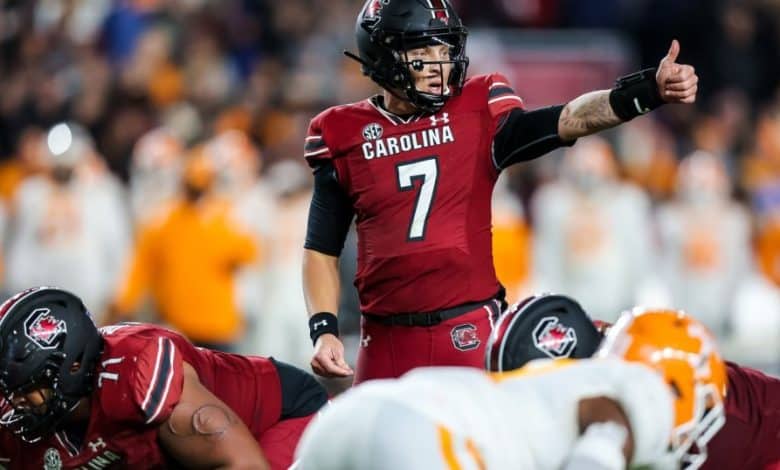 The Gamecocks (8-4) proved themselves to be legend killers the last two games of the regular season, possibly ending both Tennessee's and Clemson's College Football Playoff hopes in consecutive weeks. SC will try to make it three in a row in the Notre Dame vs South Carolina matchup.
The Fighting Irish (8-4) never had a chance at a legitimate CFP run after starting off 0-2. The 21-10 loss to Ohio State in the opener was expected, but falling 26-21 at home to Marshall in week two as -20 point favorites was one of the biggest shockers of the college football season. ND has some quarterback and other opt-out concerns ahead of the Gator Bowl, but are still -3.5 favorites on Friday afternoon.
Fighting Irish with QB Questions
There's a QB carousel going on in South Bend, as this year's main starter Drew Pyne (2,021 yards, 22 TDs, 6 INTs) is transferring to Arizona State while rumors are that back-to-back 3,700+ yard, 38+ TD passer Sam Hartman will be coming in from Wake Forest. If Hartman does transfer that's a big get, but at the same time it does leave the team a little light for Notre Dame vs South Carolina on Friday.
It seems the most likely signal caller for the Gator Bowl will be Tyler Buchner, who started the year as QB1 before injuring his shoulder in week 2. Buchner was just 18/32 with 2 INTs and was a big reason for the loss to Marshall, so we will see how time off has affected his confidence. Freshman Steve Angeli is the only other QB on the Fighting Irish depth chart.
There is good news and bad news for Buchner – or whoever starts at QB on Friday. The good news is that Notre Dame has one of the deepest running back rooms in the country, with Audrc Estime and Logan Diggs both having a 100+ yard game this season while Chris Tyree could also be an every down back for a majority of teams in the FBS. The bad news is that top receiver, TE Matthew Mayer, is opting out as he probably should as a projected top 20 pick in the 2023 NFL draft.
Finale for South Carolina's Rattler?
Spencer Rattler has had an interesting collegiate career, getting benched at Oklahoma for Caleb Williams – who went on to win the Heisman this year at USC. Rattler decided to transfer to Columbia, where he had some success early like in a 378 yard game against Arkansas, but has also really shined down the stretch with 438 yards and 6 TDs vs Tennessee and 360 yards and 2 TDs against Clemson.
Rattler has hinted at heading to the NFL after the Gator Bowl, but he could also return to South Carolina maybe to battle Williams for the Heisman?
Free Notre Dame vs South Carolina Betting Pick
While there is a lot of attention on both of these offenses, both Notre Dame and South Carolina have top 30 defenses vs. the pass. That might have something to do with the total being 50.5, but those stats were also put up when the teams were at full strength. The Irish are losing their best pass rusher and a stalwart on the defensive interior while the Gamecocks are down three starters in the secondary for transfers/opt-outs.
This game looks like a defensive struggle on paper, but it could actually be on the higher scoring side -especially if Rattler stays hot.
Free Pick: Over 50.5