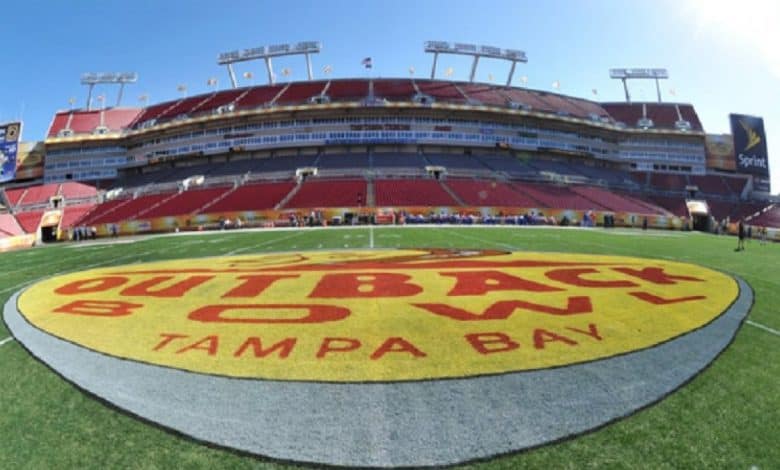 The New Year's Six Bowl games get underway with Penn State and Arkansas meeting up for 2021 Outback Bowl betting. PSU (7-5) had climbed as high as #3 this season in the rough and tumble Big Ten, but Arkansas got to 8-4 even while playing in the SEC.
Both teams are missing their best wide receiver as they each have opted out to prepare for the NFL draft, which just makes this first ever meeting between the two schools look that much more tightly contested. The Razorbacks finished the regular season on a much higher note, which is likely the main reason they are -3 point favorites on Saturday morning in Tampa.
PSU Down a Few Players
One of the bad things about being a renowned program like Penn State that attracts top talent is that when you send players to the NFL, you're likely not going to have them for the bowl game. That's the case with both schools in the 2022 Outback Bowl betting matchup actually, but the Nittany Lions find themselves down safety Jaquan Brisker and WR Jahan Dotson.
Penn State's offense was 4th in the Big Ten in passing this season, largely on the hands (and legs) of Dotson who had 91 catches, 1182 yards, and 12 TDs in 12 games. Dotson had 8 catches / 137 yards, / 2 TDs in the regular season finale win over Michigan State and also had an 11 catch / 242 yard / 3 TD explosion in early November against Maryland. Parker Washington has upside with 57 catches for 722 yards on the year, but Dotson is a special talent that will be missed.
The oft-maligned Sean Clifford will get a chance to prove that he is just as much a part of PSU's passing success as Dotson. Clifford, Penn State's senior QB, had a 300 yard game with 3 TDs in the win over Michigan State to close out the year and hasn't thrown an INT since October 30th. Penn State was the 2nd worst rushing team in the Big Ten so this one rides almost solely on the shoulder of Clifford as well as the Nittany Lions' #7 ranked scoring defense (16.8 ppg).
Too Much Jefferson?
Dotson isn't the only elite wide receiver opting out of the 2022 Outback Bowl, as Arkansas will be without the services of NFL draft prospect Treylon Burks, who hauled in 67 catches for 1,123 yards and 11 TDs this season. Unlike Penn State though, Arkansas has a solid running game to fall back on – partly from RB Trelon Smith (592 yards, 5 TD) but also from dual threat QB KJ Jefferson (554 yards, 5 TDs).
Jefferson can run when he has to, but this guy can throw the ball as well with 2,578 yards passing on the year and with 21 TDs to just 3 INTs. Jefferson hasn't thrown an INT since October 9th, although there is a huge dropoff after Burks as Warren Thompson is the second leading receiver with just 292 yards.
Free 2022 Outback Bowl Betting Pick
If Arkansas does have an advantage here it's that they finished the regular season on a much higher note than Penn State. The Razorbacks went 4-1 down the stretch with the only defeat coming 42-35 against #1 Alabama. PSU meanwhile started the year 5-0 to get into the top 5, but faltered to a 2-5 record after that. Jefferson is the difference maker here, and it looks like he could be the reason why Arkansas runs away with this one.
Arkansas 34 – Penn State 24
Free Pick: Arkansas -3