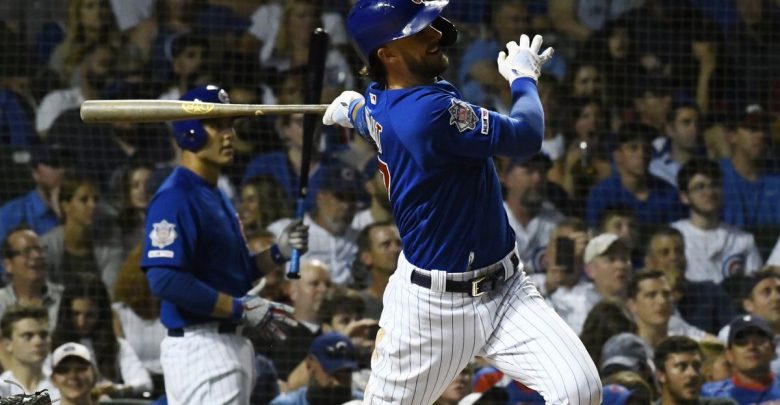 After a forgettable June in which they went 14-15, the Chicago Cubs look to get back on track on the first day of July, beginning a four-game series against the Pittsburgh Pirates in Pittsburgh Monday. The Cubs have dropped five straight road series, though they're not playing a dominant home team in Pittsburgh, as the Pirates are just 17-19 at PNC Park this season.
Chicago has dropped four of its last 10 games, falling into a tie for the National League Central lead with Milwaukee coming into this one. Pittsburgh sits in fourth place in the division, just five games behind the Brewers and Cubs, and the Pirates are just four games out of the second Wild Card spot in the National League.
The moneyline for this contest has the Chicago Cubs -120 and the Pittsburgh Pirates +110. The over/under for the game has been set at 9.5.
Encouraging Start
The Cubs needed Adbert Alzolay to come up to the Major Leagues because of the injury to starter Kyle Hendricks, and he's shown himself ready for the jump. Now they may need him longer because of an injury to Cole Hamels. He'll make the start in this one, coming in with a 1-0 record and a 2.08 ERA in 8 2/3 innings pitched. He's struck out nine but also walked six and given up two home runs. This will also be the right-hander's first Major League experience on the road.
The Cubs' offensive output has been solid over the last week, despite the team going 2-4 in their last six games. Chicago has averaged 4.8 runs over that span. It's hard to shut the Cubs down because they have such balance to their lineup, with six different players hitting 14 or more home runs this season. All-Star Javier Baez leads the way with 20, with Anthony Rizzo and Kyle Schwarber just behind with 19 and 18, respectively. One player the Cubs would love to see get going is Kris Bryant, who has batted just .200 against Pittsburgh this season but has gone 8-for-25 with three doubles and a home run over the past week.
On The Road Back
Right-hander Trevor Williams will start the opener for Pittsburgh as he continues to make his way back from a right side strain that put him on the injured list. Williams still hasn't shown his pre-injury form, giving up 11 runs in his two starts since returning from the IL. On the season, Williams is 2-2 with a 4.25 ERA, striking out 53 and walking 10 in 65 2/3 innings. A big problem for Williams since coming back to the active roster has been home runs — he's given up four in his two starts in June — which could be an even bigger problem against a Cubs team that ranks fourth in the National League in home runs.
The Pirates do their damage in smaller doses, ranking 13th in the National League in home runs but third in doubles (165) and tied for third in batting average (.264). The biggest power source is first baseman Josh Bell, a National League All-Star reserve, who leads the Pirates with a .301 batting average, 22 home runs, 70 RBI, 61 runs, and 29 doubles. Starling Marte has also been a dangerous hitter for Pittsburgh, batting .276 with 12 home runs, 39 RBI, and 50 runs scored.
Pittsburgh Gets Win
Alzolay has looked good so far in his brief Major League career, but he gets a hot-hitting team on the road in this start. Pittsburgh has won nine of 14 coming into this contest and is looking for a nice closing surge going into the All-Star break with a seven-game homestand. Williams will improve on his last couple of starts and keep the Cubs' offense in check. I'm taking Pittsburgh +110 to win the opener.