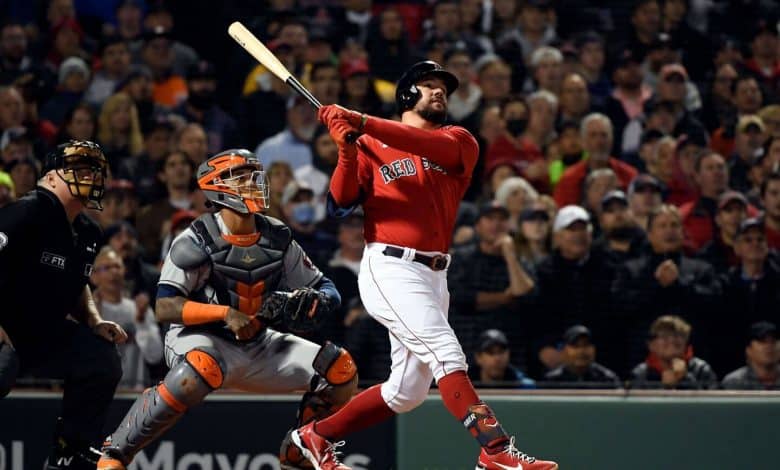 Houston has battled back to tie things up 2-2 heading into the ALCS Astros at Red Sox game 5 matchup. Boston had a 2-1 lead going into the 8th of Tuesday's game before a Jose Altuve HR tied things up and then the floodgates opened up with the Astros scoring 7 runs in the 9th inning for a 9-2 win as +118 underdogs.
Now we get a pitching rematch of game 1 when Boston's Chris Sale goes up against the Astros' Framber Valdez. Neither pitcher was effective in the series opener, with both done in the 3rd inning. The Red Sox are -125 favorites at home on Wednesday afternoon (5:08 PM ET, Fox Sports 1).
Can Astros Bats Stay Hot?
Houston put up the crookedest of numbers when they plated 7 runs in the top of the 9th in game 4. It was a nice offensive outburst for an Astros team that was held to just five hits in the 12-3 loss in game 3 at Fenway. Now the big question is if Houston can keep things going in the Astros at Red Sox game 5 meeting?
The Astros managed just one run against Sale in the series opener even though they did knock him out of the game after just 2.2 IP. Both Altuve (10-32, 3HR) and Alex Bregman (5-14, 2 HR) have had success against Sale in their careers. Altuve and Kyle Tucker have both hit 3 HRs this postseason while Carlos Correa and Yordan Alvarez have each posted an OBP above .440. Wednesday's O/U is 9.5.
Dusty Baker is hoping for a little longer outing from Framber Valdez on Wednesday after he, like Sale, lasted just 2.2 IP in game 1. The Astros got just 1.1 IP from Zack Greinke in game 4, but five relievers combined to keep the Red Sox scoreless over the rest of the contest.
Red Sox Lost Their Offense
Boston knocked Greinke out in the 2nd on Tuesday night but they were still able to manage just 5 hits as the scorching bats came back to Earth a bit. This is a Red Sox team that has already belted out three grand slams this series so the offensive dud in game 4 was kind of a shock.
What the Sox will try to do in game 5 is get to Valdez, who is having some uncharacteristic struggles this postseason. Valdez allowed 9 Boston base runners in game 1, and also allowed 4 ER to the White Sox in the ALDS. Enrique Hernandez had a HR vs. Valdez in the series opener and has been red hot in the ALCS going 9 for 18. Boston as a team has belted out 21 HRs this postseason.
Sale is a wild card in game 5 but even though he allowed six baserunners in the opener only one of those crossed the plate. Boston wasted a great outing from Nick Pivetta (5.0 IP, 2 hits) on Tuesday and will need a long outing from Sale to save this game from going to Boston's disheveled bullpen too early.
ALCS Astros at Red Sox Game 5 Free Pick
Houston looks like they have some value at +105 in this one as this really is a toss-up game. We don't know what to expect from either starting pitcher meaning this one is likely going to be decided on the back end of the pitching staffs.
It's all hands on deck with Thursday's off day, but you have to think Boston feels the pressure here not wanting to go back to Houston having to take two at Minute Maid Park. This is a free game for the Astros who have now regained home field advantage.
Astros 6 – Red Sox 5
Free Pick: Astros +105